In advance of TransCanada earnings call, Greenpeace and groups release Investor Briefing on Keystone XL obstacles
---
2018-02-14
Washington, D.C.
Greenpeace
---
Charlie Kronick (Greenpeace UK)
charlie.kronick @greenpeace.org
+44 7801 212 963

Louise Rouse
louise@louiserouse.org
+44 7751 256 163
---
Share this page:
---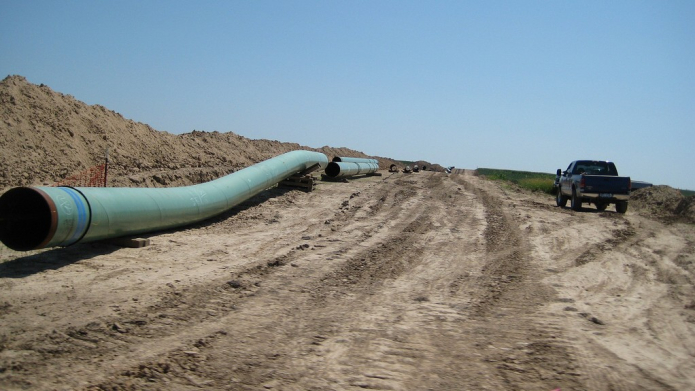 Keystone XL pipeline. Photo: CC license Wikimedia shannonpatrick17
Today, Greenpeace USA, Greenpeace UK, and endorsing groups including BOLD Nebraska, Oil Change International (OCI), National Resources Defense Council (NRDC), and Rainforest Action Network (RAN) released an investor briefing on the current state of the Keystone XL pipeline project and the legal, regulatory, and political obstacles it continues to face to achieve completion. The briefing will be shared tomorrow with key lenders and thought-leaders who cover TransCanada and comes in advance of TransCanada's 4th quarter earnings call to its investors the same day. The briefing includes a detailed analysis of the changes the Keystone XL pipeline project incurred during the last financial quarter, as well as a list of critical questions institutional investors may wish to ask to help determine the project's commercial viability.
Among the major risks to the Keystone XL project included in the briefing are:
The legal challenge to the validity of the Nebraska Professional Services Council (PSC) decision approving the alternate route for the pipeline;
The 2014 federal Final Supplemental Environmental Impact Statement (FSEIS) that does not cover the project's new approved route;
The more than 100 landowners in Nebraska who refuse to sign over their land for the new route; and
The escalating Indigenous and landowner opposition to the pipeline, including its threat to drinking water.
The briefing can be downloaded here.
TransCanada has yet to make its final investment decision on Keystone XL, a project which continues to face legal and regulatory challenges. The pipeline company had estimated that it would make its determination last December, but has since indicated that it could make the announcement by the end of the first quarter 2018 (March 31).
In October 2017, Greenpeace and OCI released an in-depth report that outlined the financial and reputational risks related to three tar sands pipelines, including Keystone XL.
Related Dodgy Deals
Projects
There are no projects active for this item now.
Companies
There are no companies active for this item now.