Ilisu Dam Project facing severe backlash
NGOs welcome decision by Germany, Austria and Switzerland to suspend contracts
2008-12-23 | Vienna, Berlin, Berne
Berne Declaration
Heike Drillisch, CounterCurrent, ++49(0)177 - 345 26 11
Ulrich Eichelmann, ECA-Watch Austria, ++43 (676) 662 1512
Christine Eberlein, Berne Declaration, ++41 794263056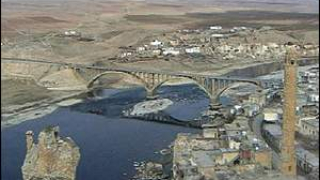 Photo: -
2008-12-23 | Vienna, Berlin, Berne
Berne Declaration
Heike Drillisch, CounterCurrent, ++49(0)177 - 345 26 11
Ulrich Eichelmann, ECA-Watch Austria, ++43 (676) 662 1512
Christine Eberlein, Berne Declaration, ++41 794263056
The European Ilisu Campaign welcomed the historic announcement by the German, Austrian and Swiss Governments to pull out of the Ilisu Dam project in Turkey after 180 days and claimed a landmark campaign victory. This unprecedented withdrawal reflects the serious social, cultural and environmental damage posed by the proposed dam. It is the first time that an agreed export credit guarantee has been suspended by any European Government. However, the European lisu Campaign remains concerned that the final withdrawal can only take place after a 180 day period.
"We are delighted and welcome this necessary and courageous step by the three governments. We will do everything to ensure that the withdrawal will be completed after the 180 day period", declared the members of the European Ilisu Campaign - "CounterCurrent"of Germany, ECA-Watch Austria, and the Berne Declaration of Switzerland. These non-government organisations announced that they will step up their work in Turkey to have the Ilisu region recognised and listed as a UNESCO World Cultural and Natural Heritage site.
This decision of the German, Austrian and Swiss Governments means that the delivery contracts of the European construction companies - Andritz in Austria, Zueblin AG in Germany, , and Alstom in Switzerland - have been suspended thus stopping themfrom proceeding with any project deliveries. Furthermore, the European banks - Bank Austria/UniCredit, DekaBank and Société Générale - cannot disburse the loans they approved. This will leave the project a shortfall of 500 million Euros which will be very difficult for Turkey to raise - especially in the wake of the financial crisis. With this important decision officially labelling the Ilisu Dam Project as deficient, it is much more likely that the Tigris valley at Ilisu will be saved. The decision will further strengthen the national campaign inside Turkey which had already been boosted by the backing of prominent national actors and musicians.
Despite Turkey´s voiced intent to go ahead with the construction under any circumstances, other potential financiers will be much more careful to get involved and expose themselves to strong international criticism. The proposed Ilisu Dam would displace approximately 65,000 people, destroy 400 km of river ecosystems and threaten numerous species. Approximately 300 important archaeological sites would be submerged in the reservoir including Hasankeyf, one of the oldest permanently inhabited towns on the planet.
There are no active project profiles for this item now.