Goldman Sachs sacks coal terminal investment
Coal sector loosing appeal to Wall Street investors
---
2014-01-07
San Fransisco
Rainforest Action Network
---
Kerul Dyer. Energy & Finance Communications Manager RAN, +1(415) 659-0535, media@ran.org
Laurel Sutherin, Forests Communications Manager RAN, +1(415) 659-0541, media@ran.org
---
Share this page:
---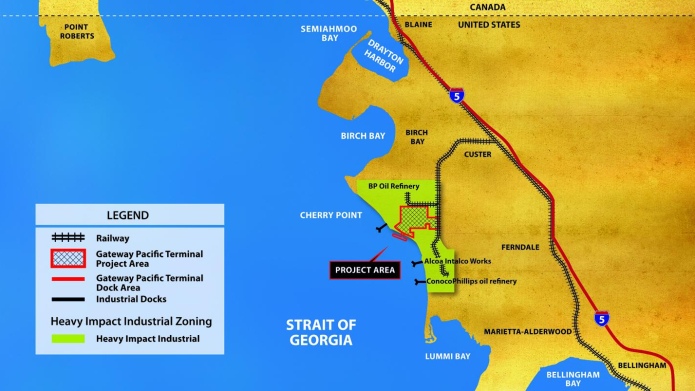 Photo: -
Today Goldman Sachs Infrastructure Partners sold off its remaining equity investment in Carrix, the parent company of Pacific International Terminals and SSA Marine that are behind a colossal coal export terminal proposal near Bellingham, Washington. The move comes after coal companies and their proponents have tabled or dropped three out of six proposed coal export terminals in the Pacific Northwest in the last two years.
If built, the Gateway Pacific Terminal at Cherry Point would mean up to 18 mile- long coal trains traveling through local communities and up to 48 million tons of coal exported to Asian markets each year. It would be the largest coal export terminal in North America, and threatens to ruin the rich biodiversity and unique cultural legacy found in the region.
Amanda Starbuck, Energy and Finance Program Director at Rainforest Action Network commented:
"It is encouraging to see a major bank like Goldman Sachs taking a big step away from the coal industry by exiting the partnership behind the Gateway Pacific Terminal at Cherry Point. The bank's action sends a strong signal that if we are serious about protecting our environment from serious climate pollution, coal export terminals like the one at Cherry Point simply cannot be built."
She continued: "Goldman Sachs is taking a welcome step forward when it comes to walking their sustainability talk, offering more evidence that the financial sector is moving toward abandoning risky investments in the U.S. coal industry.
"Since 2011, Rainforest Action Network, along with ally organizations and thousands of concerned citizens, has been calling on Goldman Sachs to quit this coal export terminal. There are many reasons why a company concerned with its reputation would choose to avoid the egregious Gateway Pacific Terminal. This coal export terminal threatens human rights, a thriving Tribal fishery and biodiversity in a sensitive marine environment."
Crina Hoyer, Executive Director of RE Sources for Sustainable Communities, which has strongly opposed the project, said: "Goldman Sachs' stepping away from coal export is yet another sign from Wall Street that coal export is a losing investment. We already know that local Main Street businesses would feel the negative impacts from coal export, and communities across the region are saying no to this bad deal because of health, climate, environmental and economic impacts. We can do better than coal export both in Bellingham and the Northwest."
Yann Louvel, Climate and energy coordinator of BankTrack, added: "This move of Goldman Sachs is one in a string of decisions made recently by both public and private sector banks to retreat from the coal sector. Whether driven by concern for the disastrous climate impact of coal, or, as with Goldman Sachs, mere profit calculations, the coal industry will face ever more reluctant financiers in the years to come. Groups like us will continue to pressure banks to quit coal"
Related Dodgy Deals
Projects
There are no projects active for this item now.