Fool's Gold: financial institutions waste billions undermining climate action
Financial institutions risking our renewable energy future by supporting the European coal sector
---
2020-07-15
Nijmegen
---
Kaarina Kolle
Senior Coal Finance and Utility Coordinator Europe Beyond Coal

Greg McNevin
Communications Director Europe Beyond Coal
---
Share this page:
---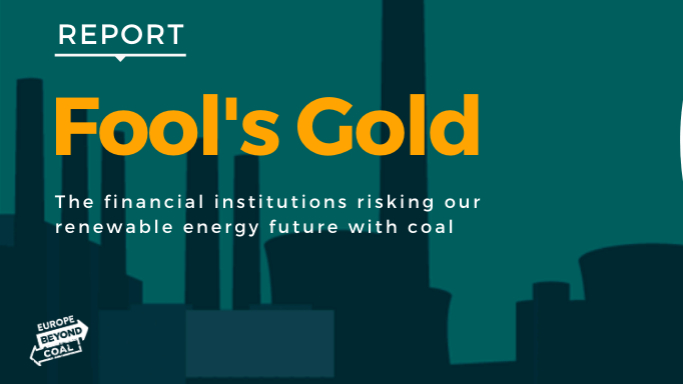 Fool's Gold 2020: The financial institutions risking our renewable energy future with coal. Photo: Europe Beyond Coal et al.
Today, a group of organizations - Europe Beyond Coal, BankTrack, BlackRock's Big Problem, Ember, Fundacja "Rozwój TAK - Odkrywki NIE", Friends of the Earth Finland, Friends of the Earth France, Greenpeace, Reclaim Finance, Re:Common, ShareAction, Urgewald and 350 Japan - published a report showing that financial institutions continue to support Europe's most polluting coal companies.
Fool's Gold - The financial institutions risking our renewable energy future with coal examines eight European, and four significant international, financial institutions with close ties to Europe's eight most polluting coal companies, finding that all continued to pump money into companies responsible for half of all EU coal-based CO2 emissions in the year after the IPCC released its 1.5 degrees C special report in Oct 2018.
KEY POINTS
Financial institutions knew very well since the UN Paris Climate Agreement was signed that exiting coal was an immediate priority for Europe, yet many have kept showering coal utilities with billions of euros in support. Even as more unequivocal scientific guidance from the IPCC 1.5 degree Celcius report in October 2018 underlined the importance of the coal phase out, European financial institutions and international investors have handed coal companies €12 billion in investment (based on data that was retrieved in February 2020), and €9.8 billion in loans and underwriting in less than 1.5 years, from November 2018 to December 2019. This can only be described as conscious undermining of climate action. Financial institutions are duty bound to cut ties with utilities that refuse to commit to closing plants by 2030, or those that sell or convert them so they can keep polluting.
In 2020 European financial institutions have released nearly one new policy limiting financial ties to coal companies per week, but a huge amount of financial support for coal is still getting through. Some of those new policies will when implemented well put a stop to such support. However, others are crafted to appear positive, yet retain ways of channeling money to dirty energy. It's time to draw a line in the sand: if companies do not have a 2030 coal phase-out plan, investors and banks must exclude them without delay. Anything less should be considered complicity in the climate crisis.
While fourteen countries in Europe have either exited coal or have stated their intention to do so by 2030 at the latest, with Germany the only additional one to want to exit later, by 2038, many of the phase-outs are not proceeding as quickly or sustainably as needed, while financial institutions continue to undermine efforts by funding fossil fuel companies. This support leads to these companies chasing opportunities to convert plants to fossil gas or unsustainable biomass, prolonging the pollution cycle. So long as investors and banks help to keep the polluter's dream alive, utilities will be there wringing out every last cent of profit from coal at the expense of the transition.