Financial institutions need to address steelmaking's coal addiction
With massive investments in the pipeline, it's up to financial institutions to make sure that the right technologies to produce steel get financed rather than coal-based ones. 
2023-02-23
Reclaim Finance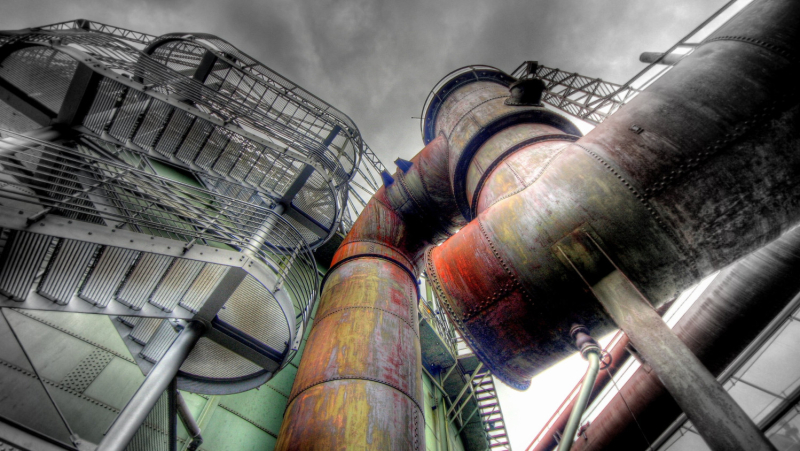 Former steel mill in Landschaftspark Duisburg-Nord, 22 October 2006. Photo: Till Krech via Wikimedia
2023-02-23
Reclaim Finance
Ending the worlds' reliance on fossil fuels is the number one priority to limit global warming to 1.5°C. While financial institutions need to intensify their efforts to curb fossil fuel production, they can also adopt a more comprehensive approach and play a critical role in addressing demand-side sectors, those that consume fossil fuels themselves. Steelmaking is one of these sectors. Decarbonizing steelmaking processes is essential to limit global warming to 1.5°C and achieve carbon neutrality by 2050. The success or failure of this challenge will depend on decisions that will be taken in the current decade. With massive investments in the pipeline, it's up to financial institutions to make sure that the right technologies to produce steel get financed rather than coal-based ones.
Not only is steel omnipresent in the modern world, it will also play an essential part of the energy transition as it will be needed to build products such as wind turbines, solar panels, and electric vehicles. However, current ways of producing steel are heavily carbon-intensive due to their reliance on coal.
A full coal exit requires tackling metallurgical coal
Metallurgical coal is used for primary steel production, which produces steel from raw materials (1) and accounts for 70% of global steel production today (2). Metallurgical coal, also called coking coal or met coal, serves three purposes in this process: it acts as a reducing agent, a source of energy, and a source of carbon. This reliance on coal makes the steel industry a major carbon emitter, producing 7% of global greenhouse gas (GHG) emissions and 11% of global CO2 emissions (3). Decarbonizing the steel sector by phasing out metallurgical coal is therefore the last frontier to exit coal for good.
Yet, most financial institutions with coal sector policies only target thermal coal (4). Most voluntarily let aside met coal due to the long-held belief that there were no viable and sustainable alternatives to metallurgical coal in steelmaking. However, recent technological advances make decarbonizing steelmaking processes possible (5). Studies show that steel can be decarbonized in time to reach net zero by 2050 (6).
Decisions taken in the 2020s will be crucial
The steel sector is today at a crossroads: it is expected that further steel production capacity will be built to meet growing demand, while at the same time most existing facilities are nearing the end of their lifetime (7), and will therefore either need to be relined or to be replaced by other technologies. The long lifetime of steel plants means that decisions on how steel will be produced by 2050 need to be taken now if net-zero steel emissions are to be achieved.
However, in many parts of the world, the majority of new steelmaking projects that are currently underway or in the planning stage rely on high-emission steelmaking routes. Building cleaner ways of producing steel will require substantial investments. Analysis has found that the transition of the current global steel base to net-zero compliant-technologies will require an additional US$ 8– US$ 11 billion investment annually — equal to US$ 235–US$ 335 billion of additional investment cumulatively by 2050 (8).
Financial institutions need to push steelmakers to quit coal
This is why financial institutions have a key role to play in decarbonizing the steel sector. First, they must stop supporting any new metallurgical coal mines, or expansion plans, and new coal-based steelmaking projects, expansions, and retrofits, as well as condition their financial services to clients and investee companies to a commitment to stop developing such facilities.
Secondly, financial institutions must also engage steelmaking companies to push them to adopt meaningful decarbonization measures and to implement them across all their operations :
They must encourage their clients to use the right green steel technologies and deter them from pursuing false or unsustainable solutions such as carbon capture utilization and storage (CCUS), which is presented by several steelmakers as a solution even though research shows that the potential of such technologies is limited (9), and perpetuates the reliance on fossil fuels. For instance, ArcelorMittal has inaugurated a CCU project at its Ghent plant in Belgium in December 2022 (10).
They must also make sure that their clients do not decarbonize only parts of their operations while pursuing the development of coal-based facilities elsewhere. The risk is real, as shown by a recent report published by the Institute for Energy Economics and Financial Analysis (IEEFA), which highlights that ArcelorMittal is developing green hydrogen-based steel projects in Europe and Canada, but coal-based facilities in India. It's important for financial institutions to oppose such two-speed decarbonization strategies as demand will predominantly be coming from emerging economies in future years while most green steel projects that are underway are located in Europe (11).
Financial institutions are more and more vocal against climate approaches that are exclusively focused on fossil fuel supply, but policies on demand-side sectors are yet to be developed. Steel offers great opportunities to act, with massive investments being needed in the coming decade and solutions already available and ready to be deployed. Financial institutions have an opportunity to finally back their calls for demand-side approaches with action by pushing steelmakers to quit developing and maintaining coal-based facilities and invest in cleaner technologies instead.
Notes:
The primary production route produces steel from raw materials through blast-furnaces to basic oxygen furnaces (BF-BOF). The secondary steel production route produces steel through recycled steel scraps in electric arc furnaces (EAF). The secondary route does not rely on coal and is thus much less carbon intensive that the primary route.
For more information, see: IEA, Iron and Steel Technology Roadmap, 2020
For more information, see: Global Efficiency Intelligence, Steel Climate Impact – An International Benchmarking of Energy and CO2 Intensities, 2022
To learn more about financial institutions' coal policies, see the Coal Policy Tool.
Technology options to decarbonize steel include recycling steel through electric arc furnaces powered by renewable electricity, or using hydrogen as a reducing agent to avoid relying on coal.
A summary of three major studies that explore available options for the steel sector to achieve net zero by 2050 are available here.
More than 70% of existing coal-fired blast furnaces – comprising 2.4 million jobs and around 2.2 Gt of carbon emissions, which will need to be refurbished by 2030. For more information, see: Agora Industry, Global Steel at a Crossroads, 2021
Analysis by the Mission Possible Partnership in Net-Zero Steel Sector Transition Strategy, 2021.
More information can be found here.
More information can be found here.
IEEFA, Green Steel for Europe, Blast Furnaces for India, 2023
More information can be found on the Green Steel Tracker developed by the Leadership Group for Industry Transition.
See the original piece on Reclaim Finance's website here.