European commission draft document paves way for oil from tar sands in Europe
Citizen action launched as new legislation endangers efforts to tackle climate change
---
2010-03-29
Brussels/London
Friends of the Earth Europe/ Fairpensions
---
Darek Urbaniak, extractive industry campaigner for Friends of the Earth Europe, +32 495 460 258,
Duncan Exley, Director of Campaigns, FairPensions +44 (0) 20 7403 7806,
Paul de Clerck, economic justice programme coordinator at Friends of the Earth Europe +32 494 380 959,
---
Share this page:
---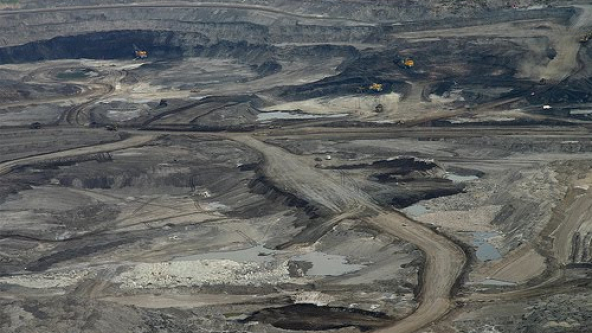 Photo: -
A new initiative allowing citizens across Europe to express concerns over oil industry investment in tar sands was launched today amid warnings that the European Commission is set to sabotage its own efforts to limit the climate change impacts of the fossil fuel industry.
Drafts of the Fuel Quality Directive implementation plan - the EU initiative aimed at reducing greenhouse gas emissions from fossil fuels seen by Friends of the Earth Europe suggest that the plan will not help to decarbonise the fossil fuel sector, and will do nothing to restrict imports of oil from tar sands to Europe. Oil produced from tar sands produces up to five times more greenhouse gas emissions than conventional oil.
Friends of the Earth Europe together with other environment groups has written to climate action commissioner Connie Hedegaard urging her to address the weaknesses in the draft.
Darek Urbaniak, extractive industries campaigner for Friends of the Earth Europe said: "European oil companies are already significantly increasing their tar sands portfolios through investments in Congo, Jordan, Madagascar, Nigeria, Russia and other countries. The Fuel Quality Directive is supposed to benefit the climate but the latest proposal from the European Commission leaves the European market wide open for fuels produced from tar sands and undermines the whole purpose of the legislation. The EU should be leading the world in stopping tar sands."
Major oil companies have been pushing for the removal of greenhouse gas reduction targets for fossil fuels they produce in this legislation allowing them to continue to invest in the extraction of oil from tar sands.
Now they are coming under pressure from anti-tar sands campaigners and concerned investors who have succeeded in filing a resolution to the forthcoming Annual General Meetings of BP plc and Royal Dutch Shell plc, calling on the companies to disclose the risks associated with their tar sands investments and their plans to address them.
From today European pension providers are also being targeted by the campaign and citizens across Europe have the opportunity to send a message to BP and Shell investors asking them to support the resolution on tar sands. The campaign can be found at www.countingthecost.org.uk
The resolutions are already supported by a number of major investors in the UK and the United States.
Duncan Exley, Director of Campaigns for FairPensions, said: "The resolutions to BP and Shell were filed amid growing questions from investors, analysts and environmental groups about the financial, environmental and social implications of tar sands. We are calling on people to use the power of their pension or savings to force a review of this damaging and risky activity."
Tar sands - a naturally occurring mixture of sand or clay, water and an extremely dense and viscous form of petroleum called bitumen - cause more damage to the climate than conventional oil. The greenhouse gas emissions of converting tar sands into fuel is three to five times higher than for conventional oil. The pollution, deforestation and wildlife disturbance associated with tar sands developments also threaten the traditional livelihoods and wellbeing of indigenous communities.
NOTES:
Fuel Quality Directive:
http://eur-lex.europa.eu/LexUriServ/LexUriServ.do?uri=OJ:L:2009:140:0088:0113:EN:PDF
Letter to Commissioner Hedegaard regarding Fuel Quality Directive
http://www.foeeurope.org/corporates/Extractives/letter_Hedegaard_FQD_March2010.pdf
More information on the resolutions and their supporters:
http://www.fairpensions.org.uk/tarsands/resolutions
The shareholder resolutions are co-ordinated by London-based responsible investment charity FairPensions and were filed by a broad coalition of individual and institutional investors, foundations and faith groups. FairPensions is urging investors to vote in favour of the resolutions, and members of the public to petition their pension provider to do the same.
http://www.fairpensions.org.uk/
Related Dodgy Deals
Projects
There are no projects active for this item now.