Dutch development bank takes step forward on human rights, but must do more to protect defenders
2017-09-27
Global Witness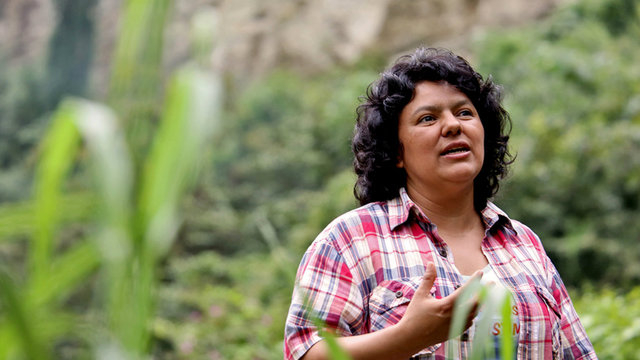 Berta Cáceres. Photo: Goldman Environmental Prize
2017-09-27
Global Witness
The Dutch Development Bank (FMO) recently published its Position Statements on human rights, land governance and gender. While the statements represent a step forwards, the bank must develop concrete policies if it is to prevent human rights abuses associated with its projects, and prove that lessons have been learnt from its financing of the Agua Zarca hydro dam linked to the murder of environmental defender Berta Cáceres.
Global Witness Campaigner Ben Leather said: "Recognition of the importance of protecting human rights defenders, and commitments to react when the FMO's clients are alleged to have acted inappropriately, are welcomed.However, now the bank must articulate precisely how they will protect those who question or oppose their projects. Without this, there are real fears human rights abuses will continue to be associated with FMO's operations."
The bank's Position Statement on Human Rights states: 'We do not tolerate any activity by our clients that amount to the oppression of, violence towards, or any other violation of the human rights of those who voice their opinion', committing to 'take seriously credible allegations that a client has acted inappropriately, examine the veracity, and instigate further action as and where appropriate'.
It also reiterated its requirement that clients ensure the meaningful consultation of those affected by its project, and the free, prior and informed consent of indigenous peoples.
The bank has also made fresh commitments in response to calls, made by Global Witness and numerous other civil society organisations around the world, for the bank to develop a concrete policy outlining the steps and measures which it will take to protect human rights defenders, and prevent future tragedies from occurring.
FMO has committed to developing an 'early warning system for risk of oppression or violence towards human and environmental rights defenders and those opposing projects FMO invests in'. Global Witness has called for this protocol to contain clear and practical provisions for how to respond in the case of threats against human rights defenders active around their projects. This system should include speaking out when human rights defenders are threatened.
Ben Leather also said: "To prevent threats from emerging in the first place, the bank must make public assurances that an assessment of civil society space and the threats facing human rights defenders needs to form part of the contextual risk assessments made by the bank prior to project financing."
---
Berta Cáceres was murdered in March 2016. She had previously received 33 death threats related to her opposition to the FMO-financed Agua Zarca hydropower dam in Honduras, which threatened the rights of local indigenous peoples. FMO recently divested from the Agua Zarca dam after a global campaign led by international and Honduran civil society organisations, including Berta's organisation COPINH. Global Witness has consistently campaigned for justice for Berta and, in a recent report, highlighted the responsibility of investors in regards to threats and attacks against land and environmental defenders globally. DESA, the company behind the Agua Zarca dam, deny any involvement in the murder of Berta Cáceres.
There are no active project profiles for this item now.