Dutch banks allow consumers to unwittingly invest in controversial palm oil companies
---
2018-10-20
Amsterdam
Friends of the Earth Netherlands
---
For more information, please contact Wim Brouwer, Press Officer Forests at Milieudefensie, on 06 23538716 or wim.brouwer@milieudefensie.nl. Campaign Leader Rolf Schipper at Milieudefensie is available for interview or to provide information about the report.
Please contact Wim Brouwer to obtain the English version of the report, photos and other visual material related to Pungkat.
---
Share this page:
---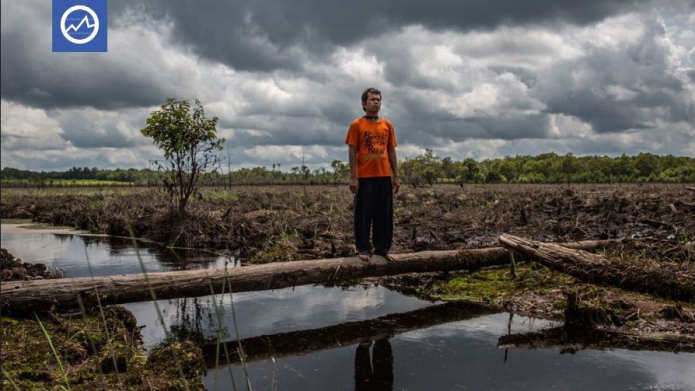 Gusti Gelombang, activist in Central Kalimantan, Indonesia, overlooks land that used to be covered with tropical rainforest. . Photo: Kemal Jufri / Milieudefensie
Private investors have been unknowingly and unwittingly investing in deforestation for years. By investing in funds offered by ABN AMRO, ING and Rabobank, they are filling the coffers of controversial palm oil companies, without being informed about it by their bank. In total the three banks offer 158 funds that include shares in palm oil companies. This was revealed by new research by SOMO, commissioned by Milieudefensie.
ABN AMRO offers 56 funds that include palm oil companies, Rabobank 61 and ING is the frontrunner with 85 funds. The funds include dozens of palm oil companies. Some of the funds have even received the 'sustainable' label. The funds include companies that are far from satisfying the sustainability policy for palm oil that the banks adopt.
Milieudefensie is shocked by the results. Rolf Schipper, campaign leader Forests: "The fine words large banks utter about sustainability appear to be worthless in practice. Profit appears to be the sole criterion. It is downright scandalous that ING, ABN AMRO and Rabobank present the worst offending palm oil companies, to whom they don't even dare lend any money, as attractive share packages to unsuspecting Dutch investors. As a result, these customers are unwitting accomplices in land grabbing and the devastation of the last remaining rainforest."
Milieudefensie wants the government to restrict this proliferation of sustainable claims and controversial investments. Schipper: "The government, together with the EU can use binding regulations to make it compulsory for banks to be transparent about the sustainability of loans and investments. Ultimately there needs to be legislation to regulate that our money can only be invested in businesses and projects that contribute to a better world for man, animals and the environment."
Earlier this month, Aegon Nederland decided to withdraw its money from the palm oil industry. Milieudefensie calls on the banks to follow this example and cut all ties with the palm oil sector. Palm oil producers devastate the rainforest on a large scale and wipe out flora and fauna. The multinationals drive the local population off their own land. Milieudefensie recently visited the village of Pungkat in Indonesia, where a palm oil company razed the rainforest to the ground, and robbed the local population of their drinking water, farmland and sources of income. The palm oil company PT SAL has close ties with First Resources, one of the companies included in the funds, which are offered by all three major banks.
Via www.trekdegrens.nl Dutch people have already sent 60,000 postcards to the banks to call on them to withdraw from the palm oil industry.