Dozens take action at JPMorgan healthcare conference
Action follows Fire Drill Friday launch of the "Stop the Money Pipeline" mobilization, aims to end the financing of fossil fuels and deforestation
---
2020-01-13
Rainforest Action Network
---
AYSE GÜRSÖZ
Communications Manager, Climate and Energy
650-391-6443 ayse@ran.org
---
Share this page:
---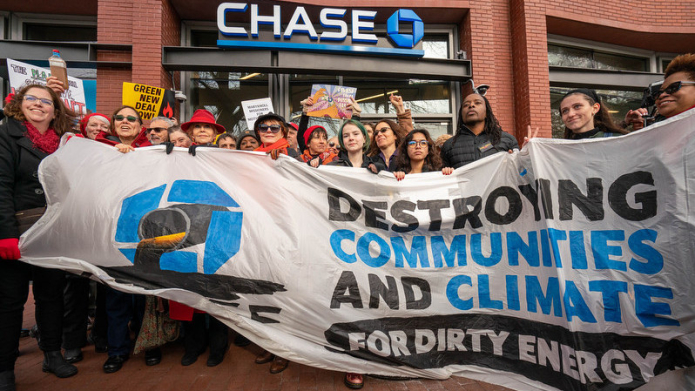 Activists Shut Down Chase Bank During Fire Drill Friday. Photo: Greenpeace USA
San Francisco –– A coalition of dozens of activists and community leaders rallied at the annual JPMorgan Healthcare Conference to hold the world's worst funder of fossil fuels, JPMorgan Chase, accountable for its financing practices. The rally comes just one business day following the launch of Stop the Money Pipeline, a major new activist effort going after the financial industry's funding of climate destruction.
The action, led by Indigenous community leaders, entailed a round dance as demonstrators chanted: "Chase. If you really cared, you'd protect our water, land and air," and "Defund climate change. Stop Funding Fossil Fuels!"
"The evidence is overwhelming. Climate change is the world's biggest threat to human health." said Ethan Nuss, Senior Organizer at Rainforest Action Network. "If JPMorgan Chase wants to position itself as a champion of healthcare, it must act decisively and stop funding fossil fuel expansion."
Chase Bank is one of the three main targets for the Stop the Money Pipeline because of the bank's outsized role in financing fossil fuel development. Since the Paris Agreement, Chase has provided $196 billion in finance for fossil fuels, 10% of all fossil fuel finance from the 33 major global banks. By funding the companies behind major fossil fuel infrastructure projects like Enbridge's Line 3 and Coastal Gaslink pipelines, Chase is violating the right to Free, Prior and Informed Consent of Indigenous peoples.
"JPMorgan Chase is continuing a legacy of environmental health damages and abuses of Indigenous rights," said Nina Berglund, Northern Cheyenne and Oglala, and member of the 13 "Youth Climate Intervenors." "For the sake of coming generations, we must stop the catastrophe that is Enbridge's Line 3 pipeline in its tracks, and to do this, we must stop the money pipeline."