Daughter of murdered Honduran human rights activist files criminal complaint against Dutch Development Bank FMO
2022-06-28
Global Justice Association
For more information, email or call:
Floor Knoote, Human rights researcher: +31 6 39575699, knoote@global-justice.com
Wout Albers, Attorney at law: +31 6 24446033
Ron Rosenhart, Lawyer: +31 6 40760562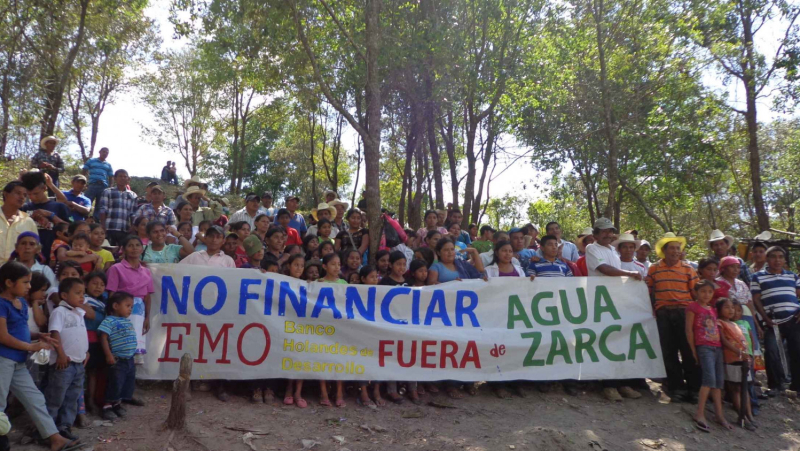 Indigenous groups speak out against FMO, one of the project's financiers, in 2014. Photo: COPINH
2022-06-28
Global Justice Association
For more information, email or call:
Floor Knoote, Human rights researcher: +31 6 39575699, knoote@global-justice.com
Wout Albers, Attorney at law: +31 6 24446033
Ron Rosenhart, Lawyer: +31 6 40760562
Bertha Zúniga Cáceres today filed a criminal complaint with the Public Prosecutor's Office, against the Dutch development bank FMO. The daughter of the Goldman Environmental Prize Winner Berta Cáceres Flores, who was murdered in March 2016, requests the Public Prosecutor to launch a criminal investigation into the complicity of FMO and its executives in violence, corruption, misappropriation of funds and money laundering in the context of the development of the Agua Zarca dam in Honduras.
Murder of Berta Cáceres and role of state bank FMO
Between February 2014 and March 2016, the Dutch state bank FMO lent millions to a Honduran construction company, whose former CEO, David Castillo, was sentenced to 22 years in prison in June 2022 for his role in the murder of human rights activist Berta Cáceres. She opposed the construction of a hydroelectric plant on indigenous land, for which the funding was intended.
Cáceres Flores' daughter, Bertha Zúniga Cáceres, is in the Netherlands this week to file a criminal complaint against FMO. She claims that FMO continued to financially support the construction company DESA despite repeated warnings from outside and that a significant part of the development funding for the project was siphoned off to third parties. Zúniga Cáceres is represented in the Netherlands by law firm Global Justice Association (GJA) in Amsterdam.
Ignoring warning signs
Zúniga Cáceres: "At the time of the FMO financing, my mother and several NGOs had already warned the FMO that the company it wanted to invest in was a crook. That there was violence against the indigenous Lenca people and that they had not given their consent. This was also a reason for other interested investors to pull out. However, FMO decided to go ahead. The FMO executive director, meanwhile, stated in interviews that FMO almost never abandons projects once they have started. This made FMO's decision to go ahead even more painful, after all those warnings from my mother."
"By ignoring local voices in an already precarious situation," argues GJA human rights researcher Floor Knoote, "FMO has not only violated its own human rights policies and the policies of the ministries it reports to, but is in our view also complicit in the violence and corruption that took place after providing the funding."
Emblematic case
The case of Berta Cáceres is emblematic in several ways. Firstly, because Cáceres was well known worldwide for her work. For example, she won the prestigious Goldman Environmental Prize in 2015, has gained hero status in Honduras since June 2022, will be featured on a Honduran banknote and a memorial to her was recently placed in a park in Barcelona. Secondly, the case is well documented and therefore offers a unique insight into the direct link between the violence around the dam and the international banks involved. For example, two days before Cáceres was murdered, the development banks involved provided $1.7 million to a shadow company owned by David Castillo. Ron Rosenhart, lawyer at GJA explains: "The Berta Cáceres case shows, among other things, that FMO is intertwined with a network of powerful Honduran businessmen who are linked to dubious practices in their own country. The question FMO should ask itself immediately is whether this close relationship is compatible with the ideological goals it claims to pursue."
Importance of investigation by Public Prosecutor
The Dutch State holds 51% of the shares in FMO and the bank is accountable to the Ministries of Foreign Affairs and Finance, so there is a public interest in an investigation into the criminal behaviour of FMO and its board concerning the decision to finance Agua Zarca. Wout Albers, attorney at GJA, therefore urges the Public Prosecutor to start an investigation. "The involvement of FMO goes far beyond what has been assumed so far and there are many open ends that both the Dutch, Panamanian and Honduran justice systems will have to investigate."
There are no active project profiles for this item now.