Co-operative Bank signs recognition agreement with union of customers
---
2019-11-28
Save Our Bank
---
For more information on the Customer Union:
Contact Shaun Fensom on 07770 602850 or email on shaun@saveourbank.coop
Visit: saveourbank.coop

For more information on The Co-operative Bank:
Contact Lesley McPherson on 07725 903720 or email lesley.mcpherson@co-operativebank.co.uk
Or Nicki Parry on 07734 002963 or email nicki.parry@co-operativebank.co.uk
Visit: www.co-operativebank.co.uk/values-and-ethics
---
Share this page:
---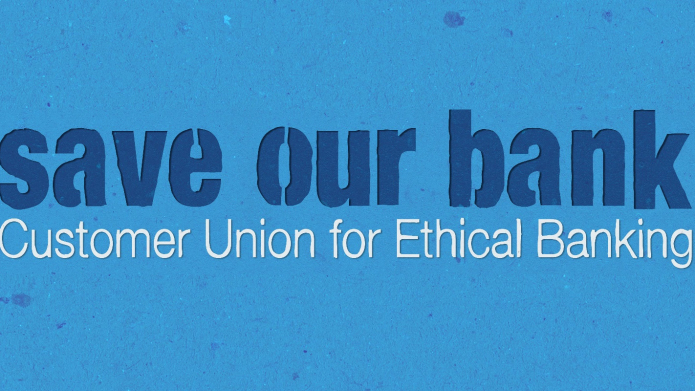 Photo: Save Our Bank
The Co-operative Bank has signed a formal recognition agreement with The Customer Union for Ethical Banking, an independent organisation representing thousands of Co-operative Bank customers concerned about the UK's social and environmental issues. This recognition agreement is the first time that a UK business has formally recognised a union of its customers, and strengthens the bank's position as a key player in ethical banking.
Rob Harrison from the Customer Union said: "In this moment of climate crisis, it is particularly disappointing that the big five high street banks in the UK are still using customers' money to invest in fossil fuel projects. This makes it all the more important that there is still a mainstream bank out there which offers people another choice and a way to take action. This recognition agreement demonstrates commitment to listening and co-operating with its customers."
The Customer Union for Ethical Banking (https://saveourbank.coop/) was established in 2016 following a successful crowd-funding campaign. It has 10,000 members and supporters who are customers of the Co-operative Bank and is itself a member-owned co-operative. It exists to represent customers who are keen to ensure the Bank maintains and extends its unique customer-led Ethical Policy. It costs £12 a year for customers to become a full member of the union. As a united voice, members can join together to press for the kind of policies and products they want the Bank to consider.
The Co-operative Bank's Ethical Policy has included a commitment not to bank any business whose core activity contributes to global climate change via fossil fuel extraction or production since 1988. In 2015 it was the only UK bank to sign the Paris Pledge to end financing for the coal industry and in September 2019 the Bank gave colleagues time off to support the Global Climate Strike.
The Customer Union and the Bank have been engaging informally for several years and have built a good working relationship. With the Bank investing in growth again, making this relationship more formal will reassure Customer Union members of the Bank's commitment to ethics and create a basis for co-operation to help develop initiatives to address the most pressing issues of our day.
Ryan Brightwell from the Union said: "We don't expect to agree all the time, but this agreement means we commit to working constructively for a good outcome in every case."
Chris Larmer, Director of Customer Experience for The Co-operative Bank said: "Our customers are at the heart of our thinking and it's fantastic to collaborate with a group who are staunch advocates of what makes us different to other banks – our values and ethics. Our customer-led Ethical Policy is central to everything we do, and we are delighted that the Customer Union want to support us in making a difference through our ethical position. At a time when more people are seeking greener choices, our Bank provides a way for consumers to say no to fossil fuels, and make a difference to communities, tackling the issues that are important to our customers."
Notes:
1. See Banking on Climate Change, 2019
2. The Co-operative Bank also posted news of the signing of the Recognition Agreement on its website, here.