Citigroup first US bank to exclude companies expanding coal power
Citigroup issued an updated environmental policy that makes it the first major US bank with a plan to restrict financing for companies expanding coal power and to phase-out financing for nearly all coal power companies over the next two decades.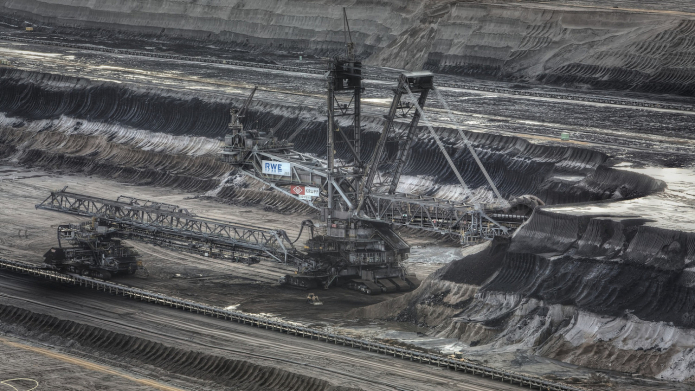 RWE's Hambach open-cast lignite mine. Photo: Frank Kehren via Flickr (CC BY-NC-ND 2.0)
On March 15, Citigroup issued an updated environmental policy that makes it the first major US bank with a plan to restrict financing for companies expanding coal power and to phase out financing for nearly all coal power companies over the next two decades.
In its new policy, Citi commits to not take on any new clients after 2021 that have plans to expand coal-fired power generation. In addition, for most power companies that generate 5% or more of their electricity from coal, Citi will have a staggered phase-out process to stop taking on any such new clients after 2025, and to stop financing any such clients by 2030 in OECD countries and by 2040 in the rest of the world.
The 2020 Banking on Climate Change report showed that, between 2016 - 2019, Citi was the world's third largest funder of fossil fuels, as well as the world's largest funder of coal power aside from Chinese banks. Despite now having the strongest coal power policy from a major US bank to date, Citi falls far short of other major global banks that have made stronger and clearer commitments to exit the coal sector.
Earlier this month, Citi pledged to reach net zero greenhouse gas emissions for its financing by 2050, but without key details for getting there. Last year, a coalition of more than 60 climate and human rights organizations around the world issued a set of Principles for Paris-Aligned Financial Institutions that details what true climate leadership from banks and other financial institutions would look like to meet the Paris Agreement's goal of limiting global warming to 1.5°C.
In response, Sierra Club financial advocacy campaign manager Ben Cushing released the following statement:
"It's encouraging to see Citigroup take an important step toward ending the financing of coal-fired power plants and provide a new bar for other major US banks to meet and exceed, yet there are significant shortcomings with this new policy, especially for one of the world's largest coal power funders. Even with today's announcement, Citi still has a long way to go to be on track with its goal of net zero financed emissions by 2050. Citi must stop financing the expansion of coal power immediately and set a clear timeline to stop financing coal power companies altogether, without loopholes, in line with what climate science and justice demands. This gives other major US banks an opportunity to quickly catch up and go further."
Patrick McCully, Climate and Energy Program Director at Rainforest Action Network said:
"This new coal policy represents an important step forward for Citi and for the US megabanks as a whole. It sends another clear signal to utilities and other corporations involved in the coal sector that their major sources of capital are going to dry up unless they transition to clean energy. What companies once thought were coal assets are rapidly becoming coal liabilities.
"It is positive to see a major coal banker like Citi tightening its coal power financing restrictions and committing to essentially phase out its support for the sector over the coming two decades. However this new policy needs significant strengthening to match the best coal policies from global banks, which include a halt to financing of all companies that are building new coal plants. Aligning with 1.5°C requires an immediate end to all new coal infrastructure.
"It is especially encouraging to see this commitment from Citi as it is the world's worst non-Chinese banker of the world's largest coal utilities. We hope that this is a positive sign of the progress on climate that we may see under the leadership of Citi's new CEO, Jane Fraser.
"While every major US bank has ruled out most coal power project finance, Citi is the first to restrict financing for the companies expanding coal power — the lion's share of bank support for coal power expansion around the world. It is now time for the other big US banks to see and raise Citi and adopt clear no-coal-expansion policies for all their clients."
Maaike Beenes, climate campaigner at BankTrack, said:
"Citi's new policy to exclude and phase out companies expanding coal power is a welcome move for a major US bank. However, the US financial sector is lagging behind compared to European banks such as BNP Paribas, Credit Agricole and Unicredit that had already excluded coal developers from their financing. All US banks, including Citi, have some serious catching up to do. Over the last weeks we have seen the major US banks move as a pack in coming out with net-zero commitments, although these have typically lacked immediate restrictions on fossil fuel finance. We hope this new move from Citi will be the start of a new wave of policy improvements that have an impact in the short term."
Also new in the policy is an exclusion of companies involved in the production or shipment of cluster munitions. These weapons are banned by the international Convention on Cluster Munitions, signed by 110 state parties and one of the most widely recognized norms related to disarmament. Although companies producing cluster munitions are widely excluded by banks elsewhere, Citi is the first major US bank stepping back from such companies.
BankTrack's Maaike Beenes added: "Citi's new exclusion of companies involved in the production of cluster munitions is great news. Cluster munitions are prohibited by most countries around the world, but not the US. President Obama imposed a moratorium on the weapons in 2009 and most US defence companies have stopped production. Seeing a major US bank now also step away from financing companies involved in the production of cluster munitions is a clear sign of the near-universal norm against the weapons."