BNP Paribas under the spotlight for major exposure to companies supporting illegal Israeli settlements 
2022-02-04
Adrian Lakrichi – BankTrack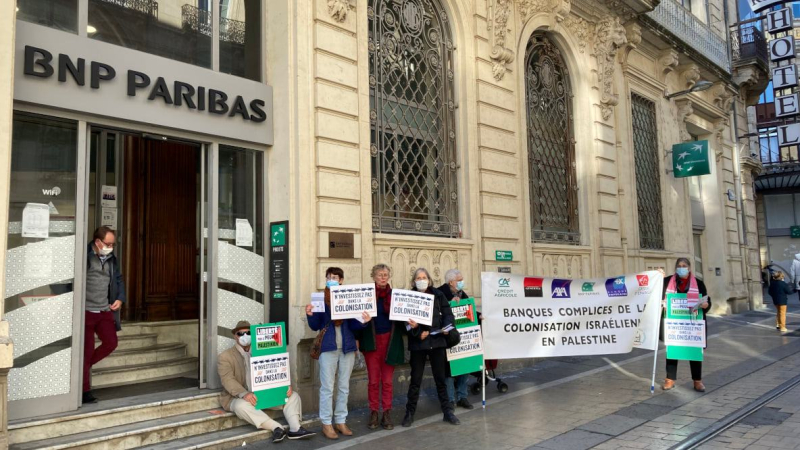 Photo: Association France Palestine Solidarité
2022-02-04
Adrian Lakrichi – BankTrack
France's largest bank, BNP Paribas, has been the target of a week of action this week highlighting its involvement in supporting Israeli settlements in the Occupied Palestinian Territories, which are almost universally considered a flagrant violation of international law. The bank saw demonstrations at its Paris headquarters and many branches across France and other European cities, and received thousands of letters of complaint.
The reason BNP is being targeted? Last September, the first report of the international "Don't Buy into Occupation" coalition, of which BankTrack is a member, showed BNP Paribas to be Europe's biggest lender to the 50 settlement-supporting companies covered in the report, by a significant margin.
In total BNP Paribas provided US$ 17.30 billion in loans and underwriting to the 27 of these 50 companies in recent years, almost 50% more than its nearest rival Deutsche Bank. Additionally, BNP Paribas invested in bonds and shareholdings worth a total amount of USD 3.34 billion in 30 companies involved with the illegal settlement enterprise, making BNP Paribas the twelfth largest investor identified in the report.
The companies supporting illegal settlements with BNP finance
The BNP Paribas clients covered in the research report range from companies in the digital tourism sector to companies that supply products supplied to the Israeli military or used in the demolition of Palestinian homes.
For example, from 2018 to May 2021 the bank provided USD 592 million in credit to Booking.com, the online hotel and travel booking platform, as well as lending to Tripadvisor and Airbnb. These companies all promote or provide booking services for hotels and holiday apartments in Israeli settlements, allowing people to take holidays on illegally settled land and profiting from this business. Despite years of engagement by civil society and inclusion in the UN's database of companies supporting settlements, Booking.com is yet to publish a meaningful policy on its human rights due diligence, nor taken comprehensive steps to halt the promotion of services to illegal settlements.
BNP Paribas also provided USD 38 million to Elbit Systems, a company that supplies products and services to the Israeli military, Ministry of Interior and Police, including drones which are used during military operations in the occupied West Bank, and one of the main providers of the electronic detection fence system in the Separation Wall.
Additionally, BNP Paribas has provided large loans to the US-based Caterpillar and German-based HeidelbergCement, both of which are major construction companies that play a direct logistical role in the expansion of illegal settlements, as they are engaged in the construction and expansion of settlements. The French bank provided credit (loans and underwriting included) of USD 597 million to HeidelbergCement and USD 1.9 million to Caterpillar. Who Profits states that Caterpillar equipment has been used for unlawful operations such as large-scale house demolitions, land-clearing missions in Palestinian towns, and arrests or killings of Palestinian people.
Civil society raising concerns on BNP Paribas' responsibility
The DBIO coalition's engagement with BNP Paribas started before the report's publication when the bank was offered the chance to comment on its position and involvement in Israeli settlements.
Having received no response from the bank's headquarters in Paris, the coalition is taking action this week to increase the pressure of the bank to act. In December, the DBIO coalition organised protests against BNP Paribas with the aim of raising public awareness and adding public pressure to the bank. BNP's headquarters in Paris was targeted as the main point of demonstration but actions took place in many municipalities in France and other European cities.
In addition, thousands of letters of complaint have been sent to BNP Paribas in which citizens around the world have expressed their concerns and disapproval with the bank's involvement in the support for Israeli colonisation. In a series of actions in Belgium, a pile of those letters were delivered with a wheelbarrow to the French bank and its main Belgian shareholders.
BNP Paribas must act in accordance with its own human rights principles and policies: if companies cannot prove that they are withdrawing from activities that are illegal under international law within a reasonable period of time, BNP Paribas must divest from the companies in question.
Send a complaint letter to BNP Paribas urging them to take action in this matter.
For the latest news and updates, search for #DontBuyIntoOccupation on Twitter. To read and learn more about European financial investments in Israel's illegal settlements, visit the coalition's website for the full Don't Buy Into Occupation report and other resources here.