BNP Paribas gives soy-related deforestation a five-year free pass
2021-02-15
Canopée Forêts Vivantes, Mighty Earth, Reclaim Finance & SumOfUs
Lucie Pinson, Executive Director, Reclaim Finance, +33 6 79 54 37 15
Leyla Larbi, Campaigner, SumOfUs, +33 750 960 130
Klervi Le Guenic, Campaigner, Canopée, +33 7 52 64 08 54
Nico Muzi, Europe Director, Mighty Earth, +32 484 27 87 91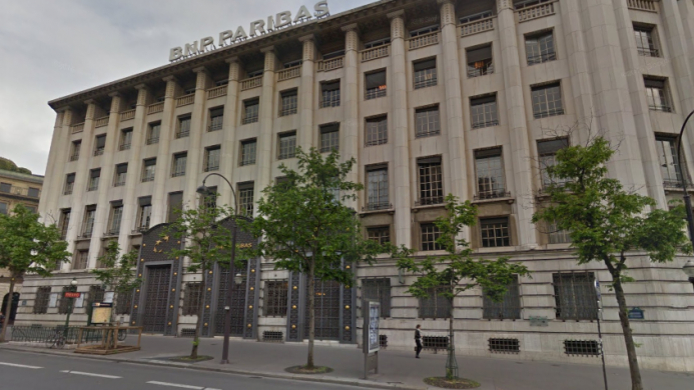 BNP Paribas head office in Paris. Photo: Google Earth/Streetview
2021-02-15
Canopée Forêts Vivantes, Mighty Earth, Reclaim Finance & SumOfUs
Lucie Pinson, Executive Director, Reclaim Finance, +33 6 79 54 37 15
Leyla Larbi, Campaigner, SumOfUs, +33 750 960 130
Klervi Le Guenic, Campaigner, Canopée, +33 7 52 64 08 54
Nico Muzi, Europe Director, Mighty Earth, +32 484 27 87 91
Press release – Reclaim Finance, Canopée Forêts Vivantes, Mighty Earth and SumofUs.
BNP Paribas today announced measures to stop financing deforestation linked to soy and cattle in Brazil by 2025 (1).
Given the high stakes, BNP's initiative is welcomed. But the goals set are far too late while BNP Paribas fails to explain how it will achieve the targets;
Reclaim Finance, Canopée Forêts Vivantes, SumOfUs, and Mighty Earth call on BNP Paribas to no longer spare giants like Cargill – one of the soy traders most linked to deforestation – even if it means ceasing all financial support to the agribusiness;
BNP Paribas is Cargill's largest financier, with $4 billion in funding provided between 2016 and 2019.
Soy and beef are two of the largest drivers of deforestation in the world, particularly in the biodiverse-rich regions of Cerrado and the Amazon in Brazil. BNP commits to immediately drop companies that continue clearing forests or converting land in the Amazon. However, apart from cattle mega-farms, a few companies will be given that a moratorium banning deforestation linked to soy after 2008 already exists and has been very effective in halting soy-driven deforestation in the Amazon. Thus, the ambition of BNP Paribas measures on soy must be judged based on the measures to protect the Cerrado.
BNP Paribas commits to provide "financial products or services only to companies with strategies to achieve zero deforestation in their production and supply chains by 2025 at the latest". But the bank says it is only ready to encourage (not force) companies operating in the Cerrado not to produce or buy beef or soybeans from land converted after the cut-off date of 1st January of 2020, a date set by the Accountability Framework Initiative (2).
Lucie Pinson, founder and director of Reclaim Finance, said: "Some would say we won 5 years because many traders like Cargill have policies that aim for zero deforestation by 2030. But after years of inaction, there is an urgent need to demand firm and immediate commitments to implement the 2020 cut-off date. If BNP Paribas wants to give real guarantees of its commitment to act in the face of the climate emergency and biodiversity loss, it must secure this commitment on the part of traders and then support them on a deadline of two years, not five years."
Faced with the explosion in demand for soy, due to population growth and of the middle classes, as well as by the ever-increasing consumption of meat and dairy products, Cerrado is today one of the most threatened ecosystems on the planet. More than half of its initial area has already been cleared. If the Cerrado is entirely wiped out, it would be a disaster for the climate and biodiversity as it stores the equivalent of 13.7 billion tonnes of carbon dioxide (CO2) and is home to 5% of the world's biodiversity (3).
Klervi Le Guenic, campaigner at Canopée Forêts Vivantes, said: "BNP Paribas has understood the importance of imposing a cut-off date on soy traders, but no immediate demand is made to guarantee improved practices over the next few years. As it stands, BNP Paribas is giving traders 5 more years to clear forests with impunity".
Cargill is Brazil's second largest soy exporter and has been linked to mega-farms that have cleared more than 61,000 hectares of forests in Brazil since March 2019. The area deforested is six times the city of Paris (4).
Nico Muzi, Europe director at Mighty Earth, said: "BNP Paribas' announcement sends a strong signal to soy traders: big global banks are starting to realize the risks associated with soy-driven deforestation and are taking real, concrete actions to exclude bad players. Cargill needs to stop deforestation now; to that end, turning off the money tap now, not in five years' time, is essential."
Leyla Larbi, campaign manager at SumOfUs, said: "More than 125,000 people have already signed a petition calling on BNP Paribas to stop bankrolling deforestation (5). We will keep up the pressure on BNP Paribas, Cargill's main financier and one of the biggest bankers funding the destruction of the living world, as long as the bank does not revise its plans upwards " (6).
See the press release here.
Notes :
Accountability Framework Initiative: Guidance for setting cutoff dates for no-deforestation and no-conversion commitments
"Soja et déforestation, les acteurs financiers ne doivent plus être complices", Report of Canopée Forêts Vivantes, Mighty Earth, Reclaim Finance and SumOfUs, October 2020.
Mighty Earth's Soy and Cattle Deforestation Tracker
See the petition BNP Paribas: Stop bankrolling deforestation
See our demands
There are no active company profiles for this item now.