BNP Paribas bankrolling climate change, pollution, and wildlife extinction through Texas LNG project; low income and native communities targeted once again
U.S. partner Bank of the West also tied to massive liquefied natural gas deal
2017-03-01 | San Francisco, Paris
Les Amis de la Terre & Rainforest Action Network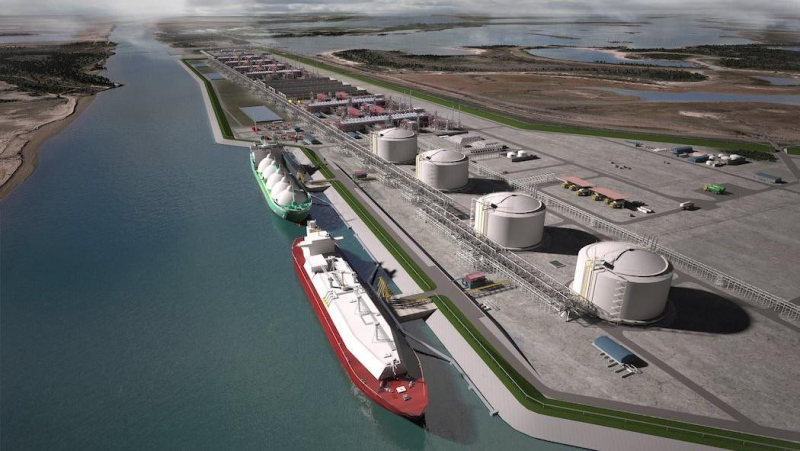 Visualisation of Rio Grande LNG project. Photo: riograndelng.com
2017-03-01 | San Francisco, Paris
Les Amis de la Terre & Rainforest Action Network
Rainforest Action Network, Les Amis de la Terre France, and Save RGV from LNG have released a new report detailing major health, climate and wildlife impacts of the Texas LNG project, a fracked-gas export terminal proposed near one of the poorest communities in the United States. The organizations have called on French bank BNP Paribas and its U.S. subsidiary Bank of the West to pull the plug on this liquefied natural gas (LNG) terminal in Texas's Rio Grande Valley.

Flying in the face of their 2015 public commitment to the Paris Climate Agreement — which aimed at limiting global temperature rise to less than 2 degrees Celsius — French financial giant BNP Paribas is currently arranging finances for the Texas LNG project.

Texas LNG poses a serious health risk to nearby communities — largely low-income communities of color. According to the Rio Grande Valley Coalition for Healthy Children, an estimated $75 million in health impacts would be incurred by the community from the construction phase alone.

The Carrizo/Comecrudo Tribe would also lose historical sites of great cultural and archaeological importance through this project. Those sites would literally be bulldozed during construction. The Texas LNG project also threatens a vitally important wetland restoration area which is a critical habitat for multiple endangered species, including the ocelot. This would be fatal not only for wildlife, but would devastate the local tourist economy as well.

The Texas LNG project also represents a major step backwards for our nation's progress toward a clean energy and strong economic future. The project locks in decades of energy production from a fuel source that is worse for the climate than coal — in fact, burning the gas exported from the Texas LNG facility would have the same climate impact as more than seven coal-fired power plants.

The new report, BNP Paribas vs. Communities and Climate - Supporting the Texas LNG Fracked-Gas Terminal Threatens the Rio Grande Valley, lays out the range of serious climate, environmental, and social impacts that would result from BNP Paribas' continued support for the Texas LNG project. The report also details why BNP Paribas' involvement with the Texas LNG project stands in clear contradiction to its own climate policies and calls into question its commitment to the Equator Principles, a framework for financial institutions to manage environmental and social risk.

The report authors demand that BNP Paribas and Bank of the West:
withdraw from their role as financial adviser for the project;
commit not to finance the other fracked-gas terminals proposed in the Rio Grande Valley, and;
adopt a public policy that prohibits financing for liquefied natural gas export at large.
"Through their support of the Texas LNG project, BNP Paribas now poses a serious threat to the families, the economy and the clean air and water in the Rio Grande Valley," said Rainforest Action Network's Jason Opeña Disterhoft. "Low-income communities of color will once again be paying the price for bank and fossil fuel profits through air and water pollution — not to mention living under the constant threat of leaks and explosions. This project would likely destroy a vital wetland restoration project, including critical habitat for multiple endangered species. BNP Paribas went looking for profit — but what they found is textbook social and environmental risk. They should withdraw from the Texas LNG project today. And unless they're happy to absorb the serious reputational damage they would take from the BNP Paribas Group funding this massively destructive project, Bank of the West should make sure their parent company does the right thing."

The proposed Texas LNG terminal is part of a massive new slate of planned extreme fossil fuel infrastructure in North America. The continent's hydraulic fracturing boom of the last decade has not only contaminated water and damaged community health, it has also left the fossil fuel industry with a huge glut of gas. To ease that oversupply, corporations are looking to exports, in the form of liquefied natural gas. There are currently two existing fracked-gas export terminals in North America — but there are an appalling 60 more in the planning stages. Within the United States, the majority of those proposed are in the Gulf Coast, the country's far too frequent, low-income "sacrifice zone" for building fossil fuel infrastructure.
"Since 2015, BNP reduced its support to coal in the name of fighting climate change. But any financial institution attempting to meet the Paris Accord goals by solely abandoning financing for coal is at best a mistake — and at worst a scam," said Lucie Pinson of Les Amis de La Terre France. "Burning the gas exported from the Texas LNG project would create CO2 emissions equivalent to 3.5 coal-fired plants, or even seven coal-fired plants if methane emissions are taken into account. BNP Paribas must not only withdraw from this project but must also immediately commit to not support new LNG export projects."

"I am greatly concerned with Texas LNG's plan. I live and teach at a high school with nearly 2,000 students, just a few miles where the pipelines will be and downwind from their emissions," said Patrick Anderson, a local resident and member of the grassroots organization Save RGV From LNG. "They will risk the health and safety of thousands of people from fracking, hundreds of miles of pipelines, and operating close to a highly populated area and popular tourist destination. Texas LNG will destroy wildlife habitat, and be one of the largest polluters in Texas. Supporting Texas LNG financially, or otherwise, means placing money and profit above our livelihood, our children, and our environment we cherish."

"The wetland restoration of the Bahia Grande that began in 2005 is one of the best things to occur in the Rio Grande Valley since the arrival of the railroad," said Robert A. Radnik, of San Benito, TX, also a member of Save RGV from LNG. "This wetland restoration should not only be protected, it should be expanded and allowed to mature for the benefit of all who live here, vacation here or just migrate through. Investment must be encouraged to look toward an existence with renewable energy and a sustainable environment and not attempt to harvest profit from extraction industries that threaten that future."

Exporting gas as LNG requires an energy intensive process of transporting, purifying, and cooling it into a liquid via a maze of pipelines and export terminals as large as 560 soccer fields, from which it is shipped overseas on tankers 300 yards (275 meters) long. The fossil fuel industry touts natural gas, including LNG, as a "bridge fuel" — a less carbon-intensive alternative to coal. But during the LNG process, up to 5 percent of methane escapes into the atmosphere — and methane is a greenhouse gas over 80 times more potent than carbon dioxide. This makes exported LNG worse for the climate than coal.

BNP Paribas was contacted in October 2016 urging their withdrawal from the Texas LNG project. To date we have received no public response.

Aside from BNP Paribas, the only bank that has been publicly named as financing any of the three planned terminals in the Rio Grande Valley is Sumitomo Mitsui Banking Corporation (SMBC), which is financial advisor and mandated lead arranger for the Rio Grande LNG terminal, owned by NextDecade LLC. SMBC has proudly claimed to be first in North America in terms of number of LNG deals as of August 2015. SMBC was contacted in October 2016 urging their withdrawal from the Rio Grande LNG project. To date we have received no public response.