BankTrack publishes its 2021 Annual Report
2022-03-08 | Nijmegen
BankTrack
Ryan Brightwell: ryan@banktrack.org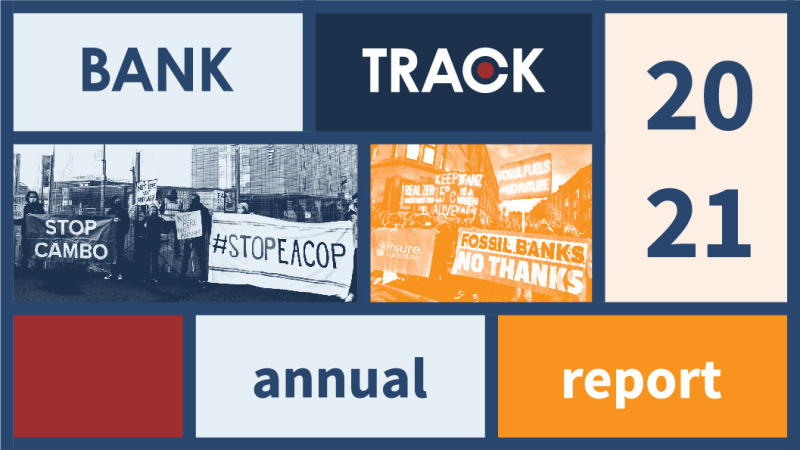 Photo: BankTrack
2022-03-08 | Nijmegen
BankTrack
Ryan Brightwell: ryan@banktrack.org
BankTrack today releases its 2021 Annual Report, detailing our activity to stop banks financing harmful business activities and promote a banking sector that respects human rights and contributes to just societies and a healthy planet.
Johan Frijns, BankTrack's Executive Director, said:
2021 was a year in which patience and impatience were in equally high demand. Patience to withstand another year of a global pandemic and the long periods of lockdown and disruption that came with it. And impatience with the slow pace of action from business and governments alike on the intertwined global emergencies that we face.

This year we are wiring our own impatience into our new mission. From now on, BankTrack will put all its energy into challenging commercial banks to act urgently and decisively on four interrelated global emergencies: the accelerating climate crisis, the ongoing destruction of nature, the widespread violation of human rights, and the risk of ever more pandemics.

This annual report sets out what we have patiently and impatiently been doing all through 2021. From launching the "Fossil Banks No Thanks" Platform and raising the heat on banks during the Glasgow COP, to our participation in the #StopEACOP campaign, to publishing reports on the fossil fuel financing of Equator Principles banks and the poor response of banks faced with human rights violations. In solidarity and collaboration with communities whose rights are violated by bank-financed companies and projects, we aim to show the banking sector that distant 2050 climate commitments, cautious incremental policy steps, and slow-moving voluntary initiatives are not enough; banks must urgently start banking like we are in an emergency, because we are!

Thank you for reading and following our work.