BankTrack publishes its 2018 Annual Report
---
2019-04-30
Nijmegen
BankTrack
---
Share this page:
---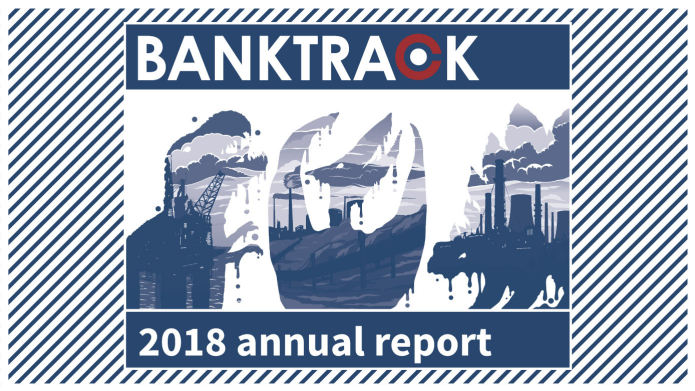 BankTrack's 2018 Annual Report. Photo: BankTrack
Today BankTrack is pleased to present its 2018 Annual Report, detailing our work to stop banks from financing harmful business activities, promote a banking sector that respects human rights and contributes to just societies and a healthy planet, and to support others in civil society who share these aims.
For BankTrack, 2018 was first and foremost the year to drastically up our game on climate change. Together with allies around the world we launched our new flagship 'Fossil Banks, No Thanks!' campaign. Recognising we can no longer be satisfied with incremental and in-adequate policy steps like quitting coal, we demand urgent and drastic action from banks to immediately end financing for new fossil fuel projects, and rapidly phase out their financing of existing clients.
We have no illusions here. Our latest research has shown that, since the signing of the Paris Agreement, banks have poured at least US$ 1.9 trillion into the fossil fuel sector, and it will take long and sustained pressure from many sides to force banks out. What gives us confidence that we will eventually succeed is that we are now part of a strong and exponentially growing global movement involving a wide range of actors, including this year a growing and inspiring movement of schoolchildren striking for our future.
Stopping banks from financing climate change is a central plank of our efforts to hold banks accountable for the impact of their finance, but not the only one. We also kept a close eye on the Equator Principles review process, instigated a year earlier by our 'Equator Banks, Act!' campaign and still ongoing. Our messages to bankers here have also emphasized that the time for small incremental change is over, and that an end to new fossil fuel finance needs to be part of the outcome.
That same message we also conveyed to the group of banks that launched the draft Principles for Responsible Banking in November. Banks cannot be content with the modest goals and lenient timelines incorporated in these Principles. Urgency and high ambition are required!
Linked to all these developments, we also reported on the dire state of accountability in the banking sector, urging banks to get on with developing their own accountability mechanisms (including as part of the Equator Principles review), and set out what these grievance mechanisms should look like in practice.
And last but not least, in October, we celebrated our 15th anniversary with a grandiose dance party in Nijmegen's old soup factory turned creative hotspot. We celebrated together with guests and allies from all over the world, who had come to our home town to attend our bi-annual Bank Campaigners Gathering, a three-day event where we exchange experiences, plot campaign strategies for the future and above all renew our commitment to one another to together continue to push banks forward, now and for the next fifteen years at least. The task is daunting, but our spirit is high.
With gratitude for your support for our efforts,
Johan Frijns, Director, BankTrack