Banks warned that deficient fossil fuel policies are accelerating climate crisis
---
2019-12-12
Madrid
BankTrack
---
---
Share this page:
---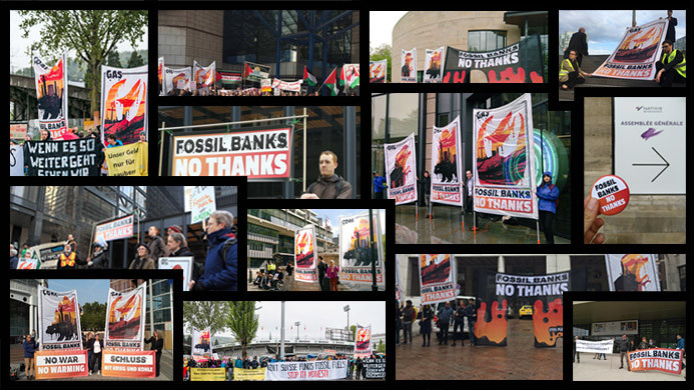 Fossil Banks, No Thanks! campaigners taking the message to banks during AGM season 2019. Photo: BankTrack
After climate activist Greta Thunberg used her speech at the COP25 Climate Conference to highlight the role of banks in financing the climate crisis, a new assessment by BankTrack released today reveals that none of the world's largest bank fossil fuel financiers have policies and timelines in place to phase out their financing for the fossil fuel industry (coal, oil and gas), despite ever more urgent calls for decisive action on the climate emergency.
While the 25th UN Climate Summit (COP25) takes place in Madrid, BankTrack has written to 38 banks to warn them that their policies on fossil fuel finance are still on track to help accelerate the climate crisis. The letters were sent in a week that has seen ever expanding bushfires in Australia and alarming reports on a sevenfold increase in ice loss over Greenland, with ever more parties calling for drastic action to avoid further catastrophe. 1
Scientists have made clear that meeting the Paris climate goals requires that little or no new CO2-emitting infrastructure can be built, a fact recognised by the International Energy Agency. Yet, while many banks committed this year to align their business strategies in order to be consistent with these goals, no banks have yet followed through on this with a commitment to stop financing all new fossil fuel projects.
The assessment from BankTrack, which leads the 'Fossil Banks, No Thanks!' campaign, shows that a majority of the 38 banks now partially exclude new finance for coal power or mining, but only five have plans in place for phasing out their existing support for the coal sector. Crédit Agricole is the clear leader on coal, with its commitment made in June this year to end all coal finance in Europe and OECD countries by 2030 and the rest of the world by 2040, and its immediate end to financing for coal plant developers.
Thirteen banks have ended financing for some types of oil projects, such as those involving drilling in the Arctic, and nine have ended financing for some types of gas projects including fracking for shale gas. Italian bank UniCredit, which was until recently a laggard among European banks, has now excluded direct finance across a number of oil and gas sectors, including fracking for shale gas, ultradeep-water oil and gas, and liquefied natural gas.
None of the large commercial banks, though, have yet followed the benchmark set by the European Investment Bank (EIB), which committed in November to no longer finance any unabated fossil fuel projects by the end of 2021. The new EIB policy covers not just coal but also oil and gas, making it the first such policy of its kind.
Johan Frijns, director of BankTrack, said: "The UN Secretary General, central bankers and thousands of scientists are using ever more alarming language to call for decisive action to tackle the climate emergency. Banks must heed the call and act accordingly. The most important immediate action they can take is to swiftly bring their fossil finance to zero. As long as fossil fuels continue to be dug up and burned with bank support, every penny they put towards renewable energy will be undermined."
Greig Aitken, Climate campaigner for BankTrack, said: "COP26 next year in Glasgow will be the stock-taking year for the parties to the Paris Agreement. Starting from now, banks should also take stock of how to massively scale up their climate action and end their support for fossil fuels."
Notes for editors:
1. Find the list of banks and the state of their fossil fuel investment policies here.