As Banks and Investors Reject Arctic Drilling, Where is Wells Fargo?
2018-08-10
Ben Cushing, Sierra Club
Ben Cushing, ben.cushing@sierraclub.org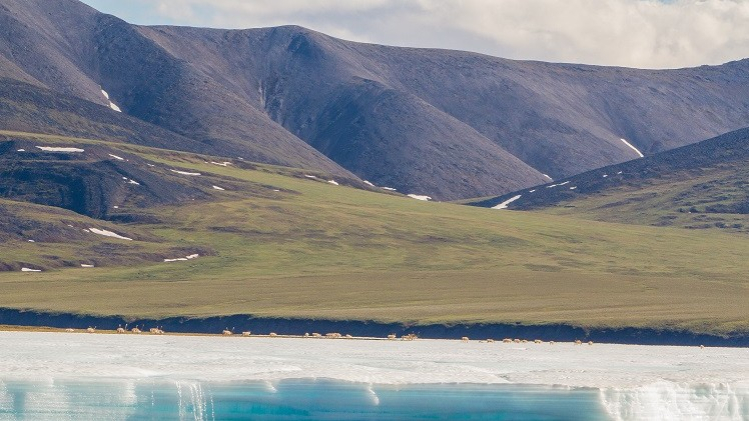 The Arctic National Wildlife Refuge in Alaska. Photo: Micah Baird, 2014
2018-08-10
Ben Cushing, Sierra Club
Ben Cushing, ben.cushing@sierraclub.org
The movement demanding divestment from fossil fuel projects that threaten our climate and communities is gaining momentum, but Wells Fargo continues to lag further and further behind.
In the United States and around the world, institutions including insurers, churches, universities, and major cities have recently made commitments to divest from fossil fuels. Ireland just became the first country in the world to commit to sell off all its fossil fuel investments.
A growing number of major international financial institutions are taking note, and many have responded with public statements and policies that they will not support some of the most extreme fossil fuel projects, including oil and gas drilling in the Arctic. Some of the world's largest banks have made such commitments, including HSBC, BNP Paribas, Societe Generale, and others -- check out this list of all the banks that have made policies to stop financing oil and gas projects in the Arctic.
In response to the Trump administration's plan to open up the Arctic National Wildlife Refuge for drilling, banks are facing pressure to make specific commitments not to fund drilling in this sacred, pristine wilderness. In May, a group of institutional investors representing more than $2.5 trillion in assets sent a letter to 100 oil companies and 30 major banks urging them not to invest in drilling in the Arctic Refuge, citing climate and human rights concerns as well as economic and reputational risks.
With recent reports that the Trump administration may fast-track destructive seismic testing in the Arctic Refuge as soon as this December, the urgency for action builds by the day.
And yet, amidst the growing chorus of condemnation for drilling in the Arctic region and the Arctic Refuge specifically, and the growing movement to divest from fossil fuels, Wells Fargo has actually increased its investments in the dirtiest fuels on the planet. That's why more than 6,500 people (and counting) in just the past week have sent a message to Wells Fargo CEO Tim Sloan to demand action.
Between 2015 and 2017, Wells Fargo poured $4.6 billion into financing for extreme fossil fuels like tar sands, Arctic oil, and coal -- a total that has gone up each of the past three years. The bank is also a key funder of the Dakota Access pipeline and the companies behind the proposed Keystone XL and Line 3 tar sands pipelines.
These investments -- as well as Wells Fargo's consumer fraud scandals, discriminatory lending practices, funding for the gun industry, private prisons, and more -- have attracted public outrage and prompted several cities and thousands of individuals to pull their money from Wells Fargo.
With their reputation already in tatters, Wells Fargo can't afford to take another hit by supporting unpopular drilling in the Arctic Refuge.
Drilling in the Arctic Refuge would threaten Indigenous rights, industrialize one of America's last truly wild places, and could eventually unleash climate emissions equivalent to 898 coal plants. This land is sacred for the Gwich'in Nation, who have lived in the region for thousands of years and are unanimous in their defense of it.
Drilling in the Refuge is also opposed by the vast majority of Americans, and would only be more so in the all too likely event of a disastrous spill. Hundreds of people recently turned out to protest the Trump administration's public hearings on the plan, and hundreds of thousands from every state submitted public comments opposing drilling in the Arctic Refuge.
But we know the Trump administration is only listening to their Big Oil cronies, not the voices of everyday Americans and frontline communities. That's why investors, customers, and the public are urging banks to step up and stop the financing that drilling companies could use to wreck the Arctic Refuge.
Wells Fargo is investing heavily in a PR campaign to repair its brand image (you've probably seen the ads). The bank could actually earn some goodwill by pledging not to support drilling in the Arctic Refuge. But if Wells Fargo remains silent and continues pumping billions of dollars into extreme fossil fuels, we'll see just how little they've changed.
Wells Fargo has a choice to make: they can expose themselves to further reputational damage and investor backlash by supporting unpopular drilling in the Arctic Refuge, or they can be proactive and take a step towards regaining goodwill by pledging not to support drilling in this special place.
Let them know we'll be watching closely to see which option they choose. Add your voice today: send a message to Wells Fargo CEO Tim Sloan to #ProtectTheArctic and stop funding extreme fossil fuels!