SMX Collective files complaint against Rabobank over drug money laundering and human rights violations in Mexico
2017-02-02 | Amsterdam
Prakken d'Oliveira Human Rights Lawyers & SMX Collective
SMX Collective, press@smxcollective.org, +31 6 267 813 15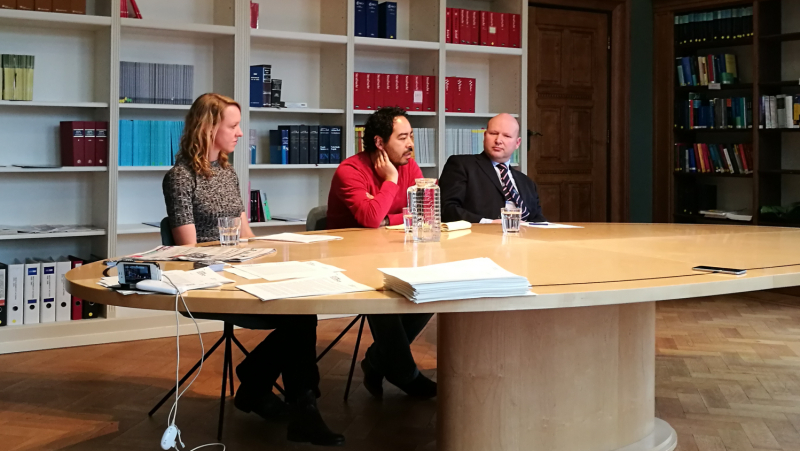 Press conference SMX Collective. Photo: SMX Collective
2017-02-02 | Amsterdam
Prakken d'Oliveira Human Rights Lawyers & SMX Collective
SMX Collective, press@smxcollective.org, +31 6 267 813 15
SMX Collective, an initiative of the Dutch Foundation SMX: Dutch-Mexican Solidarity, assisted by the renowned law firm Prakken d'Oliveira, files a complaint against the Rabobank Group accusing the bank of laundering drug money and participating in a criminal organization. It concerns offenses committed at the local branch in Calexico, California, in the period December 2002 – Januari 2015. This complaint is the first of a series of activities promoted by SMX Collective to improve the human rights conditions in Mexico.
The complaint is also filed on behalf of one of the family members of a victim of drugs violence in Mexico. The complaint exposes the relationship between the laundering of drug money by banks; and the murders, disappearances, torture and other crimes committed by drugs cartels in the North of Mexico.
Gross neglect of anti-money laundering protocols
The Rabobank allegedly received enormous amounts of cash, which were transferred to other accounts as a way to disguise the criminal origins of the money. The complaint is directed against the Rabobank Group, as well as the managers of the bank. The Rabobank Group holds responsibility for its branches in the United States.
Rabobank contributes to crimes against humanity in Mexico?
Rabobank is not the first bank to be accused of laundering drug money for Mexican cartels. However, this case marks the first time that the serious social and human rights consequences of money laundering for the Mexican civilian population are explicitly asked to be included in the criminal investigation.
It is public knowledge that the laundering of drug money is a major problem in the border region of the United States and Mexico, and the Rabobank Group has been warned by US authorities on several occasions. Therefore, SMX Collective believes that the Rabobank Group has been insufficient in preventing money laundering and has seriously neglected its responsibility. Thus, the bank not only possibly played an important role in the laundering of drug money and thereby sustaining the drugs cartels; it has also possibly significantly contributed to the serious human rights violations being systematically perpetrated by Mexican drugs cartels.
Launch of public campaign Money Laundering is not a Victimless Crime
By filing the complaint at the Dutch Public Prosecutors office, SMX Collective launches the campaign Money Laundering is not a Victimless Crime which includes numerous actions to promote human rights in Mexico. The objective of the campaign is to call attention to the fact that drug money laundering is not a crime without victims. Furthermore, SMX Collective seeks justice for the victims by holding financial institutions and firms accountable for their criminal activities. Included you will find a summary of the complaint, background information on Mexico, as well as contact information for questions, comments and interviews. We appreciate your interest and are grateful for any help in spreading the information.
The full complaint is available on our campaign website and the website of Prakken d'Oliveira Human Rights Lawyers