El Dorado International Airport
Colombia
Sectors:
transport and infrastructure
---
Active
This profile is actively maintained
---
Send
feedback
on this profile
Download as
PDF
---

Created on:

2016-09-30 00:00:00


Last update:

2018-05-17 14:20:28
Accountability Counsel
---
Project website
---
Share this page:
---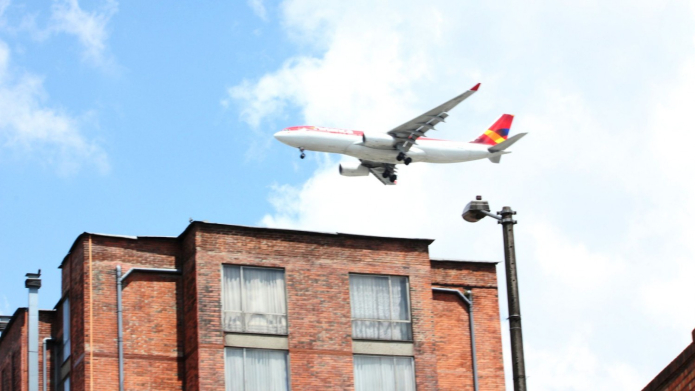 Severe noise pollution from El Dorado International Airport is harming neighbouring communities. Photo: Comunidades Unidas
Status
Planning
Design
Agreement
Construction
Operation
Closure
Decommission
About El Dorado International Airport
El Dorado International Airport in Bogotá, Colombia is the busiest airport in Colombia and one of the busiest in Latin America, serving as the main international and domestic air gateway in the country. It is located adjacent to the densely-populated neighbourhood of Fontibón in the northwest of Bogotá. The airport has a long history of inadequate noise mitigation with noise levels frequently exceding national limits.
The airport is currently undergoing a significant expansion in order to increase the number of flights into the country. In 2006, the Special Civil Aeronautics Administrative Unit (Aerocivil), a government agency, awarded a 20-year contract to OPAIN S.A. to expand, modernise and operate El Dorado Airport. Among other activities, the contract included the construction and operation of new, extended passenger and cargo terminals and additional aircraft docking and platform spaces, to expand the airport's capacity. Under a separate concession, Codad S.A. (which constructed the second runway adjacent to Fontibón in 1997) undertook improvements to the runways, including improvements to and construction of rapid exit taxiways, to enable a higher rate of air operations. Air operations have already increased dramatically, increasing 22% between 2008 and 2014. By the conclusion of the expansion project, the airport is expected to host 90 air operations per hour and 40 million passengers a year, up from 50 operations per hour and 27 million passengers in 2015.
Brief history
The airport expansion project has been carried out by two concession holders: OPAIN S.A. and Codad S.A.
In 2006, OPAIN S.A. received a 20-year contract from Aerocivil to expand, modernise and operate El Dorado Airport. OPAIN obtained financing for the project from a range of sources. In 2007, OPAIN received project financing from Bancolombia. In 2010, additional financing was provided by the Inter-American Development Bank (IDB), China Development Bank and the Development Bank of Latin America (CAF). This development bank debt was then refinanced in 2015, under the Equator Principles, by several Equator Principles Financial Institutions. In 2016, in order to fund additional works, OPAIN obtained financing from Financiera de Desarrollo Nacional (FDN), a Colombian development finance institution in which the World Bank Group's International Finance Corporation (IFC) is an equity investor. Only a year later, OPAIN repaid FDN's loan, following advocacy by affected communities. The financing from the Equator Principles Financial Institutions remains active. (See 'Finance' for more details).
Between 1997 and 2017, Codad S.A. held a separate concession to construct, operate and maintain the airport runways. For a period between 2014 and 2017, the IFC also contributed to Codad's activites, through its primary shareholder - Ashmore Colombia Fund I - in which the IFC also held an equity stake.
In 2011, Comunidades Unidas, a community-based organization representing affected Fontibón communities, filed a complaint to the IDB's Independent Consultation and Investigation Mechanism (MICI) alleging violations of the Bank's environmental and social safeguards, with particular concern for noise-related harm. The complaint was found eligible for the consultation phase and MICI convened a dialogue between Comunidades Unidas, two other neighborhood organizations, Aerocivil, and OPAIN. After several years of making progress, the dialogue broke down, in large part over disputes regarding OPAIN's responsibility for the noise mitigation. MICI then made the decision to close the Consultation Phase and transferred the case to the Compliance Review Phase.On September 3, 2014, Comunidades Unidas, with the help of Accountability Counsel, filed a supplementary document, explaining the severe noise-related harm caused by the airport and the related violations of IDB policy. On November 21, 2014, MICI found the complaint eligible for the Compliance Review Phase, where it assessed whether the IDB breached its environmental and social obligations resulting in harm to communities. MICI recently concluded its compliance review investigation finding substantial non-compliance with IDB policy. See here and under 'updates' for more information.
Since filing the complaint, additional investors have made significant financial contributions to the project, leading OPAIN to repay the IDB's contribution. To our knowledge, none of the institutions properly investigated or managed the risks (including health risks) associated with noise pollution from the airport.
It is possible that further financing will be sought and the scope of the project changes and expands. Construction is expected to continue through until 2018-2021.
What must happen
OPAIN, Codad, Aerocivil and the financial institutions supporting this expansion project have failed to properly investigate and mitigate the health risks associated with noise pollution generated by El Dorado International Airport. No further financing should be committed, and no further disbursements should be made, until the following demands are met:
Comunidades Unidas urgently seeks an independent investigation of the actual and anticipated health impacts associated with El Dorado International Airport. The outcomes of this Health Impact Assessment, together with other relevant investigations and proper community consultation, should then inform:
The strategic alteration of flight routes;
An updated census of the buildings that have received soundproofing in the Fontibón locality and an evaluation of the soundproofing's effectiveness;
A guarantee that the Fontibón community will have permanent adequate resources to implement, maintain and update soundproofing;
The preparation and maintenance of a permanent Noise Mitigation Plan with proper community consultation and evaluations of the effectiveness of that plan; and
Adoption of the best available international noise mitigation technology and timely evaluation of any changes made.
Financers should make sure these demands are implemented by OPAIN S.A and Aerocivil.
Location