New worldwide armed banking database available
---
2018-04-09
Barcelona
Banca Armada & Center Delàs de Estudios por la Paz
---
Maria Vazquez – Center Delàs de Estudios per la Paz
mvazquez@centredelas.org
(+34) 934 411 947 – (+34) 633 561 498
---
Share this page: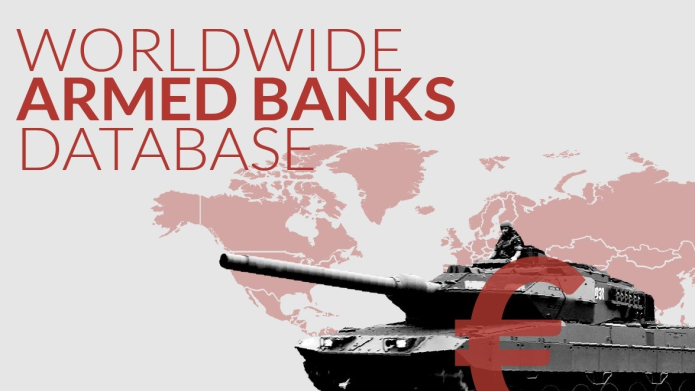 Photo: Center Delàs de Estudios per la Paz
The Banca Armada Campaign and Center Delàs de Estudios por la Paz, in collaboration with Don't Bank on the Bomb and with funding from the Ajuntament of Barcelona and Grassroots Foundation, ​​has published a new tool in which updated data is presented on the financing of the arms industry between 2011 and 2017, searchable by financial entities identified as Banca Armada from around the world. That is, the largest banks, insurance companies, file management companies, sovereign wealth funds, pension funds and public institutions globally.
This recently published worldwide database is an original compilation of data on the financing of arms industry from more than 500 financial entities (banks, insurers, pension funds, etc.), with a total value of 508,482,640,468 US dollars. The new database accounts for nuclear weapons, cluster bombs, non-nuclear missiles, combat aircraft, warships, military explosives, military electronics, submarines, tanks, among others.
The search methodology allows selecting by financial institution, by country where the financial institution headquartered, and by arms company, and is available in English, Spanish and Catalan. It also includes graphical representations and rankings of armed banks by country and financial entity, together with a file by weapons company with key data on its sectors of activity. The search data can be downloaded in CSV and HTML format.
The Banca Armada concept refers to all financial entities that participate in the military industry through one or more types of financing, which are broken down in this database into three categories: underwriting of share and bond issuances of arms companies; the granting of loans to arms companies; ownership or management of shares and bonds of arms companies.
The objective of this new database is to provide the user with the possibility of deepening the analysis of the relationship between arms trade and financial institutions around the world, from a critical perspective based on a culture of peace.