West Cumbria Coal Mine: dodgy mine, dodgier financier
2023-11-20
Reclaim Finance
Andrea Hernandez, Reclaim Finance, andrea@reclaimfinance.org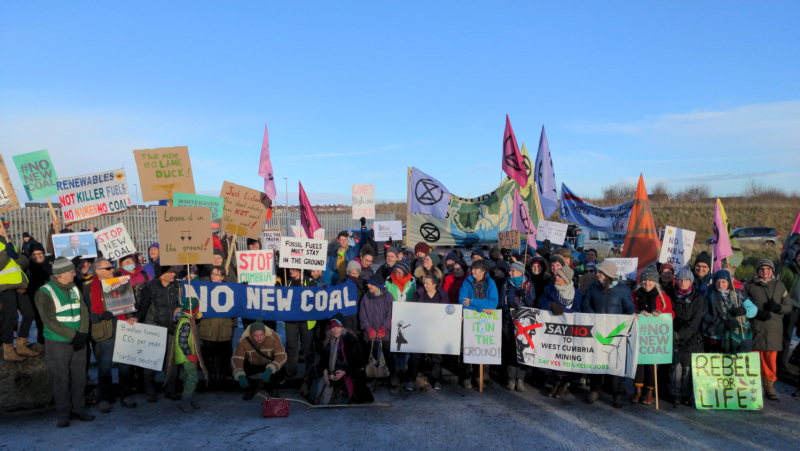 December 2022 action by community members outside the proposed mining site. Photo: Coal Action Network
2023-11-20
Reclaim Finance
Andrea Hernandez, Reclaim Finance, andrea@reclaimfinance.org
The proposed West Cumbria Coal Mine in northwest England is no ordinary coal mine project. Nor is it being developed by an ordinary financial institution. In 2022, more than a year after the International Energy Agency (IEA) indicated in its Net Zero Emissions (NZE) scenario that "no new coal mines or mine extensions" are needed if we are to stay within the 1.5°C limit, the West Cumbria Coal Mine became the first new deep coal mine to be approved in the UK in 30 years. A discreet private equity firm, EMR Capital, is behind the proposal to build this mine. While EMR Capital is currently seeking financing for the construction of the mine, Reclaim Finance is calling on financial institutions to refrain from providing any financial support to the mine project or to EMR Capital.
Why is this mine damaging and pointless?
The proposed West Cumbria Coal Mine (or Woodhouse Colliery Mine) is intended to produce metallurgical coal for steelmaking. While the IEA and other experts agree that phasing out the use of coal should be a priority to decarbonize the steel sector, it is estimated that the mine would emit 8.8 million tons of CO2 per year (1), i.e. the equivalent of more than three million English homes being powered by a coal plant each year (2), corresponding to around 200 million tons of CO2 over its projected lifetime up to 2049. By also potentially emitting fifteen times more methane than the developer claims, the mine would significantly jeopardize the UK's chances of reaching its climate commitments (3). In addition to the severe climate impacts if built, the mine has been widely criticized for its negative impacts on human rights, communities, and biodiversity (4).
Furthermore, there is no need for developing this mine. First, the IEA's NZE scenario clearly projects that existing sources of metallurgical coal production will be sufficient to meet global demand through 2050 (5). Second, steelmakers should be increasingly moving to new ways of making steel, such as electric arc furnaces powered by sustainable energy sources (6).
Who is behind this mine?
West Cumbria Mining Limited is the company developing the West Cumbria Coal Mine. The company is controlled by a small private equity firm that is very active in the mining sector worldwide: EMR Capital. Following the acquisition of West Cumbria Mining Limited in June 2014 for £14.7 million (7), EMR Capital currently owns approximately 81% of the company's shares, with the remainder held mainly by high net worth individuals (8).
West Cumbria Mining Limited is surrounded by a complex set of financial vehicles but is ultimately held by EMR Capital Resources Fund 1 (see Figure 1), a fund managed by EMR Capital. It should be noted that the fund is based in the Cayman Islands, which some have pointed out poses significant risks to the local community and the UK in terms of tax and profit leakage (9).
How did we get here?
Like any other private equity firm, EMR Capital invests with the money that third party investors allocate to the funds it manages. These third-party investors are often institutional investors such as pension funds, insurance companies, sovereign wealth funds, endowments, and foundations and, to a lesser extent, high-net-worth individuals.
Due to the few disclosure regulations governing the private equity sector, it is very complicated to identify the investors in EMR Capital Resources Fund 1. We know that 54 investors contributed to the £350 million fundraising between 2013 and 2015, when it was launched (10). While most of these investors remain unknown, we have identified eight US investors that have committed resources to the fund: the University of Pittsburgh Endowment (11); Forest Foundation, Sequoia Foundation and Stewardship Foundation of Tacoma, WA; Sentry Insurance of Stevens Point, WI; the Nemours Foundation Pension Plan of Jacksonville, FL; Aven Foundation of Medina, WA; and the City University of New York (12).
These fund investors should use their leverage to pressure EMR Capital to abandon its plans to build the West Cumbria Coal Mine. Otherwise, they should be held accountable for contributing to the development of this harmful project. Abandoning the construction plans now is all the more important because there is a possibility that EMR Capital will seek to sell its interest in the West Cumbria Mine soon (13), once pre-commissioning activities have been completed or once the mine is operational, thereby escaping accountability.
What comes next?
West Cumbria Coal Mine is at a critical moment. In addition to the legal action by environmental groups challenging the decision to approve the mine (14), EMR Capital is seeking financing for the construction of the project.
West Cumbria Mining Limited would need to raise at least £241.7 million to complete the full construction of the mine (15). However, it appears to have raised only £10.3 million through a private sale of shares to undisclosed investors in May 2023 (16), which coincides with West Cumbria Mining Limited's announcement that it had secured "multimillion pound funding" (17). This implies that EMR Capital has funding for some initial activities but is still looking to raise more capital.
Financial institutions must refrain from providing any financial service to West Cumbria Coal Mine, West Cumbria Mining Limited, EMR Capital or any other financial vehicle involved in the mine development. This includes, but is not limited to, investments, loans (18), insurance coverage (19) and financial advice. Moreover, financial institutions have a key role in decarbonizing the steel sector by ensuring that financial investments are directed at the right technologies. The very first step for them is to stop supporting any new metallurgical coal mines, the expansion of existing ones and related infrastructure, as well as companies that are developing or planning to develop such projects.
Notes:
This blog post was originally published on Reclaim Finance's website here.
There are no active project profiles for this item now.