National Bank of Egypt
Egypt
Active
This profile is actively maintained
Last update:
2023-01-05 15:04:26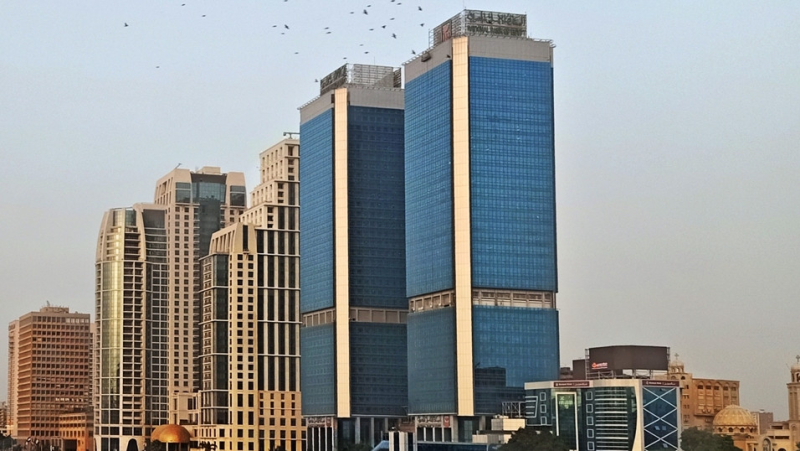 Active
This profile is actively maintained
Last update:
2023-01-05 15:04:26
Website
https://www.nbe.com.eg/NBE/E/#/EN/Home
Headquarters

1187 Corniche El Nil, Cairo Plaza

Cairo

Egypt

CEO/chair
Hisham Okasha
Chairman and Executive Director
Supervisor
Ownership

listed on Egyptian Exchange (EGC)

National Bank of Egypt is owned by the Egyptian state.
National Bank of Egypt (NBE) is the oldest commercial bank in Egypt, founded in 1898. During the 1950s, NBE assumed the role of central bank. After its nationalization in the 1960s, it acted as a pure commercial bank as well as carrying out the functions of the central bank in the areas where the latter had no branches. Since mid-1960s, NBE has been in charge of issuing investment certificates on behalf of the government. NBE has an extensive network of 510 branches and offices nationwide. The bank maintains an international presence in the UK, Sudan, USA, China and has representative offices in South Africa, UAE and Ethiopia.
National Bank of Egypt does not have publicly available investment policies nor does it have a web page on corporate social responsibility.
National Bank of Egypt has committed itself to the following voluntary standards:

---
Banks and Human Rights
BankTrack assessed National Bank of Egypt in its 2021 Human Rights Benchmark Africa, where it achieved 0 points out of 14 and was ranked as a 'laggard'. More information is detailed in the "Accountability" section of this profile.
Human Rights Benchmark Africa 2021
National Bank of Egypt does not operate a complaints or grievances channel for individuals or communities that might have been affected by the bank's finance.
This page evaluates National Bank of Egypt's responses to instances of alleged human rights violations linked to its finance, raised by civil society organisations. It is not intended to be exhaustive, but covers selected impacts raised by BankTrack and other civil society partners since 2016. For the full scoring methodology, see here. For more information about BankTrack's evaluation of bank responses to human rights impacts, see the 2021 report "Actions speak louder: assessing bank responses to human rights violations".
Impacts reviewed
Responded?
Total score
Response
Action
Monitoring
A PHP Error was encountered
Severity: Warning
Message: Division by zero
Filename: bankprofile/response_tracking.php
Line Number: 200
Backtrace:
File: /home/btwebhost/www/btci3/application/views/sections/bankprofile/response_tracking.php
Line: 200
Function: _error_handler
File: /home/btwebhost/www/btci3/application/helpers/easy_helper.php
Line: 366
Function: view
File: /home/btwebhost/www/btci3/application/views/sections/bankprofile/main.php
Line: 355
Function: lv
File: /home/btwebhost/www/btci3/application/libraries/sections/Bankprofile.php
Line: 483
Function: view
File: /home/btwebhost/www/btci3/application/controllers/Main.php
Line: 333
Function: content
File: /home/btwebhost/www/btci3/index.php
Line: 321
Function: require_once
---
A PHP Error was encountered
Severity: Warning
Message: Division by zero
Filename: bankprofile/response_tracking.php
Line Number: 209
Backtrace:
File: /home/btwebhost/www/btci3/application/views/sections/bankprofile/response_tracking.php
Line: 209
Function: _error_handler
File: /home/btwebhost/www/btci3/application/helpers/easy_helper.php
Line: 366
Function: view
File: /home/btwebhost/www/btci3/application/views/sections/bankprofile/main.php
Line: 355
Function: lv
File: /home/btwebhost/www/btci3/application/libraries/sections/Bankprofile.php
Line: 483
Function: view
File: /home/btwebhost/www/btci3/application/controllers/Main.php
Line: 333
Function: content
File: /home/btwebhost/www/btci3/index.php
Line: 321
Function: require_once
NAN%
A PHP Error was encountered
Severity: Warning
Message: Division by zero
Filename: bankprofile/response_tracking.php
Line Number: 217
Backtrace:
File: /home/btwebhost/www/btci3/application/views/sections/bankprofile/response_tracking.php
Line: 217
Function: _error_handler
File: /home/btwebhost/www/btci3/application/helpers/easy_helper.php
Line: 366
Function: view
File: /home/btwebhost/www/btci3/application/views/sections/bankprofile/main.php
Line: 355
Function: lv
File: /home/btwebhost/www/btci3/application/libraries/sections/Bankprofile.php
Line: 483
Function: view
File: /home/btwebhost/www/btci3/application/controllers/Main.php
Line: 333
Function: content
File: /home/btwebhost/www/btci3/index.php
Line: 321
Function: require_once
NAN
A PHP Error was encountered
Severity: Warning
Message: Division by zero
Filename: bankprofile/response_tracking.php
Line Number: 220
Backtrace:
File: /home/btwebhost/www/btci3/application/views/sections/bankprofile/response_tracking.php
Line: 220
Function: _error_handler
File: /home/btwebhost/www/btci3/application/helpers/easy_helper.php
Line: 366
Function: view
File: /home/btwebhost/www/btci3/application/views/sections/bankprofile/main.php
Line: 355
Function: lv
File: /home/btwebhost/www/btci3/application/libraries/sections/Bankprofile.php
Line: 483
Function: view
File: /home/btwebhost/www/btci3/application/controllers/Main.php
Line: 333
Function: content
File: /home/btwebhost/www/btci3/index.php
Line: 321
Function: require_once
NAN
A PHP Error was encountered
Severity: Warning
Message: Division by zero
Filename: bankprofile/response_tracking.php
Line Number: 223
Backtrace:
File: /home/btwebhost/www/btci3/application/views/sections/bankprofile/response_tracking.php
Line: 223
Function: _error_handler
File: /home/btwebhost/www/btci3/application/helpers/easy_helper.php
Line: 366
Function: view
File: /home/btwebhost/www/btci3/application/views/sections/bankprofile/main.php
Line: 355
Function: lv
File: /home/btwebhost/www/btci3/application/libraries/sections/Bankprofile.php
Line: 483
Function: view
File: /home/btwebhost/www/btci3/application/controllers/Main.php
Line: 333
Function: content
File: /home/btwebhost/www/btci3/index.php
Line: 321
Function: require_once
NAN