---
Active
This profile is actively maintained
---
Send
feedback
on this profile
Download as
PDF
---

Created on:

2017-03-07 12:06:13


Last update:

2017-04-18 12:39:08



BankTrack
---
Karen Vermeer, Forest and Equator Principles Campaigner, BankTrack
---
Share this page:
---
About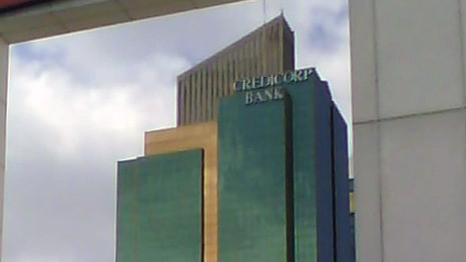 Credicorp Bank offices in Panama. Photo: 123Hollic via Wikimedia Commons (CC BY-SA 4.0)
Credicorp is a financial holding in Peru. Its six principal operating subsidiaries are Banco de Credito del Peru (BCP), Atlantic Security Holding Corporation (ASHC), BCP Bolivia, Grupo Pacifico Seguros, Prima AFP and Credicorp Capital. Credicorp is mainly involved in commercial & investment banking and retail banking, including SME and micro-lending; insurance, pension funds (private pension fund management services) and brokerage services including trust, custody and securitization services, asset management and proprietary trading and investment.
At the end of 2015 Credicorp controlled assets worth PEN 155.7 billion (USD 46.7 billion).
Documents
Policies
Voluntary initiatives
Credicorp has committed itself to the following voluntary standards:

Investment policies
The GRI applies to Credicorp's subsidiary Prima AFP, the Equator Principles are signed by the subsidiary BCP.
Credicorp itself has no CSR policies or an CSR webpage.