Westpac's new climate policy rules out most new coal mines – including Carmichael!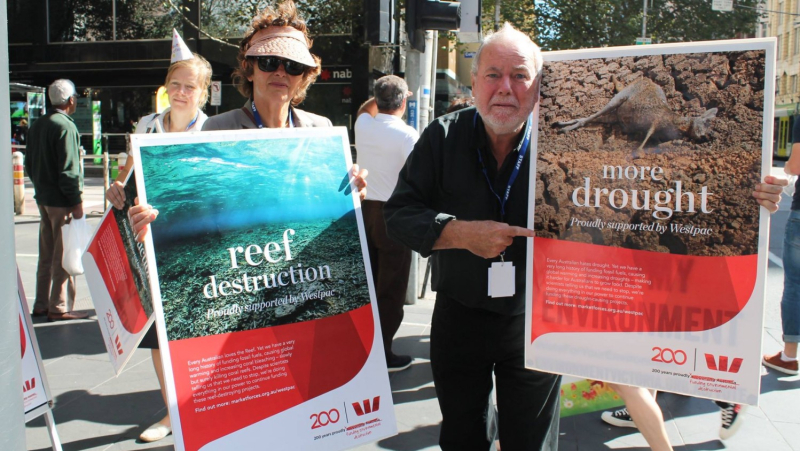 Protesters at WestPac's 200th birthday celebrations in April 2017. Photo: Market Forces
After years of pressure from customers, shareholders, environmental groups and the broader community, Westpac has just become the 19th bank around the world to either distance themselves from Galilee Basin coal export projects, or bring in a policy that prohibits lending to new coal mines like Adani's.
Westpac's climate change policy update, released today, says "for new thermal coal proposals we will limit lending to any new thermal coal mines or projects (including those of existing customers) to only existing coal producing basins and where the calorific value for that mine ranks in at least the top 15% globally".
This rules Adani's plans out on two counts, as the Galilee Basin does not currently produce coal, and the coal quality is lower than Westpac's new threshold.
The bank also promises to: reduce the emissions intensity of its power generation portfolio; only lend to new coal power stations that reduce the overall emissions intensity of the energy grid they will operate in; and not lend to existing coal power stations for expansion or lifetime extension purposes, unless there is a reduction in emissions intensity.
On the renewable energy and energy efficiency side of things, Westpac has committed to increase lending to climate change solutions to $10 billion by 2020 and $25 billion by 2030.
While Westpac's climate policy update is a big win for the campaign to stop Adani, it leaves a long way to go to get the bank off fossil fuels altogether.
Market Forces Executive Director Julien Vincent said of the move: "With this policy change, Westpac has raised the bar on climate change for the other big banks, becoming the first major bank to put restrictions in for new thermal coal mines. The fact that an existing lender to Adani has now ruled out financing the proposed Carmichael mine makes this announcement even more significant."
Read Market Forces' full analysis of Westpac's policy update.