Victims of Liberian gold mine disaster see groundbreaking complaint against development banks accepted
DEG and Proparco indirectly backed the Liberian mine through investments in FirstRand, a South African commercial bank
2021-08-09
Inclusive Development International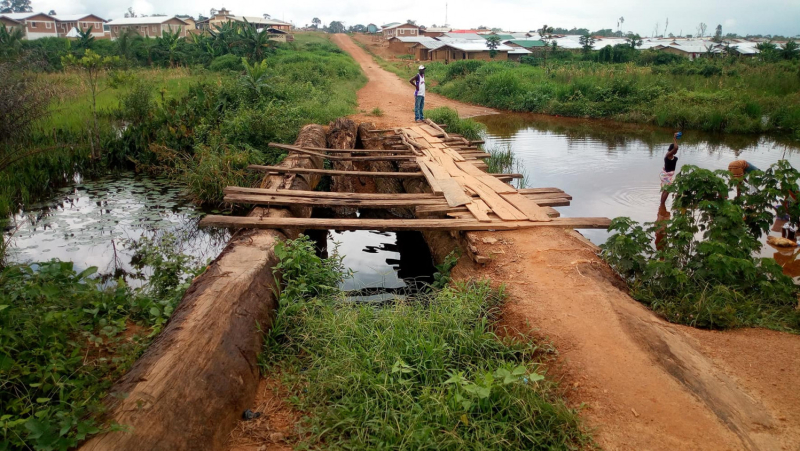 Bridge in Kinjor Town, Liberia, near the New Liberty Gold Mine . Photo: Sourced from Inclusive Development International here
2021-08-09
Inclusive Development International
In a precedent-setting case, more than 10,000 people harmed by the New Liberty Gold Mine in Liberia have had a complaint accepted against the German and French national development banks – DEG and Proparco – for their involvement in the project. Community leaders say the mining company has taken their homes and farms, polluted their water, and broken promises to provide jobs, schools and other facilities.
DEG and Proparco indirectly backed the Liberian mine through investments in FirstRand, a South African commercial bank. The Independent Complaints Mechanism of the development banks will now seek to bring the mine's owner, Avesoro Resources, into a formal mediation process with the complainants, who are supported by Inclusive Development International, Oxfam Novib, SOMO and Liberian NGOs.
"We have been neglected by the mining company," explained a community leader, whose identity is being kept anonymous due to fear of reprisals. "We were taken from our land without any good reward, and our land and water polluted while the company refused to fully address the problems. Our livelihoods – farming and artisanal mining – have been disrupted by the company, and we are suffering from food insecurity and unattended health problems. We hope that the complaint process will help restore our livelihoods and hold the company to its promises."
Liberia, which is rebuilding following years of civil war, has sought to attract foreign investment. But gold mining projects have been controversial. In March 2016, the New Liberty Gold Mine in Grand Cape Mount County spilled cyanide and arsenic into a river that people rely on for fish and drinking water. The International Finance Corporation, part of the World Bank, pulled its investment in the project after the accident. Following a visit by the Liberian President last year, the company has recently embarked on several long-overdue community infrastructure improvement projects. The Independent Complaints Mechanism's mediation process offers a unique opportunity to support the Liberian government's efforts to ensure that the project brings promised benefits to local communities.
"The admissibility decision brings hope to the people who have suffered neglect and injustice for so long," said Liberian advisors to complainants, whose identities are being kept confidential for security reasons. "We see this process as a unique opportunity to initiate a formal mediation between the affected communities and the company, and we ask the Liberian government to support the process to ensure that it will produce a just outcome."
Major consumer brands such as Apple, Macy's, IBM and Canon disclose that they sourced gold from Liberia in their most recent conflict minerals reports to the U.S. Securities and Exchange Commission. There are only two commercial gold mines in Liberia, and both are ultimately owned by the MNG Group of Turkey, which is controlled by the billionaire Günal family. Gold from Liberia was being processed at Swiss refineries that supply these same brands as late as 2019, according to disclosures from the London Bullion Market Association.
"This case shows once again how big brand companies and development institutions alike are failing to perform human rights due diligence on their investment and supply chains," said David Pred, Executive Director of Inclusive Development International. "We are calling on FirstRand, the European development banks and the retail and technology companies that source gold from New Liberty, to ensure that Avesoro engages in good faith mediations with the communities to resolve their long-standing grievances."
The complaint is the first to be admitted by the Independent Complaints Mechanism involving a so-called financial intermediary. Development banks, including DEG and Proparco, are increasingly outsourcing their money to financial intermediaries such as commercial banks, which then invest it onward, often with little oversight, harming communities around the world.
DEG and Proparco have been lending money to FirstRand Bank of South Africa for years. Both development banks take a portfolio-wide approach to their financial intermediary lending, requiring banks like FirstRand to apply stringent social and environmental standards to all of their high-risk clients, no matter their size or location. FirstRand participated in project loans of $110 million to develop New Liberty while it was a client of DEG and Proparco. The Independent Accountability Mechanism found that FirstRand should have applied DEG's and Proparco's social and environmental standards, accepting the New Liberty complaint on the basis of the development banks' portfolio-wide approach to financial intermediaries – a first in development finance accountability.
"This decision creates a vital opportunity for the Liberian communities to secure redress for the terrible impacts they have suffered as a result of the New Liberty mine," said Sarah Singh, Senior Legal and Policy Associate at Inclusive Development International. "The decision to accept the complaint on the basis of the banks' portfolio-wide approach also establishes an important precedent that opens the door to remedy for any community that has been harmed by companies supported by the financial intermediaries of the European development banks."
FirstRand Bank is also an ongoing financial intermediary of the Dutch development bank FMO. The NGOs supporting the complaint regret that the lack of transparency and accountability in FMO's lending practices led the Independent Complaints Mechanism to dismiss the complaint against the Dutch bank on technical grounds.
Two other banks joined FirstRand in financing the New Liberty Mine. Nedbank, a South African commercial bank that is a signatory to the Equator Principles, co-financed the deal, while the South African government's export credit agency, ECIC, guaranteed it. Avesoro Resources has struggled for years to pay back the loan due to problems at the New Liberty mine. The lenders have agreed at least twice to renegotiate the terms in favor of Avesoro.

The complaint annex is available here.
Click here for more information.
Reposted from Inclusive Development International's news story here.