Stop Tar Sands trade talks
Trans-Atlantic civil society action targets Canada-Europe bilateral trade talks
---
2011-01-17
Bruissels Belgium
Friends of the Earth Europe and partners
---
Suzanne Dhaliwal, UK Tar Sands Network, Tel: +44 7772694327,
Stuart Trew, trade campaigner, Council of Canadians Tel: +1-647-222-9782,
Clayton Thomas-Muller, Indigenous Tar Sands Campaign, Indigenous Environmental Network, Tel: 218 760 6632,
Darek Urbaniak, Extractive Industries Campaigner for Friends of the Earth Europe, Tel: +32 495 460 258 (Belgian mobile),
---
Share this page:
---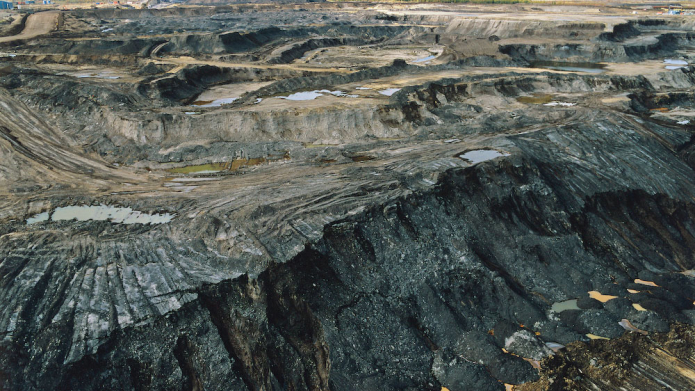 Photo: -
European and Canadian civil society groups joined together today outside Canada-EU free trade talks to give a clear warning to the public and negotiators that increasing Europe's involvement in the Canadian tar sands is unacceptable.
The diverse groups held a "Stop Tar Sands Trade Talks" banner, and placards with an oily Canadian flag dripping onto an EU flag, while also distributing information outside European Commission headquarters to draw attention to the sixth round of Canada-EU Comprehensive Economic and Trade Agreement (CETA) negotiations, happening January 17 to 21 in Brussels.
"We are concerned that the CETA negotiations will give dramatic new powers to European oil companies like Shell, BP and Total, allowing them to legally challenge any attempts to regulate their activities in the tar sands for social or environmental reasons. In order to prevent dangerous climate change we need to be shutting the tar sands down, not
helping our companies invest in them," said Suzanne Dhaliwal, from UK Tar Sands Network, who held a protest about the trade talks last Friday at the office of Britain's controversial new unelected Trade Minister Stephen Green, who is the former Chair of HSBC - the world's 13th largest investor in the tar sands.
"Tar sands are the most climate hostile energy source in commercial production today," said Darek Urbaniak, Extractive Industries Campaigner, Friends of the Earth Europe. "While Europe is working to reduce fossil fuels emissions Canada is using these trade negotiations to undermine this process. It has already been lobbying to water down
the EU's Fuel Quality Directive to treat oil produced from tar sands like conventional sources. EU decision makers should ensure that CETA enhances European climate policy and not the development of Canadian tar sands."
Canada's tar sands are the second largest petroleum reserve in the world, and their production is having serious social and environmental consequences. Producing oil from tar sands emits on average 3 to 5 times more greenhouse gases (GHGs) than conventional oil production. It requires and contaminates massive amounts of water and is having direct impacts on the health and way of life of First Nations communities living downstream from operations.
"The economic benefits of CETA have been oversold and the environmental costs ignored by the Canadian and European governments. The trade deal on the table leaves little room for badly needed climate change policies. In fact it will undoubtedly increase greenhouse gas emissions from mining, energy and transportation. Without a major re-write, Europeans and Canadians must reject CETA," says Stuart Trew, Trade Campaigner with the Council of Canadians.
"The debate over the tar sands extraction needs to come down to the fundamental human rights of First Nations to exist and have a future with a safe, clean and healthy environment," says Clayton Thomas-Muller , Tar Sands Campaigner with the Indigenous Environmental Network. "First Nations' access to basic human necessities is supposedly protected by domestic and international law but CETA, by encouraging more extraction projects and giving that kind of investment strong new protections, threatens First Nations' access to clean drinking water, land and sustenance."
The CETA negotiations are currently in full swing, and due to be completed towards the end of 2011. Yet most European citizens have no idea the talks are taking place. A legal analysis on the potential impact of CETA negotiations reveals that it could undermine climate policy in Europe and give dramatic new powers to Europe's multinational oil companies. For example, the European Commission has asked Parliament for permission to negotiate an investor-to-state dispute process that would allow EU companies to sue the Canadian government in the eventfuture regulations, water use limits or other environmental protections interfere with their profits. Likewise, Canadian companies will be able to take otherwise legitimate and legal EU decisions before non-transparent arbitration panels with the power to hand out fines. The Canadian government has said negotiating an investor-to-state dispute process is one of its most important objectives in CETA. The chill effect from this process is enough to discourage governments from pursuing effective climate and environmental policy. The civil society groups are therefore calling for the talks to be put on hold until they can be subjected to full public scrutiny and the many social and environmental concerns adequately addressed.
Notes
"Tar sands - Fuelling the climate crisis, undermining EU energy security and damaging development objectives," a report from Friends of the Earth Europe, available here.
"Potential Impacts of the Proposed Canada-European Union Comprehensive Economic and Trade Agreement (CETA) on the Pace and Character of Oil Sands Development": A Legal opinion prepared by Steven Shrybman (Sack Goldblatt Mitchell LLP) for the Council of Canadians, and the Indigenous Environmental Network, available here.
Related Dodgy Deals
Projects
There are no projects active for this item now.