MUFG falls behind peers in new ESG finance policy announcement
MUFG's policy revisions "disappointing", says Rainforest Action Network
2020-05-14
Rainforest Action Network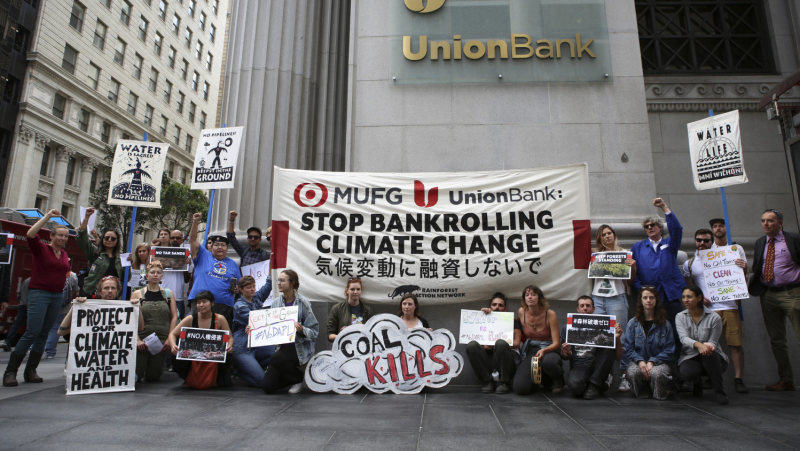 Climate activists demand that MUFG end financing of fossil fuels and deforestation. Photo: Rainforest Action Network
2020-05-14
Rainforest Action Network
Japan's largest bank, Mitsubishi UFJ Financial Group (MUFG), released a revised Environmental, Social and Governance (ESG) financing policy today, but fell short of its global and domestic peers –– most notably Mizuho Financial Group (Mizuho) and Sumitomo Mitsui Financial Group (SMBC Group).
Rainforest Action Network (RAN), which has been calling out MUFG for years over its financing of destructive palm oil operations and global fossil fuel expansion, denounced the policy revision: "Amid the current deforestation-linked pandemic, when the UN Environment Programme (UNEP) has said that the need to address threats to ecosystems and wildlife has never been greater, this policy represents a failure of leadership. We are deeply disappointed," said Hana Heineken, Senior Campaigner on Responsible Finance at Rainforest Action Network (RAN). "With this policy, MUFG has made the decision to prioritize its profits over a stable climate and the world's last remaining rainforests, both of which are critical to preventing future pandemics."
Unlike Mizuho, MUFG has failed to commit to a coal phase-out timeline or incorporate international best practice on forest sector financing, represented by No Deforestation, No Peatland, No Exploitation (NDPE) policies and enshrining local communities' right to Free, Prior and Informed Consent (FPIC). And unlike SMBC, MUFG has made no commitment to protect forests and biodiversity or prohibit the use of fire to clear land, relying instead on weak certification mechanisms.
MUFG has been one of the largest global financiers of Conflict Palm Oil and helped finance the climate-destructive forest fires in Indonesia last year. This year's Banking on Climate Change Report also found MUFG was the 6th largest global lender and underwriter to fossil fuels since the Paris Agreement, with $119 billion in financing between 2016 – 2019. MUFG has been a major financier of companies developing tar sands pipelines across North America, including Enbridge's Line 3 and TC Energy's Keystone XL –– and in fact, has committed new funds to both companies during the pandemic –– despite clear links to climate disaster and Indigenous Rights violations. MUFG is also the 4th largest global financier of Arctic oil and gas and continues to fund new coal plants like Vietnam's controversial Vung Ang 2, despite its pledge to stop.
"MUFG's policy represents a textbook case of corporate doublespeak. MUFG's new policy recognizes tar sands and Arctic oil and gas as high-risk sectors, but red line restrictions and a clear phase-out plan are needed if MUFG wants to align with the Paris Agreement. As one of the largest global financiers of rainforest destruction and fossil fuel development, MUFG must commit to strengthening their standards or risk significant damage to its reputation," said Heineken.
Published at: https://www.ran.org/press-releases/mufg-falls-behind-peers-in-new-esg-finance-policy-announcement/