Lloyds Banking Group commits to not directly finance new oil and gas fields
ShareAction responds to first UK bank's commitment to not directly finance new oil and gas fields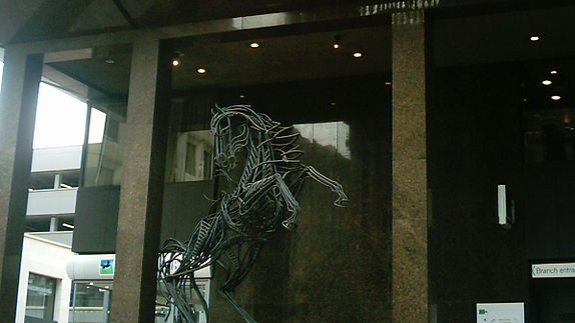 Lloyds TSB regional offices on Park Row in Leeds. Photo: Mtaylor848 on Wikimedia Commons
Today, Lloyds Banking Group became the first UK bank to commit to not directly finance new oil and gas fields, stating that going forward they will not support 'Direct financing (either via project finance, or reserve-based lending) of new greenfield oil and gas developments (fields which did not receive Oil & Gas Authority approval before the end of 2021).'
Last May, the International Energy Agency (IEA) warned that there is no room for new oil and gas fields beyond 2021 for a 50 per cent change of reaching net zero by 2050. ShareAction has engaged with Lloyds Banking Group on this policy over the past few years, building on engagement on their overall climate strategy.
Jeanne Martin, Head of Banking Programme at ShareAction, said: "Lloyds Banking Group has today set a new standard for the UK banking industry by committing to stop directly financing new oil and gas fields. We commend the bank for doing so and urge major UK banks such as Barclays and HSBC to swiftly follow suit.
However, asset-level financing is only a fraction of the financing provided by banks to new oil and gas. Lloyds Banking Group should not rest on its laurels just yet, but instead urgently turn its focus to the companies behind these new oil and gas fields.
With only a few years left to prevent the worst impacts of climate change, which is already devastating people's lives around the world, it's vital that banks ensure their funding accelerates, not hinders, the transition to net zero."
Notes to editors
ShareAction research in February found that European banks have provided over US$400 billion to the top 50 companies expanding oil and gas production between 2016 and 2021, with HSBC, Barclays and BNP Paribas the worst offenders. The report found that 92 per cent of financing to the top 50 upstream oil and gas expanders by top European banks was in the form of general purpose corporate finance, with only eight per cent of finance in the form of project finance or dedicated financing. This illustrates the importance of banks restricting financing to both fossil fuel projects and to the companies building and operating them.
From www.ShareAction.org