Liquefied gas, solid problem
Why private finance should not support any new LNG terminal project in Europe
---
2022-09-26
Reclaim Finance
---
Share this page:
---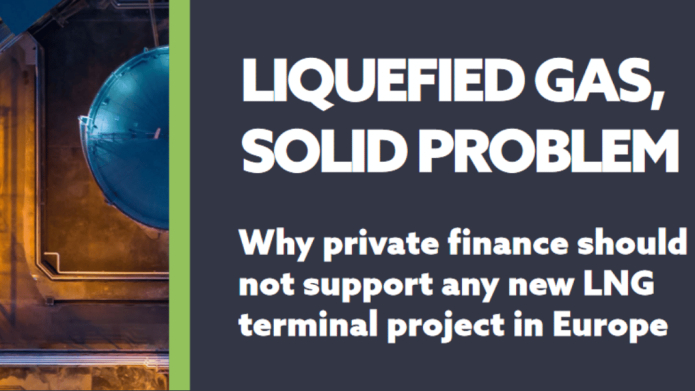 Liquefied gas, solid problem. Photo: Reclaim Finance
The urge to end Europe's Russian fossil fuel dependency as quickly as possible has put LNG in the spotlight. In the past few months, new LNG import terminal projects have sprung up all over Europe amid a surge in the push to diversify gas supplies, adding to several existing plans.
Plans for new LNG regasification terminals in Europe are highly disproportionate and threaten to drive Europe into a carbon lock-in for decades to come, while simultaneously generating an increased risk of stranded assets. Indeed, planned additions in LNG import capacity would:
Not provide an adequate response to the short-term urgency that Europe is facing, as the construction of new LNG regasification terminals takes several years.
Largely exceed the capacity necessary to respond to EU gas demand in scenarios aligned with a 1.5°C trajectory, and thus are useless if the EU is to uphold its commitment to the Paris Agreement.
Be at odds with the EU's objectives to reduce greenhouse gas (GHG) emissions by 55% by 2030 and become the world's first climate-neutral continent by 2050, due to LNG's methane emissions and leakages, as well as the carbon lock-in risk associated with new fossil fuel infrastructures.
Hinder Europe's transition by diverting investments from renewable energy deployment and energy efficiency action.
Bring the threat of detrimental effects on energy poverty due to LNG's high prices.
Private finance is critical to enabling the construction of new fossil fuel infrastructure. Many LNG import terminal projects have yet to secure financing and insurance coverage. Private financial institutions must take account of the responsibility they hold and commit not to support these projects at the risk of compromising their own climate commitments.
Read the report