Environmental Paper Network's Pulp and Paper policy assessment table launched on BankTrack website
'In the Red 2020' is an assessment of the pulp and paper financing policies of 68 financial institutions
---
2020-07-23
Nijmegen
BankTrack
---
Share this page:
---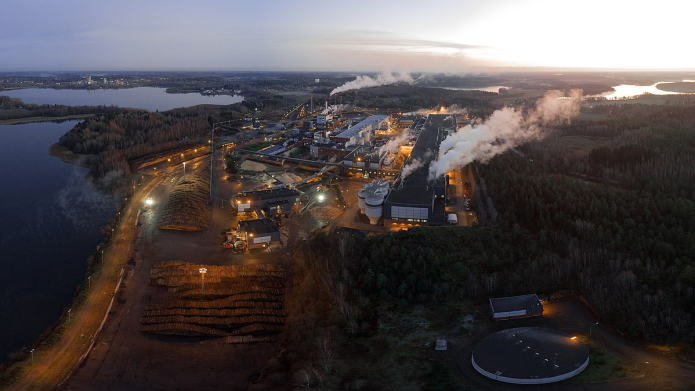 Sappi Kirkniemi paper mill, Finland. Photo: WikiCommons
The In the Red 2020 pulp and paper policy assessment was originally published in March 2020 on the Environmental Paper Network's (EPN) website. Since then it has been updated to include policy updates made by banks after its release. The report evaluates the investment policies of 68 major financiers of the pulp and paper industry, benchmarking them against 14 absolute minimum criteria that all financial institutions should require their clients, investments, and business partners to respect in order to reduce social and environmental risks. These "Red Lines" are fully described in the Green Paper, Red Lines report, which is a translation of EPN's Global Paper Vision for use by financiers. They include requirements for legality, to exclude any deforestation and forest degradation, and to respect customary land rights.
The new policy table on the BankTrack website displays the pulp and paper policy assessment for each bank covered in the In the Red assessment, including references to all relevant policies per bank. The assessment found that most "Red Lines" are still very poorly protected by financial institutions. On average, only 6% of the banks scored "well protected" for a red line criteria. The highest scores were obtained for the Red Line requiring legality and respect for human rights, for which 22% and 26% of banks scored "well protected", respectively. The worst scores were obtained for the red lines requiring a full Environmental Impact Assessment and no introduction of high-risk species (which includes genetically engineered trees). None of the financial institutions scored "well protected" for either of these criteria.
The construction and operation of pulp and paper mills can lead to a range of long-term negative social and environmental impacts. To stop funding controversial projects, financial institutions must set up a full public investment policy framework for the sector, open the door to communication with civil society organizations, and ensure that all policies are implemented through adequate due diligence procedures.

For questions or comments, please contact Karen Vermeer (Environmental Paper Network), Coordinator Finance Working Group at karen@environmentalpaper.org.