Commonwealth pulls out of Carmichael mega-mine
2015-08-06
Market Forces
Email: contact@marketforces.org.au
2015-08-06
Market Forces
Email: contact@marketforces.org.au
After months of sustained community pressure, Commonwealth Bank has ended its role as advisor to Adani's Carmichael coal project. Fairfax last night reported that the bank cited environmental factors and financial risks as the reasons for breaking ties with the project.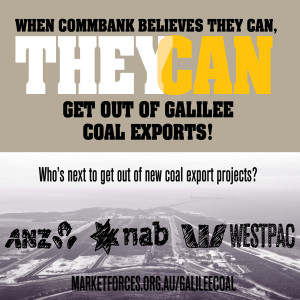 CLICK TO SHARE ON FACEBOOK
The decision is a massive blow to the Indian company's prospects, as they now face the unenviable - and potentially impossible - task of raising the Carmichael project's required $16 billion worth of funding without CommBank's support.
"As an adviser, Commonwealth Bank was in line to be a leading lender to Adani's Carmichael mega coal mine," explains our executive director Julien Vincent.
"Adani has not just lost hundreds of millions of dollars in debt finance that CBA could have brought, but the credibility that a major Australian institution brought to the project too."
The Carmichael mega mine, the largest in the Southern Hemisphere, would export coal from Queensland's Galilee Basin via a new export terminal at Abbot Point in the Great Barrier Reef World Heritage Area. Earlier this year, we revealed that CommBank had been the biggest lender to fossil fuel projects in the Reef since 2008, and the second biggest lender to fossil fuels in Australia. So this news comes as a welcome relief to all those who have been working tirelessly to safeguard the Reef from the ravages of further industrialisation.
Concerns over the impacts that CommBank's lending practices were having on the Reef, as well as our land, water, health and climate have caused many former customers to publicly cut ties with the bank, and this latest development is a huge win for those who have taken a stand and told Commbank: "Not with my money!"
The bank now joins eleven other major banks that have ruled out funding all or part of the Galilee coal supply chain. However, ANZ, NAB and Westpac all remain as possible financiers of Carmichael and other proposed Galilee coal projects, meaning that our job is not yet done.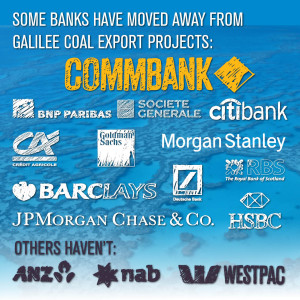 Please take the a moment to email the other big Aussie banks, telling them to keep up with the pack and rule out lending to Galilee coal project - click the image above or go to marketforces.org.au/galileecoal to take action.
It is important at this stage to remember that CommBank is still the second biggest lender to fossil fuel projects in Australia, and lends $13 to the sector for every $1 lent to renewables.
So while it is great to celebrate this win after so much effort and we can congratulate CommBank on finally making the right decision, we must also call on them to go further.
You can send the bank an email, congratulating them and at the same time asking for a clear statement that they will end lending to dirty fossil fuel projects and support the development of Australia's renewable energy sector.