Climate Assembly calling for urgent and equitable action ahead of COP26
A gender-inclusive convening with representation from 40 countries with over 90 presenters, including panel on divestment from fossil fuels and deforestation
2021-09-07
BankTrack & WECAN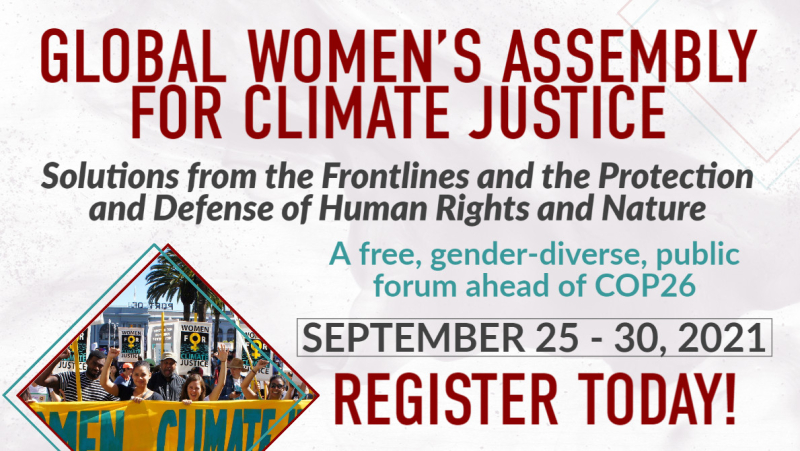 Global Women's Assembly for Climate Justice. Photo: WECAN
2021-09-07
BankTrack & WECAN
Global Women's Assembly for Climate Justice Virtual Registration Now Open!
BankTrack's human rights campaigner Hannah Greep is honored to Join the Women's Earth and Climate Action Network (WECAN) as it hosts the Global Women's Assembly for Climate Justice on September 25-30, 2021 at 1:00 - 5:30p.m ET, USA time each day. Tickets are available for the free, virtual conference here.
Hannah will join the panel on "Divestment movements for stopping fossil fuels and deforestation" on 26 September, 1:10p.m EDT/7:10p.m CEST. Assembly presenters will address environmental and social injustices, draw attention to root causes of multiple interlocking crises, and present their visions, policies, and strategies to accelerate a viable path forward. We are gathering to call for the immediate protection and defense of human rights and nature, and to uphold community-led solutions.
Hannah Greep, Human Rights Campaigner at BankTrack, said, "Financial institutions around the world must wake up to the reality of both the climate and biodiversity crises and act upon their environmental and social responsibilities and commitments. There is no time left for empty promises. Financial institutions wield a huge amount of power, which is why we continue to engage with them to promote a banking sector that respects human rights and contributes to just societies and a healthy planet. This Assembly presents a unique opportunity to hear from the front-line leaders who are already suffering from the impacts of the climate crisis and deforestation, and to learn from them what is needed on the ground to tackle these devastating impacts."
Assembly Convener and Founder of WECAN, Osprey Orielle Lake states, "We are at a choice point for humanity. The most recent IPCC report confirms what we already knew to be true—with no significant action, the climate crisis will continue to escalate quickly. Everyday, we can see for ourselves forest fires burning all over the world, massive flooding, extreme droughts, people losing their livelihoods and lives-- we are in a climate emergency. As the world prepares for one of the most important climate talks since the Paris Climate Agreement, we know solutions exist, and that women are leading the way. We can act now and we must act now, which is why WECAN is hosting the Global Women's Assembly for Climate Justice to uplift women, gender-diverse and community-led solutions, strategies, policies, and frameworks to address the climate crisis. It is code red and we are drawing a red line to say no more sacrifice people, no more sacrifice zones, and no more sacrifice zip codes. This is the time to unite together to build the healthy and just future we know is possible for each other and the Earth."
The outstanding Steering Committee and presenters include: Former Marshall Islands President Hilda Heine, Indigenous Leaders Sônia Guajajara from the Brazilian Amazon and Casey Camp-Horinek of the Ponca Nation, Ruth Nyambura Feminist Leader from Kenya, Climate Leader Naomi Klein, Noble Laureate Jody Williams, Right Livelihood Award Winner Maude Barlow, and many other leaders: wecaninternational.org/womens-assembly.
This public forum includes 20 panels, climate justice leaders, keynotes, and the arts to push a feminist and community driven climate agenda during the UN General Assembly in Septemer leading up to COP26. There are 90 speakers from 38 countries. The Assembly will offer 4 different language translations and is available for live stream globally.
We would be honored for you to join us, see you there! View more information about speakers, panels, and our vision for the Assembly here.