Briefing: The role of financial institutions in decarbonising the steel sector
Financial Institutions must push steelmakers towards the right technologies
2023-03-17
Reclaim Finance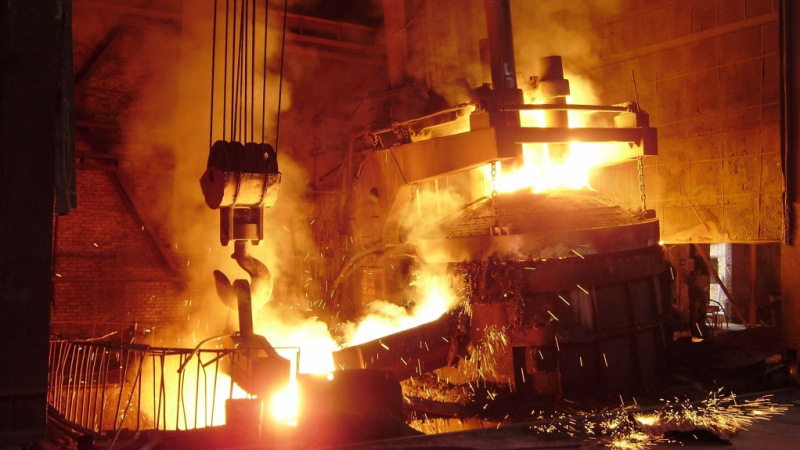 Українська: метал, 30 January 2017. . Photo: Photo: Inna67895 via Wikimedia (CC BY 4.0)
2023-03-17
Reclaim Finance
Limiting global warming to 1.5°C requires ending the world's reliance on fossil fuels. Achieving this challenge will only be possible through the adoption of comprehensive approaches that tackle fossil fuel production while simultaneously addressing demand-side sectors that consume fossil fuels themselves, such as the steel sector.
Current ways of producing steel are heavily carbon-intensive due to their reliance on coal – also called metallurgical coal, met coal, or coking coal, which is of a different quality than thermal coal. Decarbonizing steelmaking while meeting demand with cleaner and competitive alternatives is possible and must become a priority.
The decarbonization of steel production will only be possible if financial institutions step up to finance the right solutions. They must urgently refuse to perpetuate the steel sector's reliance on coal and finance cleaner technologies instead.
Financial institutions increasingly voice their discontent at climate action that is limited to the supply of fossil fuels. However, they are yet to adopt policies to address demand-side sectors. Their coal policies also only target thermal coal, mostly due to the belief that there are no alternatives to metallurgical coal. Fortunately, alternative technologies now exist and can be developed and deployed if the necessary financial resources are made available. This is an opportunity for them to back up their words with action.
The first step for them is to stop supporting any new metallurgical coal mines, expansion plans, or new coal-based steelmaking projects, expansion projects, or the relining of blast furnaces. The second is to make new financial services to clients and investee companies conditional on a commitment to stop developing such facilities, and to engage steelmaking companies to invest in the right technologies, across all geographies.
Key recomendations for financial institutions
End all direct support to new metallurgical coal mines and metallurgical coal mine expansions, and offer financial services to clients and investee companies active in the sector on condition that they commit to halting the development of such projects. Most financial institutions already have policies that cover thermal coal. Now is the time to complete these policies by also addressing metallurgical coal, guaranteeing that all coal commitments are comprehensive and consistent. Though metallurgical coal will continue to be used for steelmaking in the coming years, the sector needs to transition to new ways of producing steel now – and, indeed, is already starting to do so. Investing in new metallurgical projects is thus counter-productive and risky.
End all direct support to coal-based steelmaking facilities, including: new BF-BOFs, BF-BOF expansions, BF-BOF retrofits; and apply a condition to financial services offered to clients and investee companies that they commit to halting the development of coal-based steelmaking facilities, including expansions, modernizations or retrofits of existing facilities. Steel sector emissions predominantly come from the BF-BOF route, which uses metallurgical coal. Tackling steel sector emissions thus requires changing the way steel is produced. Building new coal-based facilities or extending the lifetime of existing ones is therefore incompatible with decarbonizing the steel sector.
Ask clients and investee companies to develop the right technologies. When building a new project or replacing a BF-BOF that has reached the end of its lifetime, financial institutions have a key role to play in asking steelmakers to develop the most adequate technologies. Priority must be given to the least carbon-intensive solutions, maximizing the secondary steel route through electric arc furnaces running on renewable energy, and avoiding wasting time and resources on unproven and unsustainable solutions such as CCS.
Ask steel and metallurgical coal companies to adopt and publish robust climate strategies, with a commitment to a 2050 net zero objective aligned to a 1.5°C pathway. Pushing companies to publish more information on their climate commitments, and to consult shareholders through Say on Climate, can be a way to compel industry actors to raise their climate ambitions to a suitable standard. This includes:

Calling on clients and investee companies to adopt a robust and comprehensive climate plan, including submission to a shareholder vote. This climate plan should at least include the following indicators:

Short- and medium-term GHG emissions reduction targets on Scopes 1, 2 and 3, expressed in both absolute and intensity terms, encompassing all activities.
Possible contribution of captured GHG volumes to achieving emissions reduction targets.
Carbon offsetting approaches that may be implemented to complement the reduction targets.
Targeted energy mix evolution for the short- and medium-term.
Short- and medium-term capex plans disaggregated by activity and by allocation between maintenance and development of company assets.
Short- and medium-term opex disaggregated by activity and by cost item.
Explanation of a baseline scenario used to set climate targets, and how it considers the best available science.

Asking companies to make climate strategy an integral part of their governance. This includes:

Making sure the board has a clear oversight of climate change and has named a board position with responsibility for climate change, ensuring that the board overall has sufficient capabilities to assess and manage climate-related risks and opportunities.
Incorporating climate change performance within the company's executive remuneration scheme.
Committing to reflect the way in which climate change and global decarbonization efforts are being captured in critical accounting assumptions and judgements within the company's accounting practices and related disclosures.
Reclaim Finance's detailed recommendations on companies' climate commitments can be found here.
Download the full briefing here
Reposted from Reclaim Finance's website here.