10 Banks financing Dakota Access Pipeline decline meeting with tribal leaders
Major commercial banks are still banking on the project — and losing thousands of customers a week as a result
2017-01-13 | Standing Rock, ND
Divestinvest & others
Vanessa Green DivestInvest Individual, vanessa@divestinvest.org, +1 617-230-8942
For inquiries to the Standing Rock Sioux Tribe, contact Nick Pelosi, First Peoples Worldwide, standingrockdapl@gmail.com, +1 540-899-6545
For inquiries to the Indigenous Coalition at Standing Rock, contact Tara Houska, National Campaign Director, Honor the Earth, tara@honortheearth.org, +1 612-226-9404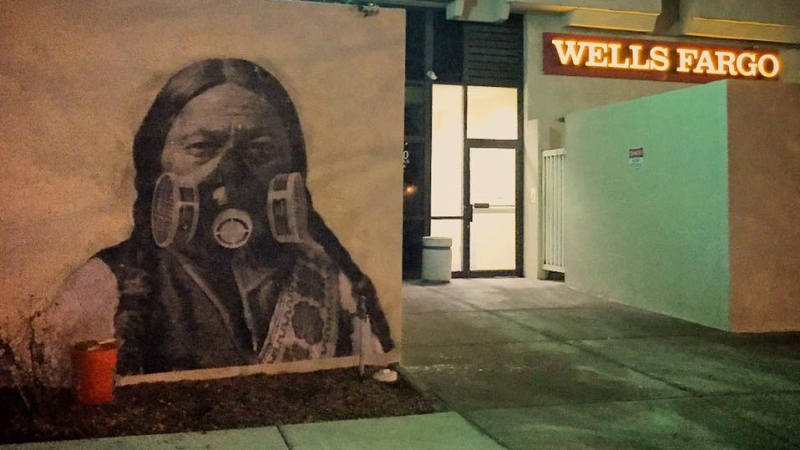 Anti -DAPL mural outside Wells Fargo branch . Photo: Honor the Earth - https://www.facebook.com/WinonaLaDukeHonorTheEarth/
2017-01-13 | Standing Rock, ND
Divestinvest & others
Vanessa Green DivestInvest Individual, vanessa@divestinvest.org, +1 617-230-8942
For inquiries to the Standing Rock Sioux Tribe, contact Nick Pelosi, First Peoples Worldwide, standingrockdapl@gmail.com, +1 540-899-6545
For inquiries to the Indigenous Coalition at Standing Rock, contact Tara Houska, National Campaign Director, Honor the Earth, tara@honortheearth.org, +1 612-226-9404
For the last six weeks, a global coalition has been pressuring banks providing project loans to the Dakota Access Pipeline to renegotiate or cancel their loans. In December, the Standing Rock Sioux Tribe and other Indigenous leaders requested that each of these banks meet with tribal representatives to hear their concerns.
The deadline for banks to respond to the Tribe's meeting request was January 10, and as of this statement:
Four banks have declined: BayernLB, BNP Paribas, Mizuho Bank, and Suntrust
Six banks have not responded at all: Bank of Tokyo-Mitsubishi UFJ, BBVA Compass, ICBC, Intesa Sanpaolo, Natixis, and Sumitomo Mitsui Banking Corporation
Seven banks have met or agreed to meet with the Tribe and its allies: Citi, Crédit Agricole, DNB, ING, Société Générale, TD, and Wells Fargo
In response, organizers are escalating their pressure on banks that refuse to engage. The Indigenous coalition at Standing Rock has a running billboard in Times Square asking millions of people to #DefundDAPL. Organizers continue a drumbeat of protests and bank occupations, along with brand-damaging campaigns that have already led to the closure of thousands of accounts worth a self-reported $46,314,727.18.
Protests have increased in fervor and frequency over the last few weeks, including multiple occupations of Wells Fargo, US Bank and Citibank branches, as well as a daring banner drop during a nationally televised Vikings/Bears NFL game at US Bank Stadium in protest of their bankrolling of DAPL project sponsors Sunoco Logistics and Energy Transfer Partners.
Backed by hundreds of thousands of online signatures and commitments to #DefundDAPL, organizers from more than 25 grassroots groups vowed the campaign will continue and intensify in the coming weeks, building up to a planned "global week of action" unless all 17 of the banks act. The ask for the banks is to discontinue loan disbursements in consultation with Native leaders until outstanding issues are resolved, and Free, Prior and Informed Consent from Indigenous peoples is upheld.
Standing Rock Sioux Tribal Chairman Dave Archambault II said: "We are pleased that some of the banks behind DAPL are willing to engage Standing Rock Sioux leadership, but maintain that all 17 should not be helping a company who deliberately ignores our concerns. We call on the remaining banks to agree to a meeting with the Tribe. We know that they have heard Energy Transfer Partners' side of the story, and they need to hear our perspective as well."
Ladonna Bravebull Allard, Sacred Stone Camp said: "I want the banks to know that the power of their investment comes from the people, and the people are saying we have the right to water, and we will stand for the water. Stop investing in destruction of the earth."
Tara Houska, National Campaigns Director, Honor the Earth said: "This movement has shown again and again that the power and strength of the people is incredible. Banks need our dollars to make their investments. We can and must hold these financial backers accountable for supporting destruction of our shared planet and futures. Move past dated fuels and justly transition to a green economy."
Eryn Wise, International Indigenous Youth Council said: "What began as a protection of the earth has now become a reclamation of power. We are demanding that our interests as a prospering people be put before banks and their investments. We hold in our hands the ability to encourage divestment to the point of fruition and we will not back down."
Dallas Goldtooth, Keep it in the Ground Organizer, Indigenous Environmental Network said: "As a movement to stop this dirty Bakken oil pipeline, we are demonstrating the inherent power of organized communities and mobilized citizens. We are showing Big Oil and government leaders that we know the power of our capital, and as such we collectively choose to invest in life and water, not death and oil. As first peoples of the land and in defense of our Indigenous rights, we will continue to rise, resist, self-determine and divest until the Dakota Access pipeline is nothing but the defeated aspirations of a Energy Transfer Partners' dream."
Judith LeBlanc, Director, Native Organizers Alliance said: "The Standing Rock Sioux Tribe has a spiritual obligation to protect the Missouri River for all. The best way for the banks to meet their obligation to protect their investor's interest is to meet with the Tribal leadership. Mother Earth and all of our ancestors deserve the opportunity for an exchange on our shared moral obligations to protect Mother Earth for generations to come."
Sara Nelson, Executive Director, Romero Institute and the Lakota People's Law Project said: "We are moving our financial accounts from Wells Fargo to a local bank that does not invest in companies who violate Indigenous rights and environmental impact requirements, and will not endanger clean water for millions of people. We want our money used to support positive solutions for our children's future, not to float big companies who send oil overseas, make the American people pay for inevitable spills, and generate profits for banks and billion dollar global companies."
Leila Salazar López, Executive Director, Amazon Watch said: "From Standing Rock to the Amazon, Indigenous peoples are defending their territories and providing a model for a fossil free world. It's time banks listen to Indigenous peoples and their allies in our call to Keep It In The Ground."
Lindsey Allen, Executive Director, Rainforest Action Network said: "Investing in a project of Energy Transfer Partners, a company that has abused Indigenous and human rights, was a big mistake. These banks now have a chance to fix it by meeting with the Standing Rock Sioux, and upholding Free, Prior and Informed Consent from Indigenous peoples."
Dr. Gabriela Lemus, President of Progressive Congress Action Fund said: "No bank should support poisoning communities' land and water- yet too many banks still have investments in Energy Transfer Partners and the Dakota Access Pipeline. We call on these banks to divest completely. Families' lives are at risk, and that should always take priority over profits. All banks have a responsibility not only to their shareholders and customers, but to the communities that are impacted by their investments. Don't keep funding this dangerous project."
Todd Larsen, Executive Co-Director of Green America said: "Banks need to end investments that harm the rights and lives of Indigenous peoples. We call on all banks to divest entirely from the Dakota Access Pipeline. Until these banks do so, all Americans should divest their money from any bank providing financing to this ruinous pipeline."
Erich Pica, President, Friends of the Earth U.S. said: "The voices of Indigenous peoples have been ignored for too long – by the US government, corporations and big banks. By not acknowledging Indigenous peoples, or outright refusing to meet with them, these ten banks are perpetuating a pattern of colonialism and failing to respect Indigenous peoples' rights to Free, Prior and Informed Consent."
Johan Frijns, Director of BankTrack said: "The Dakota Access Pipeline project is supposed to be in compliance with the Equator Principles, and therefore guarantee Indigenous peoples' rights to be properly consulted. The refusal of leading EP banks to meet with the Sioux Tribe not only makes a complete mockery of that commitment, but also poses a severe risk to the very credibility of the Equator Principles."
Vanessa Green, Director of DivestInvest Individual said: "DAPL is simply the wrong kind of investment, and people don't want their money behind it. With government mandates to scale up clean energy investments, a market increasingly supportive of a low carbon future, and unprecedented consumer and investor interest in moving money into climate and community solutions, the question now is which banks will lose the most in this historic energy transition."
Mary Sweeters, Arctic Campaigner with Greenpeace USA, said: "People across the world have pledged their solidarity with the Indigenous communities who reject this dirty pipeline and the threat it poses to the water and climate. The banks must choose whether they want to continue to invest their money in yesterday or listen to the millions of people who stand with Standing Rock."
There are no active project profiles for this item now.