PT Toba Pulp Lestari
Indonesia
---
On record
This profile is no longer actively maintained, with the information now possibly out of date
---
Send
feedback
on this profile
Download as
PDF
---

Created before Nov 2016
Last update:

2020-11-17 00:00:00
BankTrack
---
nature@banktrack.org
---
Share this page:
---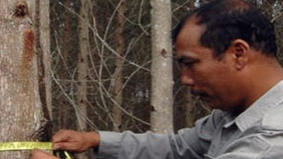 Photo: .
| | |
| --- | --- |
| Sector | Pulp, Paper and Paperboard Mills |
| Headquarters | |
| Ownership | Toba Pulp Lestari is a subsidiary of Pinnacle Company Limited controlled by Mr. Sukanto Tanoto, who also controls the RGE group. |
| Subsidiaries | |
| Website | http://www.tobapulp.com |
About PT Toba Pulp Lestari
The company was formerly known as PT Inti Indorayon Utama Tbk and changed its name to PT Toba Pulp Lestari Tbk in August 2001. It is a paper milling company founded in Sumatra, Indonesia, in 1989 by Sukanto Tanoto, one of Indonesia's richest business men. The company built Indonesia's first pulp mill at the small village of Porsea nearby Lake Toba of North Sumatra.
The company was
formerly affiliated with
pulp and paper giant, Asia Pacific Resources International Limited (APRIL) and its parent Royal Golden Eagle (RGE), but is now independently listed on the Indonesian Stock Exchange in Jakarta.
The mill has caused much protests by local people, who argue that it is polluting the area, its causing major deforestation and land grabbing.
Following the downfall of Suharto in 1998, public pressure began to grow, but it was answered with violence by police officers hired by the company. Clashes between local residents, staff and members of security forces resulted in six deaths and hundreds of injuries in 1999. As a result, President Habibie temporarily put the mill on halt on 19 March 1999.
In May 2000, the Indonesian cabinet minister gave the mill a 'green light' to resume its operations, with the requirement that the production of dissolving pulp should be stopped. The decision was then responded by another opposition from the local people and Indonesian environmental groups such as WALHI. A student was shot dead by the police during the demonstration on 21 June 2000, and during the following months of conflict, dozens more have been killed and many hundreds were seriously injured.
Impacts
Social and human rights impacts
Batak communities living near the mill have voiced concerns over environmental damage associated with its operations, including forest degradation and the release of noxious fumes. Violent clashes between community members and security forces led President Habibie to announce the temporary closure of the mill in March 1999.
PT Toba Pulp Lestari has also been involved in a conflict with indigenous communities in the Humbang Hasundutan district since 2009, over its 200,000ha concession. The communities demand a return of 4,000ha of land they consider is traditionally theirs. The National Forestry Council (DKN) has already done field research and submitted its recommendations to exclude indigenous territories from TPL's concession to the Ministry of Forestry, but these have not yet been taken into consideration. A chronology of protests that broke ou in September 2012 can be found here. Early 2013 clashes broke out again when villagers caught TPL employees entering their forest areas and cutting down frankincense trees, on which they depend for their livelihoods. This resulted in the arrests of 31 farmers by the mobile police brigade.
Toba Pulp Lestari operates pulp mills in Sumatra, Indonesia, where their activities over many years have had serious impacts on local communities. Forest concessions were granted for industrial exploitation without the free, prior and informed consent (FPIC) of the people with legitimate claims on the land; many of these communities are dependent on the forest resources for their livelihoods. According to RAN, over 13,000 indigenous people have been displaced due to the deforestation caused by TPL. This situation has led to significant social conflict and human rights violations. With the Constitutional Court ruling "MK 35" last year, there is also a material risk that areas in concessions allocated to APRIL, TPL and their suppliers were in fact illegally appropriated from indigenous communities.
Environmental and climate impacts
APRIL and TPL holdings and suppliers are having profound negative impacts on biodiversity and the climate. Many concessions supplying the mills owned by Mr. Tanoto are in areas representing some of the last refuges for the critically endangered Sumatran elephant and Sumatran tiger, and forest clearance of these areas forces these species closer towards extinction. According to RAN,well over 17,000 ha of natural forest have been destroyed to feed the mills.
In addition, drainage of deep peat soils both for natural forest clearance and for plantation establishment is an issue of global concern due to greenhouse gas emissions: a study released by the University of Helsinki shows that APRIL's Acacia plantations on peatland in Sumatra release around 80 tonnes of carbon dioxide per hectare per year. Other concerns include the continued subsidence of peatland areas, caused by drainage, leading to longer terms risks of flooding and inundation.
Ater the release of the initial permit the quality of air and water around the Asahan River degraded drastically. This was linked to skin diseases as well as reduced corp production. There were also landslide disasters in the area. Toxic chlorine gas was released during a boiler explosion in 1993.
Governance