---
Created before Nov 2016
Last update:
2016-04-04 15:58:04
---
Carl Middleton, International Rivers
---
Send
feedback
on this profile
Download as
PDF
---
Share this page:
---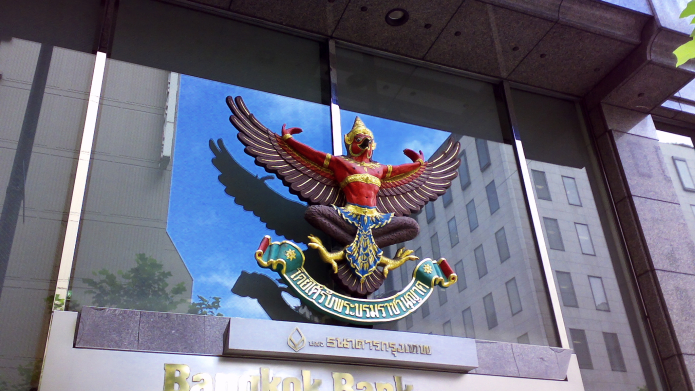 About Bangkok Bank
Established in 1944, Bangkok Bank is the largest commercial bank in Thailand, one of the largest regional banks in Southeast Asia. Bangkok Bank is Thailand's market leader in corporate and SME banking and has the country's largest retail customer base.
The bank's overseas branch network spans 14 economies, namely Cambodia, China, Hong Kong, Indonesia, Japan, Laos, Malaysia, Myanmar, Singapore, Taiwan, Philippines, Vietnam, US, and UK. Altogether the bank has 29 overseas branches and one representative office, including two wholly-owned subsidiaries, Bangkok Bank Berhad (BBB) and Bangkok Bank (China) Company Limited (BBC).
Bangkok Bank offers full commercial banking services, including arranging syndicated loans, debt securities underwriting, trade finance, project finance, custodial services, SME and merchant services and specialist industry advice.
Related Dodgy Deals
Bangkok Bank has been linked to the following "Dodgy Deals", e.g. as a current or past financier or through an expression of interest. Find out more about dodgy deals
here
. See the project or company profile for more details on the nature of the bank's link to the Dodgy Deal.
Projects - active profiles
There are no active projects for Bangkok Bank now.
Projects - on record profiles
Debt – project finance
May 2005
Coordination of documentation requirements
Debt – project finance
THB 80 billion
22 April 2010
combined syndicated loans of 80 billion baht - Along with five other Thai Banks, has indicated willingness to financially support project with combined syndicated loans of 80 billion baht.
Documents
| | | | | | | | | | | |
Type:
Year:
Policies
Voluntary initiatives
Bangkok Bank has committed itself to the following voluntary standards:

Investment policies
Bangkok Bank claims that it recognizes the importance of a healthy environment, not in the least because Thailand has had many natural disasters with an increasingly detrimental impact. Therefore it encourages its consumers to use environmentally friendly technologies and has incorporated environmentally friendly working processes in its business practices. More can be found here on their corporate social responsibility page.
Year: