Banco Popular Español
Spain
---
Created before Nov 2016
Last update:
2017-06-23 13:57:58
---
Johan Frijns, BankTrack
---
Send
feedback
on this profile
Download as
PDF
---
Share this page:
---
About Banco Popular Español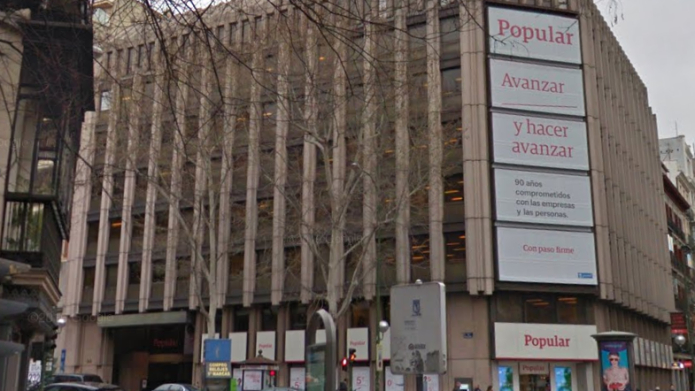 Banco Popular head offices in Madrid. Photo: Google Earth/Streetview
Banco Popular is the fifth largest banking group in Spain in terms of assets (EUR 147.9 billion as of July 2016) and client deposits. It is focused on retail (90% of its business) and commercial banking, with almost 2,000 branches in Spain and 200 abroad. The Banco Popular Group is formed by the parent bank (Banco Popular Español) and six banks, four of which operate in Spain (Banco Pastor, Popular Banca Privada, Targobank and Banco Popular), one in Portugal (Banco Popular Portugal), one in the United States (Totalbank) and a finance group in Mexico with a 25% stake. Furthermore, the Group has securitisation vehicles, real estate companies and two insurance companies.
In May 2013 Banco Popular adopted the Equator Principles, and is profiled as part of BankTrack's Equator Principles Track and Chase project.
Related Dodgy Deals
Banco Popular Español has been linked to the following "Dodgy Deals", e.g. as a current or past financier or through an expression of interest. Find out more about dodgy deals
here
. See the project or company profile for more details on the nature of the bank's link to the Dodgy Deal.
Projects - active profiles
There are no active projects for Banco Popular Español now.
Projects - on record profiles
Offshore Detention Centres Australia profile
Debt – corporate loan
EUR 56.82 million
26 February 2016
Participation in corporate loan to Ferrovial
source: Report Association with abuse

SOCAR Aegean Refinery Turkey profile
Debt – project finance
USD 37.5 million
January 2015
One of a consortium of 16 banks providing USD 600m uncovered commercial loans with a 15 year tenor.
source: TFR

News
Documents
| | | | | | | | | | | |
Type:
Year:
Policies
Voluntary initiatives
Banco Popular Español has committed itself to the following voluntary standards:

Issues
Banco Popular Español and the Equator Principles
The Equator Principles are a voluntary commitment of banks to try to avoid or minimise the social, environmental and human rights impact of projects they finance. For more information on the Equator Principles see their website here and the campaign page of BankTrack here.
The Equator Principles exist already since 2003. Banco Popular Español adopted the Equator Principles in 2013.
Reporting on the Equator Principles
Banco Popular Español must report annually on its implementation of the Equator Principles. All information is supposed to be found here.
Dodgy Deals
Banco Popular Español is involved in financing the following Equator Principles projects that BankTrack considers controversial.
There are no projects active for Banco Popular Español now.
Equator Principles
Implementation and reporting
Banco Popular Español is reporting on the implementation here.
Equator Principles Dodgy Deals