Raiffeisen Bank International
Austria
---
Created before Nov 2016
Last update:
2020-04-28 12:17:12
---
Send
feedback
on this profile
Download as
PDF
---
Share this page:
---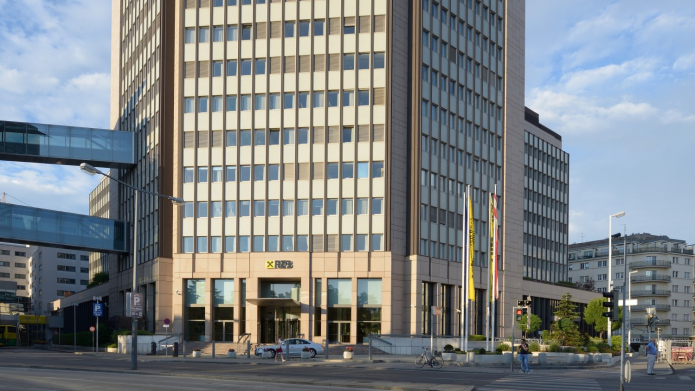 Raiffeisen Bank International head offices in Vienna. Photo: Peter Haas via Wikimedia Commons (CC BY SA 3.0)
About Raiffeisen Bank International
Raiffeisen Bank International (RBI), headquartered in Vienna, is an Austrian banking group which, until 2017, operated as a subsidiary of the Raiffeisen Zentralbank Österreich (RZB Group). In March 2017, Raiffeisen Bank International merged with its parent company Raiffeisen Zentralbank (RZB). Raiffeisen Bank International operates a banking network in Central and Eastern Europe. Seventeen markets are covered with subsidiary banks, leasing companies and representative offices.
[This profile lists Dodgy Deals related to Raiffeisen Zentral Bank (RZB) up until 2017 and includes info on RZB].
Related Dodgy Deals
Raiffeisen Bank International has been linked to the following "Dodgy Deals", e.g. as a current or past financier or through an expression of interest. Find out more about dodgy deals
here
. See the project or company profile for more details on the nature of the bank's link to the Dodgy Deal.
Projects - active profiles
Solwara 1 Deep Sea Mining Project Papua New Guinea profile
Debt – corporate loan
USD 29.33 million
2013
Provided to Metalloinvest and its subsidiaries since 2013
source:
Profundo report
link
There are no active projects for Raiffeisen Bank International now.
Companies - active profiles
There are no active companies for Raiffeisen Bank International now.
Companies - on record profiles
Dodgy Deals map
All
|
Projects
|
Companies
Targets
|
Active profiles
|
On record profiles
Documents
| | | | | | | | | | | |
Type:
Year:
Links
Policies
Voluntary initiatives
Raiffeisen Bank International has committed itself to the following voluntary standards:

Investment policies
Year: