---
On record
This profile is no longer actively maintained, with the information now possibly out of date
---
Send
feedback
on this profile
Download as
PDF
---

Created before Nov 2016
Last update:

2016-09-09 13:04:08



BankTrack
---
Johan Frijns, BankTrack
---
Share this page:
---
About
The Bayerische Landesbank is a German publicly regulated bank, founded in 1972. It is one of the eight Landesbanken. As a commercial bank, BayernLB offers private and commercial customers a universal range of services in private, industrial, investment and foreign business. As a state and municipal bank, BayernLB is responsible for comprehensive credit and financial counsel for the state of Bavaria and its municipalities and districts. Through its subsidiaries, the bank is involved in a variety of further business areas. The Bayerische Landesbodenkreditanstalt is an organ of state housing policy, while the LBS Bayern is a public building society (Bausparkasse). Through its full ownership of the Deutsche Kreditbank, based in Berlin, BayernLB is also involved in retail banking.
Headquarters

Brienner Straße 18

80333 München

Germany

Supervisor
CEO/chair
Dr Johannes-Jörg Riegler
CEO
Annual report
Sustainability Report 2014
Website
http://www.bayernlb.de
Ownership

The Bank's legal form is that of a "corporation established under public law".Shareholders are the Free State of Bavaria and the Association of the Bavarian Savings Banks (SVB).
On 25 June 2013, the Bavarian savings banks completed the conversion of their silent capital contributions into BayernLB equity capital. With the capital increase, the Association of Bavarian Savings Banks' stake in BayernLB Holding AG increases to around 25% (24.99999994%) while the Free State of Bavaria's stake falls to around 75%.
Related Dodgy Deals
BayernLB has been linked to the following "Dodgy Deals", e.g. as a current or past financier or through an expression of interest. Find out more about dodgy deals
here
. See the project or company profile for more details on the nature of the bank's link to the Dodgy Deal.
| | | | |
Type:
Companies
There are no companies active for BayernLB now.
News
Documents
| | | | | | | | | | | |
Type:
Year:
Links
Policies
Voluntary initiatives
BayernLB has committed itself to the following voluntary standards:

Investment policies
Good moves
Year:
2017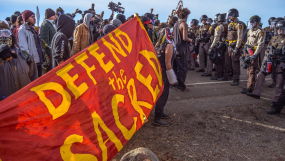 BayernLB announces wish to exit Dakota pipeline project
According to campaigner Andrea Marcos, "As a result of public pressure, Bavarian owned public bank Bayern LB will divest $120 million from the Dakota Access Pipeline. The Landesbank met in a private financial meeting on Thursday and announced that they will divest. They are currently in the process of making an exit plan. The larger context is that the bank is in process with the government, being a gov-owned bank, and the gov called them to a meeting to discuss the investment in DAPL, and they collectively have decided to divest." Read more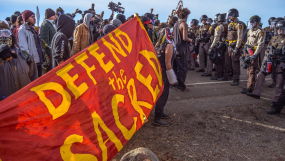 Six banks step away from Dakota Access Pipeline (DAPL) and backers
In February ABN AMRO, ING, BayernLB and Nordea all announced they would step away from financing either the project or its backers. ABN AMRO committed to end its financing for Energy Transfer Equity (ETE) if the pipeline proceeds without consent from the Standing Rock Sioux or with further violence. Nordea excluded three companies behind the Dakota Access Pipeline from investment. BayernLB stated it will withdraw from financing DAPL at the earliest opportunity, and not provide further finance. In March, ING became the first bank to sell its portion of a project loan supporting the pipeline. This was followed by DNB and by BNP Paribas selling on their shares of the loan. The buyers are unknown.