Palm Oil Plantations in the Sambas District
Indonesia
---
On record
This profile is no longer actively maintained, with the information now possibly out of date
---
Send
feedback
on this profile
Download as
PDF
---

Created before Nov 2016
Last update:

2015-11-01 14:53:10
BankTrack
---
Claudia Theile, Milieudefensie, The Netherlands
---
Share this page:
---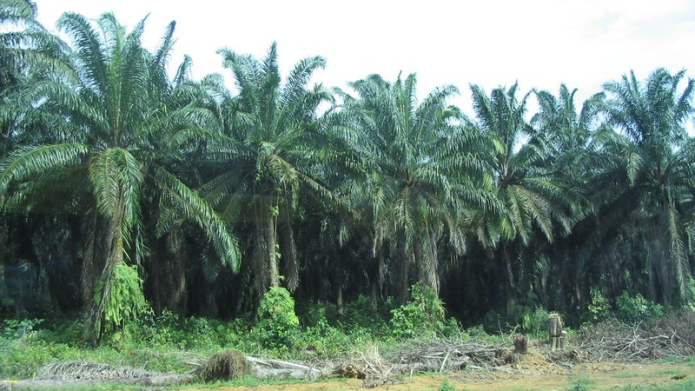 | | |
| --- | --- |
| Sectors | Agriculture for Palm Oil |
| Location | |
About Palm Oil Plantations in the Sambas District
The Wilmar Group is a large corporate conglomerate with its origins in Indonesia. Its primary activities involve palm oil production, refining and trade. In recent years, the Wilmar Group has rapidly expanded its plantation land bank and in 2006, it publicly listed a large share of its member companies under Wilmar International Ltd. in Singapore. In the course of 2007, Wilmar International intends to merge with the palm oil interests of the Malaysian Kuok Group, which will result in the formation of the biggest palm oil trading company in the world.

Wilmar's oil palm plantation land bank will encompass over 570,000 hectares in Indonesia, Malaysia and Uganda, at least two-thirds of which is yet to be cleared and planted with oil palms.
What must happen
Banks having a relationship with the Wilmar Group and which were not aware of this case should review and revise accordingly the effectiveness of their due diligence and monitoring mechanisms.
Banks should have in place publicly accessible complaints mechanisms so as to assist them in understanding and addressing the impacts of their financial services on the ground.
No market claims on sustainability from the Wilmar Group should be accepted by commercial and semi-commercial banks until RSPO has put in place a rigid verification mechanism and until Wilmar's palm oil has been certified according to this mechanism.
Impacts
Social and human rights impacts
Land rights conflicts resulting from encroachment outside areas allocated and the absence of due consultation with relevant local communities
Subsidiaries of the group have commenced land clearing in customary rights land and other villagers' land without prior consultation and a due land acquisition process in relevant areas and affected communities. PT WSP and PT ANI cleared community land outside of the areas allocated to them. This triggered various land rights conflicts in the Wilmar areas which hamper the companies' ability to expand as foreseen.

The concessions areas' boundaries are determined by the Regional Investment Coordination Board (BKI) based on closed meetings with investors interested in opening up land for oil palm plantations. Individual applications for land are then submitted by BKI to the office of the District Head through a land application document (Informasi Lahan). At that time, the concession size, its precise location and shape is still subject to changes mainly because the land allocated to a company is rarely fully suitable and rarely truly "empty". Proposed concession areas usually comprise numerous villages and their entire customary rights land, including natural forest areas. Officially, concession boundaries are adjusted during the follow up process based on the advice of the Environmental Impact Assessment (EIA) and consultations with communities. In reality, land clearing for oil palm plantations is a "trial and error" process. Revisions of the concession map are considered only when communities vigorously resist the development as it encroaches on their customary rights land.
Environmental and climate impacts
Forest conversion
The subsidiaries of Wilmar PT WSP, PT BCP and PT ANI are clearing tropical forests without having secured the legally required endorsement and permits required to do so. The companies convert these forests without having conducted independent High Conservation Value Forests (HCVF) assessments. This may result in further destruction of, among other endangered species, the orangutan.

Current plantation development practices of Wilmar's subsidiaries in for example the Sambas District are, on Several accounts and several localities, in conflict with: 1) the public CSR policies of the Wilmar Group; 2) Indonesia's legislation and 3) the Principles and Criteria of the Roundtable on Sustainable Palm Oil (RSPO). This gap between policy and practice leads to environmental damage and social unrest and undermines good governance of the palm oil sector.
Other impacts
In spring 2007, Milieudefensie together with local partners undertook a review of the legal, environmental and social pracices of oil palm plantation companies of the Wilmar Group in Sambas District, West Kalimantan (Indonesia) has taken place in 2007. Investigation showed that Wilmar is violating its own CSR committments, Indonesian law and the principle and criteria of the Roundtable for Sustainable palm oil.

Illegal burning with the intention to clear land
Wilmar holds a zero-burning policy as required by law however, subsidiaries of the group have been sued by the Indonesian authorities for intentional and systematic burning with the purpose to clear land for plantation development. The case has been upscaled for appeal at the high court of justice in Jakarta.

Illegal plantation development without approved Environmental Impact Assessments
The environmental impact assessments (EIAs) presented for subsidiaries have been found to have gaps with respect to social and environmental impacts and some increase and continue operations withouth having an approved EIA.

Governance