Ladang Sawit Mas Plantation
Indonesia
---
On record
This profile is no longer actively maintained, with the information now possibly out of date
---
Send
feedback
on this profile
Download as
PDF
---

Created before Nov 2016
Last update:

2016-03-22 00:00:00
BankTrack
---
Share this page:
---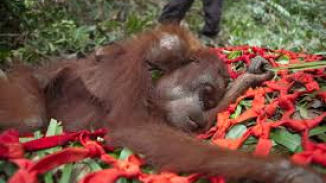 | | |
| --- | --- |
| Sectors | Agriculture for Palm Oil |
| Location | |
About Ladang Sawit Mas Plantation
Bumitama's Ladang Sawit Mas Concession in West Kalimantan has 7,597 ha. According to Global Forest Watch, the entire area is unsuitable for palm oil.
Please see Bumitama's profile for more details.
What must happen
Financiers should cancel their loans, withhold other financial services, and publicly commit to a moratorium on loans and the purchasing of shares in Bumitama, or any company associated with it.

Wilmar International, the largest buyer of Bumitama's palm oil and a significant shareholder, should break current contracts with the company and sell its shares.
Issues
Environmental issues
Bumitama's Ladang Sawit Mas (LSM) plantation has irregular permits. It obtained a Plantation Business Permit (9.300 ha) before obtaining a Location Permit (of only 8.300 ha) or an Environmental Permit, as should have happened according to Indonesian law.

The EIA of the LSM concession failed to mention that almost the entire area (8,075 ha) is covered with pristine forest and located within the buffer zone of forest reserves.
In April 2013 four orangutans were saved from Bumitama's LSM concession and a complaint was filed at the RSPO for violation of principles 5 and 7. It is illegal to clear forest where orangutans live.
In response to the complaint Bumitama promissed it would not recommence operations in LSM before a High Conservation Value and a Social Impact Assessment study were completed. But it did clear 460 ha, between May and September 2013.
See the report Commodity Crimes for more details.
Governance
Updates
Latest update
In October 2013 Friends of the Earth made financiers aware of the problems with Bumitama, and in November 2013 it publishes the report Commodity Crimes showing ongoing land clearance since April in LSM plantation.
Financiers
Related companies
Documents
| | | | | | | | | | | |
Type:
Year:
Brief history
Timeline from Bumitama's diary of destruction report.
In March 2013 four orangutans are rescued by Internationl Animal Rescue from LSM Plantations and relocated. Endangering orangutans is illegal under Indonesian law.
In April 2013 a complaint is filed at the RSPO by International Animal Rescue. Bumitama's board of directors commits to stop all land clearing until proper impact assessments and HCV area assessments are completed.
In May 2013 the RSPO requests Bumitama to stop all activities until the complaint is resolved.
In July 2013 Bumitama commits to do a Land Use Change assessment within 6 months to plan compensation for the lost lands. RSPO requests Bumitama once more to cease development. Bumitama shares a map with stakeholders showing a large HCV area in the west of the concession area.
In September 2013 International Animal Rescue rescues two more orangutans from LSM and relocates them to the adjacent Gunung Tarak forest, revealing continued threat to endangerd orangutans.
In October 2013 Bumitama commites again to stop all land clearing in LSM.
In February 2014 satellite images from November 2013 and February 2014 show that Bumitama's LSM plantation continues to clear land, in breech of its latest commitment to RSPO from October 2013. The imagery is shared by AidEnvironment with RSPO and shows land clearing inside and north of a water conservation area in LSM.
In March 2014 Bumitama shares its HCV assessment of LSM plantation with FoE. The assessment does not include an HCV area noted on previous maps, revealing that HCV forest was cleared between April and August 2013.