Banks and liquefied natural gas (LNG)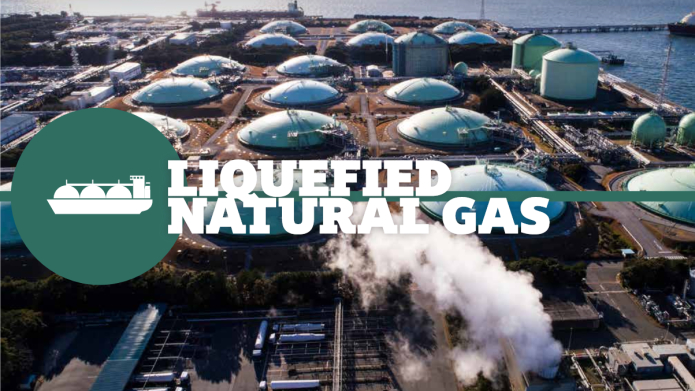 Banking on Climate Change 2020 - Liquefied Natural Gas. Photo: Rainforest Action Network (RAN)
Go directly to LNG policy table or LNG exclusion table
What is LNG?
The global production of liquified natural gas (LNG) has taken a sharp increase in recent years. LNG is natural gas that is purified and then liquified by cooling to about -160°C. The gas can then be transported over sea, after which it is re-gasified and fed to the local gas pipeline infrastructure. This way, the gas that is produced in locations distant from pipelines or where pipelines cannot be constructed can still make it to the market.
Proponents of LNG often claim that the burning of the resulting gas causes half the climate impact compared to burning coal. However, the climate impact is much higher when the entire lifecycle of LNG is considered, including production, the very energy-intensive liquefaction, shipping and re-gasification. Furthermore, since LNG consists predominantly of the powerful greenhouse gas methane, leakages of only 2-3%, which analysts easily foresee, will make LNG as bad for the climate as coal. The environmental impact of drilling for gas, the LNG carriers and LNG terminals is also enormous. The dredging and waste disposal of LNG facilities takes a heavy toll on public health and often destroys the local ecosystem.
Banks and LNG
The severity of the climate crisis requires that banks must urgently take steps to disengage from financing all business activities and projects that continue the world's reliance on fossil fuels. Banks must therefore end support for all new LNG projects and implement a full phase-out for financing LNG projects in line with the Paris climate agreement.
The world's biggest financiers of LNG are Morgan Stanley and JP Morgan Chase, both having financed the LNG sector with about USD 6 billion since signing of the Paris climate agreement (2016-2019).
Bank policies on LNG are scored below. These scores were originally published in our Banking on Climate Change 2020 report, and any policy changes implemented since then have been assessed using the same methodology. The details section in the table contains further detail on the exact scoring per bank, as well as an overview of relevant policies.
See here for banks' exposure to the LNG sector in 2016-2019.
Bank policy scores on LNG
Laggard
Follower
Front runner
Leader
Agricultural Bank of China
2020-03-01
0
0
Bank of America
2020-03-01
0
0
Bank of Montreal (BMO Financial Group)
2020-03-01
0
0
China Construction Bank
2020-03-01
0
0
Commerzbank AG
2020-03-01
0.5
0
Commonwealth Bank of Australia
2020-03-01
0.5
0
Crédit Agricole
2020-03-01
0
0
Credit Suisse Group
2020-03-01
0
0
Industrial and Commercial Bank of China (ICBC)
2020-03-01
0
0
Intesa Sanpaolo
2020-03-01
0
0
JPMorgan Chase
2020-03-01
0
0
Mitsubishi UFJ Financial Group (MUFG)
2020-03-01
0
0
Morgan Stanley
2020-03-01
0.5
0
National Australia Bank
2020-03-01
0
0
NatWest Group (formerly RBS Group)
2020-03-01
2
0
Royal Bank of Canada
2020-03-01
0
0
Société Générale
2020-03-01
0.5
0
Standard Chartered
2020-03-01
0
0
Sumitomo Mitsui Banking Corporation (SMBC)
2020-03-01
0
0
TD bank Financial Group
2020-03-01
0
0
UniCredit Group
2020-03-01
3.5
0
United Overseas Bank
2020-03-01
0
0
Westpac Banking Corporation
2020-03-01
0
0
Explanation
The point-based policy ranking assesses bank policies in four ways:
1) Restriction on direct financing for LNG projects.
None (0), weak exclusion (1.5), strong exclusion (4)
2) Restriction on financing for companies that expand LNG.
None (0), weak exclusion (3), strong exclusion (5)
3) The bank's commitment to phase-out financing for LNG.
None (0), reduction (1.5), weak phase-out (3), strong phase-out (5)
4) The bank's commitment to exclude companies active in LNG above a certain threshold.
None (0), enhanced due diligence (0.5), weak exclusion threshold (2), strong exclusion threshold (5), full exclusion (6)
A bank can obtain a total of 20 policy points for its LNG policy. Based on this score banks are then classified as laggards (0-5 points), followers (5.5-10 points), front runners (10.5-15 points) or leaders (15.5-20 points).
Banks excluding finance for LNG
A number of banks have already taken steps to fully or partially exclude LNG projects or companies involved in LNG operations from their investments. The table below lists banks that have taken such steps.
Exclusion table LNG
UniCredit Group
2020-03-01
3.5
-2
Explanation
This table lists banks that have adopted a full ( ) or partial ( ) exclusion policy for LNG projects and/or companies. Click on 'Details' for the rationale of this assessment for each bank.
Feedback welcome
Our policy assessments are always a work in progress and we very much welcome any feedback, especially from banks included in them. You can of course also contact us for more information on specific scores and the latest policy changes. Please get in touch at climate@banktrack.org.
Documents
| | | | | | | | | | | |
Type:
Year: