Astra Agro Lestari
Indonesia
---
On record
This profile is no longer actively maintained, with the information now possibly out of date
---
Send
feedback
on this profile
Download as
PDF
---

Created before Nov 2016
Last update:

2016-03-22 00:00:00
BankTrack
---
Share this page:
---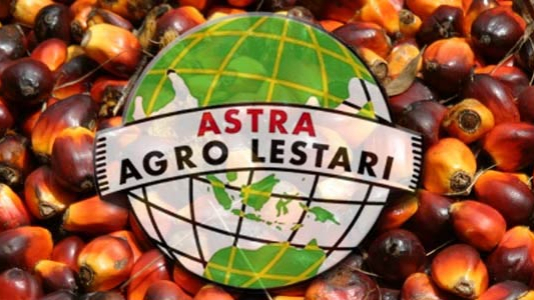 Sectors
Agriculture for Palm Oil
Headquarters

Ownership

Astra Agro Lestari Tbk is a subsidiary of the Bermuda based Jardines Group, which is controlled by the Scottish Keswick family. It has been listed on the Indonesian Stock Exchange since December 1997. It has a market capitalization of US$3.04 billion as of May 28 2013. Its top 5 shareholders are as follows:

PT Astra Intl Tbk: 79.68%

Schroder Investment Mgt Ltd: 0.85%

Vanguard Group: 0.65%

Blackrock: 0.65%

Van Eck Associates Corp: 0.46%

Subsidiaries
Website
http://www.astra-agro.co.id
About Astra Agro Lestari
Astra Agro Lestari is Indonesia's second largest palm oil producer by area. It controls 298,000
hectares of fully developed plantations in Sumatra, Kalimantan and Sulawesi. The company was founded in 1982 and initially operated cassava and rubber plantations. It began oil palm operations the year after and acquired various other companies such as PT Tunggal Perkasa Plantations in 1984 and PT Suryaraya Bahtera in 1989, when it adopted its current name.
Astro Agro Lestari has more than 40 subsidiaries. For a list see the Annual Report, p 127.
In 2013, KLK set up a joint venture with Astro Agro Lestari called STRA-KLK Pte, Ltd. which will market the refined palm oil products and provide logistics support.
Astra's main customers are Kuala Lumpur Kepong (KLK), Musim Mas, Wilmar and Golden-Agri
Resources. These four companies accounted for 71% of Astra's revenue for 2014.
Issues
Human rights and social issues
An AidEnvironment report on Astra Agro Lestari's sustainability, fom 2015, found that:
Astra carries out several activities to support community development, focusing on education,
health and small business development (oil palm and others). It has a smallholder area of 60,000
ha. However, it is also involved in land disputes with communities and indigenous peoples,
such as the Orang Rimba in Sumatra.
For some years Astra has been eyeing opportunities for diversifying its operations to include sugar
cane plantations. It has explored development opportunities in Papua; however, resistance from
the indigenous Marind people and economic factors have so far prevented this project from
advancing.
Environmental issues
Astra Agro Lestari (a subsidiary of the UK-based Jardines Group) has been associated with deforestation and peatland destruction, notably in the world-famous Tripa Swamp Forest in Sumatra, home to one of the last populations of Sumatran orangutans. The area is part of the globally important Leuser Ecosystem of Sumatra. A 2012 Rainforest Action Network report cited the company for clearance of thousands of hectares of peatland forests in Tripa. The company lacks meaningful policies that would effectively protect HCS forests.
An AidEnvironment report on Astra Agro Lestari's sustainability, fom 2015, found that:
Since 2009, Astra has planted oil palm on 27,000 ha of peatland in South Kalimantan. In one
plantation alone, there were 228 fire hotspots during the period 2011-2014, suggesting that Astra's fire prevention and response measures have been suboptimal. Astra's drainage of peatlands alone causes annual greenhouse gas emissions totalling an estimated 2.0 million tonnes CO2, equivalent to the annual carbon emissions of 830,000 cars.
In 2008, Astra encroached on approximately 250 ha of elephant habitat in Sampoiniet subdistrict in Aceh. Now it plans to operate a palm oil mill in the area. A palm oil mill is typically supplied by at least 5,000-ha oil palm area, yet Astra's planted area comprises only 1,100 ha. This means some of the shortfall will likely be derived from third parties impacting protected areas or elephant habitat. Indeed, many Sumatran elephants - a critically endangered species - have already been killed in the Sampoiniet area. Astra has not revealed whether it has mitigated the legal and reputational risks concerning protected areas, elephant habitat, and elephant deaths.
Astra is currently deforesting land in West Kalimantan and Central Sulawesi.
Some 660 ha of primary forest were cleared in Central Sulawesi in the period 2007-2014. From the limited information publicly available, it is estimated that 3,000 ha of primary forest in Central Sulawesi is at risk of being cleared by Astra in the near future.
Astra's total deforestation in the period 2006-2014 exceeded 14,000 ha.
NGO pressure on its parent company Jardine Matheson caused Astra to sell its peatland forest
plantation in the globally renowned Leuser ecosystem in Sumatra in 2010.
Astra claims to be conserving 26,000 ha of High Conservation Value (HCV) areas, but has
disclosed no information on its definitions for HCV designation, nor its conservation goals and
activities, making its claims difficult to verify.
Other issues
An AidEnvironment report on Astra Agro Lestari's sustainability, fom 2015, found that:
Since late 2013 there has been a wave of sustainability policy improvements by major palm oil
growers/traders. These have focused on eliminating deforestation, protecting High Conservation
Value (HCV) and High Carbon Stock (HCS) areas, avoiding peatlands and respecting the concept of
Free, Prior and Informed Consent (FPIC) for communities. Meanwhile, Astra has made no public
commitments on paper to address these issues.
Astra is by far the largest private palm oil company that is not a member of the Roundtable on
Sustainable Palm Oil (RSPO). Astra's main customers have made commitments that go far beyond
RSPO criteria.
An Astra director is the Chairman of the Indonesian Palm Oil Producers Association (GAPKI).
Representing GAPKI he has frequently downplayed the impacts of palm oil on sustainability, going
so far as to deny that oil palm plantations can be linked to deforestation or destruction of orangutan habitat, and has succeeded in weakening government regulations on peatland protection and other critical forest conservation measures.
Governance
Financiers
pension funds
Uncategorised
USD 541 million
2014
shares/bonds underwriter or manager - shares in Astra's controlling companies
source: AidEnvironment 2015

Documents
| | | | | | | | | | | |
Type:
Year: