Human Rights Impact Briefings
---
2022-04-21 11:16:02
BankTrack
---
Share this page:
---
BankTrack's three Human Rights Impact Briefings, in 2016 and 2017, investigated how banks manage specific adverse human rights impacts to which they are linked through their finance. They focus on companies and projects linked to significant, recent and well-documented human rights impacts, financed by a number of large commercial banks in recent years.
The series of briefings intended to:
draw attention to the specific human rights impacts and challenge banks linked to them through their finance to explain how this fits with their human rights policies and responsibilities;
provide real-life examples of human rights impacts linked to the banking sector to inform ongoing debates on implementation of the Guiding Principles (e.g. the OECD's Proactive Agenda Project);
explore how banks respond to human rights impacts in practice, allowing for a comparison of responses and analysis of good and bad practice; and
push for banks to meet their responsibilities under the UN Guiding Principles to account publicly for how they address specific human rights impacts.
This work has influenced the development of BankTrack's human rights campaign work, including for example the development of a methodology for Response Tracking as part of the Human Rights Benchmark.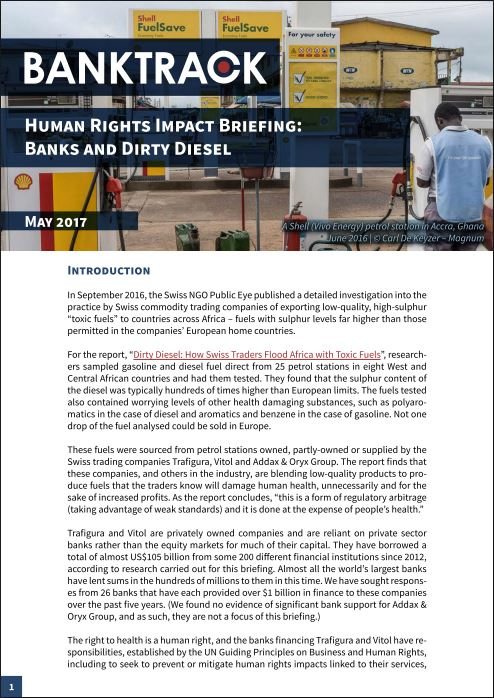 Human Rights Impact Briefing #3 (May 2017): Banks and Dirty Diesel
The third briefing focusses on oil traders Trafigura and Vitol, and their practice of dumping cheal, high-sulphur diesel in several African countries, with severe impacts on air polution and health. For the briefing, we asked 26 banks, each of which had provided over $1 billion in finance to Trafigura and/or Vitol, to detail their due diligence and to engage with the companies for a change in their practices. Of the 26 banks, nine provided provide a view on the practice, but none challenged the banks to make any changes.
Download the briefing and appendices
Human Rights Impact Briefing #2 (May 2016): Drummond and paramilitary violence in Colombia
The second briefing focusses on allegations that the US coal company Drummond benefitted from and supported paramilitary groups in the vicinity of its coal mines in Cesar, Colombia. For the briefing, we asked seven banks that financed the business to detail their due diligence and efforts to pursue remedy for the victims. All banks responded. Three acknowledged their links to Drummond, and of these, two detailed that they had taken some action in response to the impacts outlined.
Human Rights Impact Briefing #1 (February 2016): Labour standards violations in IOI Corporation's Malaysian plantations
The first briefing focusses on labour standards violations by the palm oil grower IOI Corporation. We asked 15 banks which financed the business to detail how they had met their responsibilities to seek to prevent or mitigate these violations. All banks but one responded, but half of these did not acknowledge their links to IOI Corporation or discuss the specific impacts raised in the briefing. Only three detailed some action in response to the impacts outlined.
Documents