Banking on Climate Change - 2017 Fossil Fuel Finance Report Card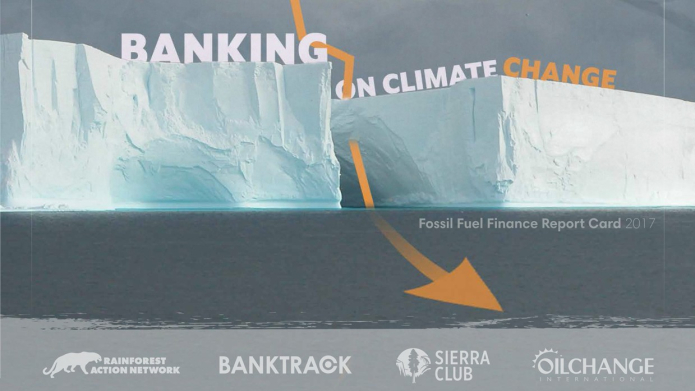 In partnership with 28 organisations around the world, BankTrack, Rainforest Action Network, Sierra Club and Oil Change International's annual Fossil Fuel Finance Report Card for 2017 reveals that the world's biggest banks are continuing to fuel climate change through the financing of extreme fossil fuels.
The 'Banking on Climate Change' report finds that 2016 actually saw a steep fall in bank funding for extreme fossil fuels — however despite this overall reduction, banks are still funding extreme fossil fuel projects at a rate that will push us beyond the 1.5 degrees climate change limit determined by the Paris Climate Agreement.

Download the full report with 2017 bank grades here.
See how the banks stack up and explore the data here.

In 2014, the banks analysed in the report funneled USD 92 billion to extreme fossil fuels. In 2015, that number rose to USD 111 billion.
2016 was the first full calendar year to be studied since the signing of the Paris Climate Agreement – and the USD 87 billion figure represents a 22 percent drop from the previous year. While the drop-off is a move in the right direction, it is vital that this become an accelerating trend and not a blip.
The report's findings show that if we are to have any chance of halting catastrophic climate change and reaching the Paris goal of limiting climate change to 1.5 degrees, there must be a complete phaseout of these dangerous energy sources and banks must implement policies against extreme fossil fuel funding.
The report, Banking on Climate Change, is the eighth edition of this fossil fuel finance report card that ranks bank policies and practices related to financing in the most carbon-intensive, financially risky, and environmentally destructive sectors of the fossil fuel industry. Those sectors are: extreme oil (tar sands, Arctic, and ultra-deepwater oil), coal mining, coal power, and liquefied natural gas (LNG) export.
For quick access to the report card's main data findings, download a 4 page summary here.
Related Dodgy Deals
Companies
There are no companies active for Banking on Climate Change - 2017 Fossil Fuel Finance Report Card now.
Documents
| | | | | | | | | | | |
Type:
Year: