As the world goes on Climate Strike, private sector banks are urged to end fossil fuel financing
Banks must ditch dirty energy as increasing numbers of people mobilise around the climate crisis
---
2019-09-20
Nijmegen
BankTrack
---
Lise Masson, Climate campaign coordinator, lise@banktrack.org
---
Share this page:
---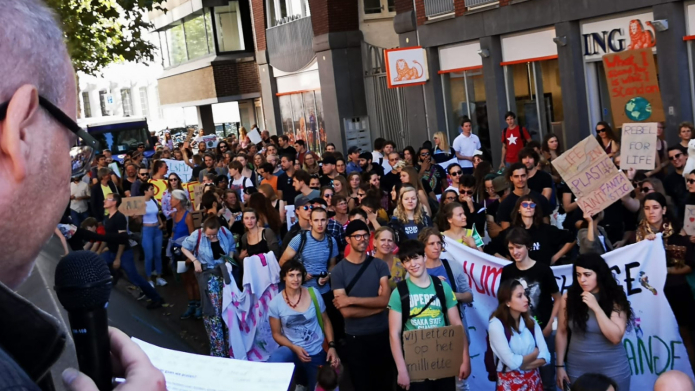 Climate Strike in Nijmegen, the Netherlands, outside a branch of ING. Photo: BankTrack
To: Fossil Banks, No Thanks! target institutions (namely, ANZ, Agricultural Bank of China, BBVA, BNP Paribas, BPCE/Natixis, Bank of America, Bank of China, Bank of Montreal, Barclays, CIBC, China Construction Bank, Citi, Commonwealth Bank, Credit Suisse, Crédit Agricole, Deutsche Bank, Goldman Sachs, HSBC, ICBC, ING, JPMorgan Chase, KBC, MUFG, Mizuho, Morgan Stanley, NAB, Royal Bank of Canada, Royal Bank of Scotland, SMFG, Santander, Scotiabank, Société Générale, Standard Chartered, TD Bank, UBS, UniCredit, Wells Fargo, Westpac)
Concerning: Fossil fuel financing at your institutions, and its urgent, timely cessation
On September 20 and 27, millions of people will walk out of their workplaces and homes to join young climate strikers on the streets and demand an end to the age of fossil fuels.
Banks are in a unique position to support the youth of the world, whose futures are jeopardised by climate breakdown, and to act on the call from activists and scientists alike for urgent and drastic cuts in greenhouse gas emissions.

By turning off the tap on the vast sums of money that currently flow to the fossil fuel industry, which is eating with such ferocity into the world's remaining carbon budget, banks can send a powerful signal to the industry, to governments, and most importantly to the younger generation, that they will do what it takes to protect people, planet and the stable climate on which we all depend. At this crucial juncture, with emissions continuing, alarmingly, to rise, and climate impacts being felt everywhere but especially by the world's most vulnerable communities, nothing less will do.

Exiting the fossil fuel industry

Avoiding a multi-degree rise in global average temperatures requires emissions to be halved by 2030 and to drop to zero by 2050. The phase out of fossil fuels must therefore begin immediately. As long as the fossil fuel industry keeps expanding, a full phase out will continue to be a distant prospect while the carbon budget rapidly shrinks. Taking climate change seriously and being committed to the Paris Agreement means that banks can no longer enable fossil fuel expansion.

The Fossil Banks, No Thanks! campaign urges all banks to immediately end their financial support for new fossil fuel projects and for companies continuing to expand their fossil fuel operations.

But ending finance for fossil fuel expansion is only the first step towards exiting this climate-wrecking industry.
Banks must also plan for their own total phase out of fossil fuels from their portfolios. In June, French bank Crédit Agricole showed how this can be done for thermal coal with a new policy commitment which includes a clear timeline to exit the sector entirely by 2030 for EU and OECD countries, 2040 for China and 2050 for the rest of the world.

A rapid coal phase out approach must now be adopted by other banks and replicated for the oil and gas sectors.

The Climate Strikes are just the beginning

2019 has seen a dramatic increase in public awareness and concern about the climate crisis. The momentum of the youth climate strikers as well as groups like Extinction Rebellion is growing and spreading around the world. Ever more campaigners and activists are turning their attention to the financial sector as a key factor in determining whether or not the fossil fuel industry can continue its assault on the climate.
In his historic article for The New Yorker published this week ('Money is the oxygen on which the fire of global warming burns'), American environmentalist, author and journalist Bill McKibben wrote:
"It's possible to imagine industries, given that the world is now in existential danger, quickly jettisoning their fossil-fuel business. It's not easy to imagine—capitalism is not noted for surrendering sources of revenue. But, then, the Arctic ice sheet is not noted for melting."

The increasing scrutiny of the relationship between financial institutions and the fossil fuel industry means that banks can no longer tout their green investments while continuing to provide billions of dollars in fossil fuel finance every year. It is the responsibility of banks to keep people's investments and money safe. As important, however, is for banks to use that money in the long-term interest of their customers, not simply in the short-term interests of shareholders and senior management.

It is therefore wantonly perverse for banks to hold the money of younger generations, for whom the stakes are increasingly existential, only to allow that money to contribute towards the destruction of their future.

With the 25th UN Climate Summit (COP25) on the horizon, we urge banks to take the ambitious, rapid action to exit the fossil fuel industry as demanded by this crisis.
Sincerely, Johan Frijns, Director, BankTrack