description
Venezuela's tar sands are reported to be the largest after Canada, with recoverable oil totalling at least 2.26 trillion barrels. The majority of the deposits are located in the Orinoco river basin. The Venezuelan government estimates that 20% of the Orinoco basin deposits are extractable using current technology, or around 316 billion barrels. Venezuela is already producing more than half a million barrels of oil per day from four existing tar sands developments: Petroanzoategui, Petromonagas, Petrocedeno and Petropiar.
About 8-12% of the Orinoco oil is recoverable through mining extraction techniques. The rest of the oil will then be extracted through steam-based in situ production, and potentially "methods involving gas injection and in situ combustion".
The Orinoco basin has been divided into four areas for the purposes of tar sands exploration and development. From west to east, these are called Boyaca, Junin, Ayacucho and Carabobo.
brief history
Under the Chavez government many changes have been made to the way Venezuela's oil projects are run, generally making it more difficult for European oil companies to operate in the country. At the end of March 2006, the government terminated all existing oil contracts with foreign companies and insisted that they be renegotiated with PDVSA as the majority stakeholder in all projects. Furthermore, a highly controversial nationalization of suppliers followed as PDVSA did not pay debts to oil companies & contractors. The issue of PDVSA's indebtedness is still not transparent.
This led US companies ConocoPhillips and ExxonMobil to pull out of the Orinoco tar sands altogether, although BP, Total and Statoil decided to renegotiate their contracts and continue to operate on their projects, which were already producing oil by this point. Since then, many of the new Orinoco exploration licences have been given to the national oil companies of states that could be considered friendly to the Venezuelan government, although some European companies have also managed to negotiate licenses.
-readmore-
BP's main license is the Petromonagas block, which currently produces around 110,000 barrels of oil per day, and may contain up to 1.2 billion barrels in total. BP controls 16.66% of the project, with the rest being held by PDVSA. BP is also developing proposals for commercial production of the Ayacucho 2 block, as part of the conglomerate TNK-BP92.
In January 2010, Italian oil company Eni and PDVSA signed an agreement to develop the Junin 5 block, with Eni holding a 40% stake in the joint venture. This block is one of the most lucrative, with an estimated 35 billion barrels of oil. The plan is to produce 75,000 barrels per day by 2013, with a long term goal of 240,000 barrels per day, and to construct a new refinery for upgrading as much as 350,000 barrels of tar sands oil per day. Eni is investing $300 million for the project initially, rising to $646 million as the development achieves certain milestones. It is worth noting that the Venezuelan government compensated Eni with a $700 million payment for the nationalisation of the Dacion oil field in 2006.
Spanish company Repsol is involved in the Junin 7 and Carabobo 1 blocks. Junin 7 is being developed by Repsol and PDVSA, and holds up to 31 billion barrels of oil, of which 6 billion are recoverable. Production is hoped to peak at 200,000 barrels a day, and to begin in 2012. The Carabobo 1 block is being operated by a consortium including Repsol (11%), Malaysia's Petronas (11%), and the Indian companies Oil and Natural Gas Corporation (11%), Oil India Limited (3.5%), and Indian Oil Corporation (3.5%).
The consortium is hoping to produce 480,000 barrels of oil per day at full production, and is also expected to build an upgrading facility to be located at Soledad, Anzoategui state. Galp Energia of Portugal have a contract to evaluate the feasibility of developing the Boyaca 6 block, although these blocks are currently further from development than many of the above mentioned areas. European companies from outside the EU are also involved in the Orinoco development, with state oil company Belarusneft working on the Junin 1 block, and Russian companies Lukoil, NKK, and Gazprom involved with the Junin 3, Junin 6 and Ayacucho 3 blocks respectively.
what must happen
Private banks must not participate to the funding of these projects, whatever forms it takes, be it project finance, general corporate loans or underwriting of shares or bonds on the stock markets of the companies involved.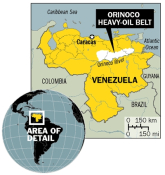 active file
last update: Jul 27, 2016
sectors
banktrack contact
Yann Louvel, Climate and energy campaign coordinator, BankTrack
share this dodgy deal