description
The Rapu Rapu Polymetallic Project on Rapu Rapu island in the South East of the Philippines is a open pit mine with a estimated annual production of approximately 11,000 tonnes of copper in concentrates, 13,000 tonnes of zinc in concentrates, as well as amounts of gold and silver. It is fully operating since early 2007 after an initial aborted operation in 2005 due to two cyanide spills. The mining company has exploration leases that cover over 80 percent of the island surface.
The island of Rapu Rapu (population 10.000) is home to agricultural and fishing communities reliant on natural resources for their livelihoods. The fragile but relatively intact island ecosystem hosts several bird and mammal species severely threatened elsewhere in the Philippines while the waters surrounding the island teems with fish and marine mammals. Whales, dolphins, whale sharks, turtles egrets and purple herons are frequently sighted.
what must happen
The mine constitutes a threat to both local peoples' livelihood and the islands 'fragile ecosystem. It lacks a social license to operate, as it continues to be widely opposed by the local communities.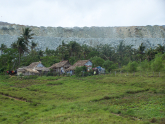 on record
last update: Jun 22, 2016
sectors
banktrack contact
working partners
Frances Quimpo, Center for Environmental Concerns Philipinnes, Philipinnes
share this dodgy deal